Happy Monday everyone, hope your weekends were amazing! This weekend I packed up and traveled to go spend the weekend with my family to go boating. It was a long drive (4 hours each way), but I hadn't seen them in a couple of months, so it was nice to spend some time with them even if it was brief and a little hectic.
I've decided to run a feature on Mondays called "Copy Cat Mondays!" Basically, Ill be taking an inspiration photo from somewhere around the web and then recreating it to make it my own. The outfits wont be exact, but that's what I think is helpful- especially when trying to recreate high end looks without the $$$ budget. Feel free to grab my button on Mondays and link up to show me your greatest copy cat outfits!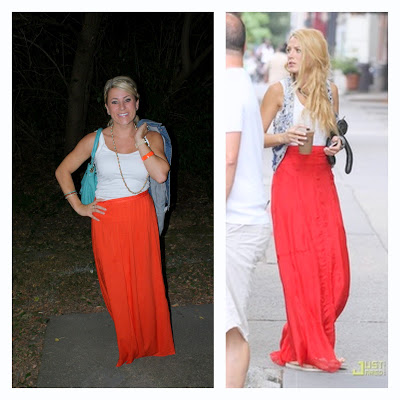 Photo: Pinterest
Maxi Skirt: $36.00, The Loft on 40% sale day (No longer online, but they have some great printed ones
here
); Jean Jacket: $108, J.Crew, but my cost per wear is probably around 1.00 now! White Tank: $20, Banana Republic (
here
), Necklace: $6, Forever 21, Bracelets: $9, Forever 21; $25 J.Crew, Ring: David Yuman , Purse: $428 retail, $250 eBay, (
Similar colors here
), Shoes: $17, Target
Apologies for the dark picture on the left, it was getting ready to rain, but I wanted to get the pictures snapped beforehand!
I chose this look from Blake Lively because I loved the casual coolness of the outfit. I think it's a perfect way to beat the summer heat with a little bit of boho style. Since I haven't found the perfect jean vest yet this summer (but isn't Blake's jeweled vest ahhmazing?) I chose to pair my maxi skirt with a jean jacket and a longer necklace for some added flare. This was the perfect outfit for a casual date night with my fiancee and the jacket kept my shoulders cool before the rain set in.
I am loving maxi skirts this year, I always used to think I was too short to wear them, (I'm 5'2), but now I realize just about everyone can pull them off!
Do you have any maxi skirts? What are your favorite ways to wear them?