Pencil, you know, the mechanical kind? Umm, okay, I meant a skirt silly willies! I know I literally just posted this pencil skirt on Copy Cat Monday (
here)
and I also posted a tee and pencil (
again here….)
but I wanted to showcase the versatility of a simple pencil skirt (especially this striped one). When I first got if off of Piperlime, it hung in my closet for awhile. Finally about a month ago, I pulled it out and it made it's big debut. And boy, has it been an instant favorite of mine! My fiance actually said to me, "You can't post that, you just did an outfit with that skirt!" Little does he know,
or boys for that matter
, that females are always looking for a versatile piece that we can make work in more ways than one (preferably five: cute, sassy, beautiful, fun, and sophisticated).
I would have never thought at the beginning of summer that I would be a tourist in a pencil skirt, but it was seriously just the comfort I needed while walking around. The material was breathable in the 90 degree heat, I didn't feel like I needed to readjust every five minutes and I actually felt put together! SCORE!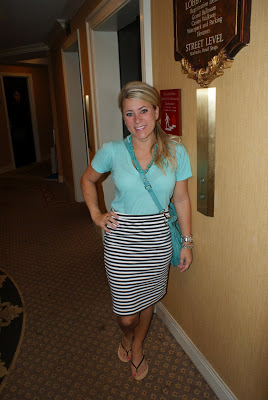 Getting ready to head to the falls for the morning!
Oh wait, piano, photo opp!
::Skirt Piperlime (similar here and here), Purse $428 retail, $250 eBay, (Similar colors here), flip flops Jcrew (here), bracelets (Forever 21), Watch Francesca's, Necklace gift, Teeshirt American Apparel (similiar here), Sunnies Coach::
Sometimes I think "why would that person wear that to tour around in?" Maybe people were saying that about me on Saturday, but lately, I've realized that is all about looking cute AND feeling comfortable. Who knows, those 5inch clear stripper heels I saw a girl walking around in could have been super comfy (although I SERIOUSLY doubt that one).
What is your go-to travel/tourist outfit? Would you ever tour in a simple pencil skirt?
Tomorrow Ill be here with another hair tutorial. I promise to try to keep my fur baby's butt out of the video this time and Ill try not be such a n00b when talking to myself on my computer. It could take some time though.