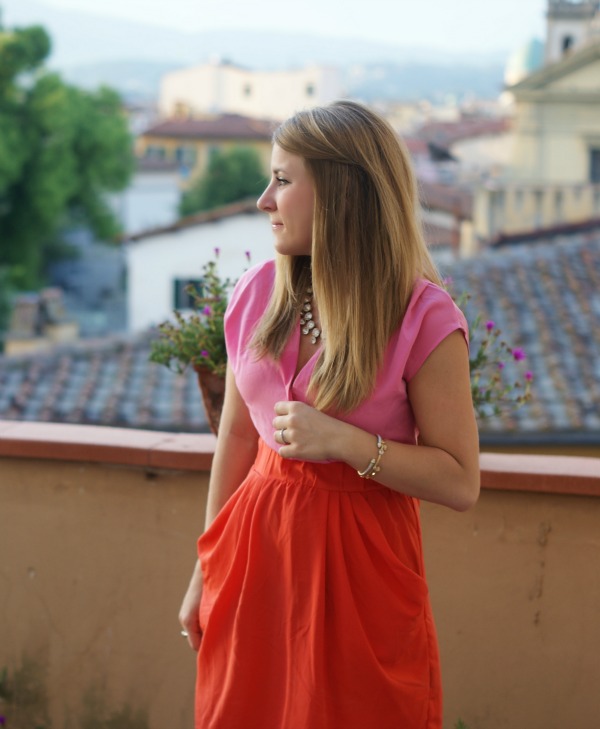 ::Dress H&M (old), LOVE this $$ one here and here is a more affordable one, Shoes Target, Earrings David Yurman, bracelets David Yurman, Macys Banana Republic stella and Dot, Necklace LuxeCraving ::
One of my only regrets about my wedding dress is that it didn't have pockets. Im not quite certain how pockets would have looked considering I had a drop waist gown, but Im just sayin'. If I would have had pockets, I probably wouldn't have lost my MAC lipgloss and I probably would have ended up with more candy from the candy bar for the after party. Ahh, regrets…
Speaking of weddings, I am almost out of lovely pictures to show you from our honeymoon <insert sad face>. I have loved reliving these moments through the blog and I hope you've enjoyed some of the snapshots, outfits I wore abroad. I might have one more up my sleeve, but then it's back to good ole me in the US of A. Hope ya'll don't mind…. Im trying ya'll on for size, what do you think? Kathleen, think it's too soon? 🙂
I picked this dress up awhile ago (so sad, I know). I love this color combo, but looking now, def. would have gone with some different shoes. Oh boy, those are bad with this dress- but I was going for practicality. Cobblestone streets and stilettos are not friends my friends.
Guys, on another note. Coffee Beans and Bobby Pins turned 1 on July 6th. I didn't even buy CB&BP a cupcake. But in reality, thank you all so much for the comments, the input and just coming over everyday to read my daily ramblings. It means so much to me that you make time for my thoughts/pictures everyday and I truly appreciate it from the bottom of my heart. I feel like Ive learned so much about blogging over the past year and Ive met some wonderful people while doing it. Thank you for giving me that opportunity. Hopefully year 2 is even better and as always, if you ever have any suggestions or questions, please feel free to reach out. I LOVE hearing from all of you! xx!