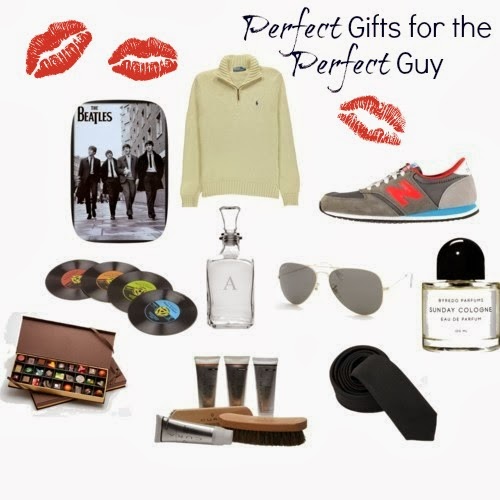 1.
Sweater
/ 2.

Shoes
/ 3.
Beatles
Picture
/ 4.
Decanter
/ 5.
RayBans
/ 6.
Cologne
/ 7.
Record
Coasters
, but regular records are also cool / 8.
Tie
/ 9.
Chocolates
/ 10.
Shoe
Shine Kit
Aaron and I are not the biggest Valentines Day celebrators. We typically do smaller gifts and then a nice dinner out, but nothing crazy expensive. I personally like the holiday and I think it's great to celebrate love and laughter, but my husband it's set on believing it's simple a Hallmark holiday (which it kind of it in many ways). Regardless, he usually plays along by celebrating because he knows I enjoy it. Last year he surprised me with a Kate Spade Necklace and I was so excited, I love it! J Maybe one day when we're not so in debt with medical school loans, we can splurge on an additional holiday, but for now, low key Valentines are a-okay with me.
What are you planning on getting that special guy?
P.s. I am still hosting the Instagram giveaway. Regram one of my photos with the hashtag #ValentinesDreamDate to win a free pair of shoes and $100.00 for dinner. You can find me @amy_cbandbp
Contest ends Friday and your shoes and $100.00 will be delivered in time for Valentines Day