This shop has been compensated by Collective Bias, Inc. and its advertiser. All opinions are mine alone. #BeBeachBlonde #CollectiveBias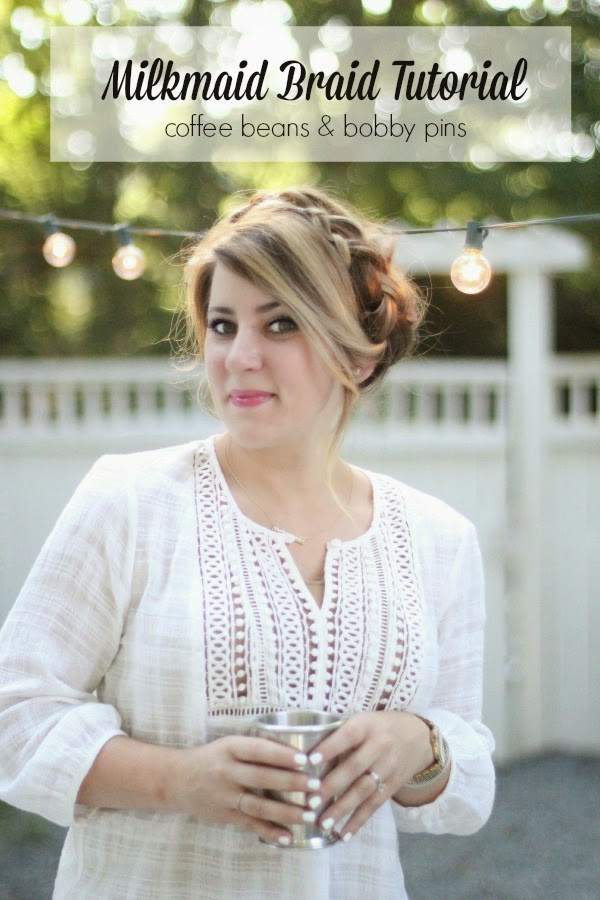 I love summer, but let's face it- in North Carolina with summer comes humidity and my hair doesn't love it. Wearing it down is pretty much miserable, so I am constantly looking for cute looks that scream summer but also don't scream "I'm a hot mess and my hair hates humidity." Insert my love of braids. I get to add some beachy texture with pieces in front, but the majority of my hair is tucked away and hidden from the harsh reality of humidity frizz and "bigness." Last time I was at Target, I picked up the new John Frieda Beach Blonde products and now only do they smell amazing, but they have me so excited for summer!
Anyway, today I wanted to show you how I get my messy milkmaid braid look. It's actually really easy and just takes some simple steps, a few clear elastics and some bobby pins! Then boom, you're milk braiding it around the town and humidity never looked so good on you! P.S. I hope y'all enjoy my awesome middle school robe in these photos!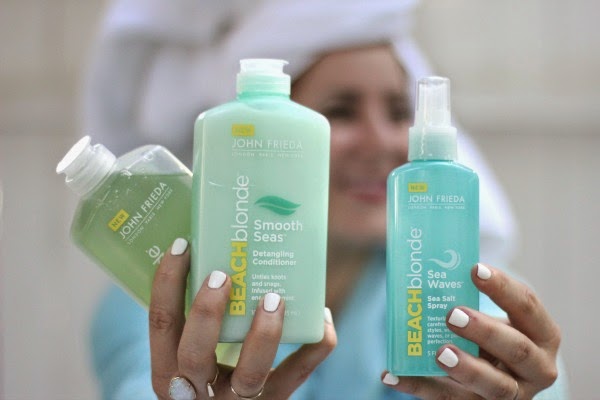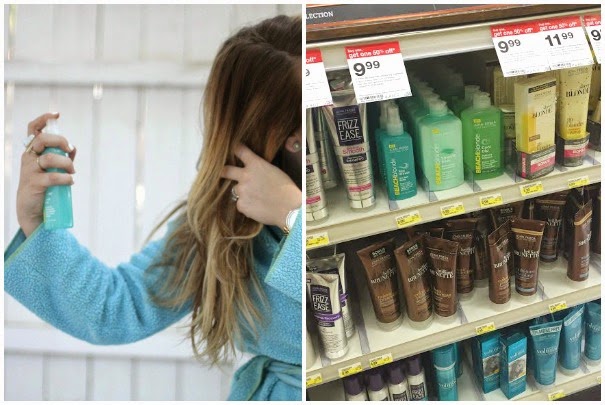 1. Start with clean or dirty hair. I washed mine with the John Frieda shampoo and conditioner Shampoo to prep for my hair style and then sprayed some of the sea slat spray for texture. While the shampoo and conditioner is great for gals with blonde highlights (but can be used by any hair color), I love the sea salt spray and it's perfect for any hair color (and smells like coconut) YUM! You can also use the spray on dry or wet hair, so that's an added bonus!


2. After my hair was mostly dry, I braided it into two pigtails and secured with elastics. Don't worry if the braids are perfect, I like mine a little messy so the overall looks appears a bit messy and effortless.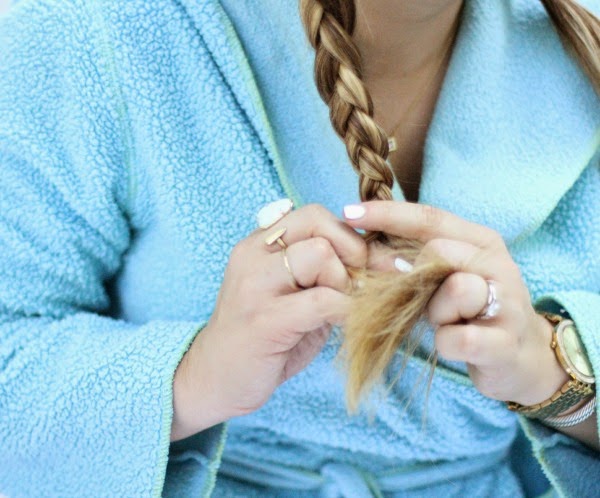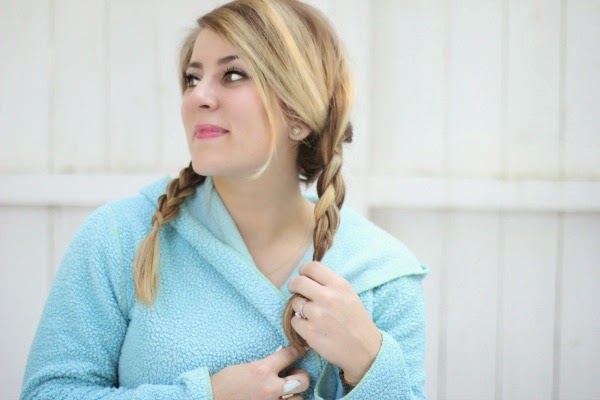 3. Once you have your hair in pigtails, swoop one side up to the crown of your head and secure. I swoop my braid from the back (i.e. I go towards my back with the braid and twist it up). This will create a little "hump" at the base of the braid by your ears, but you can secure that later with bobby pins.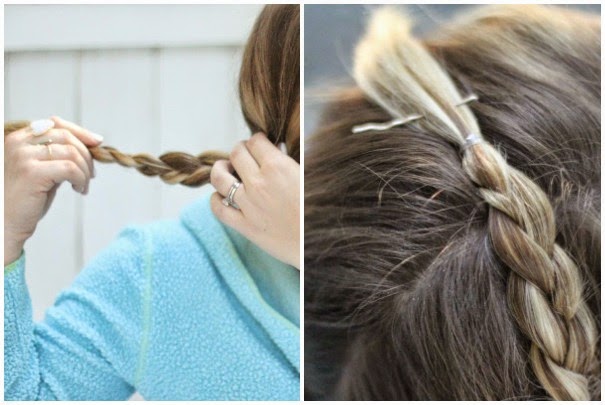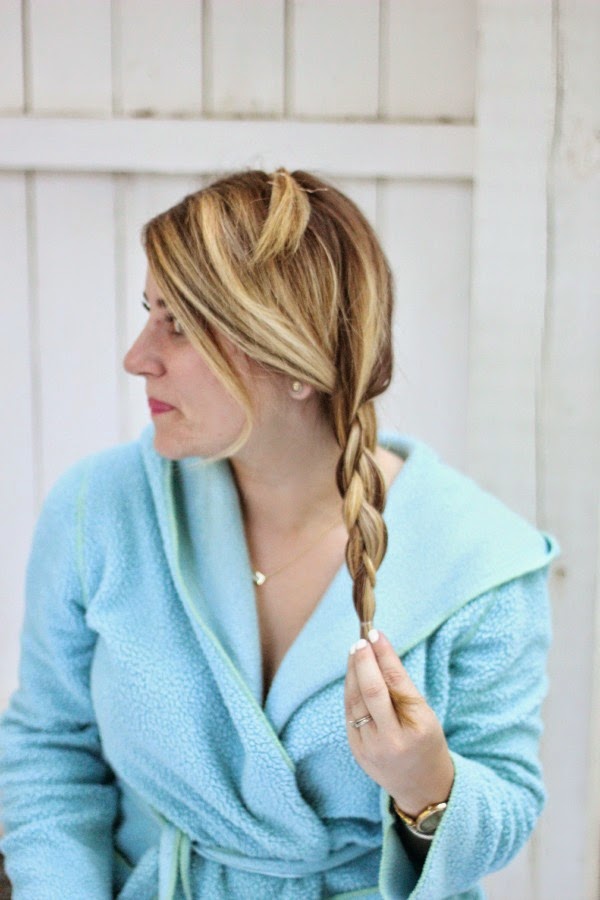 4. Take the next braid and repeat step 3 (re: swoop to crown of head and pin). I take the end of the first braid and tuck it below the second braid and secure with bobby pins. I also pull some hair over the elastic from the second braid and secure to hide the ends.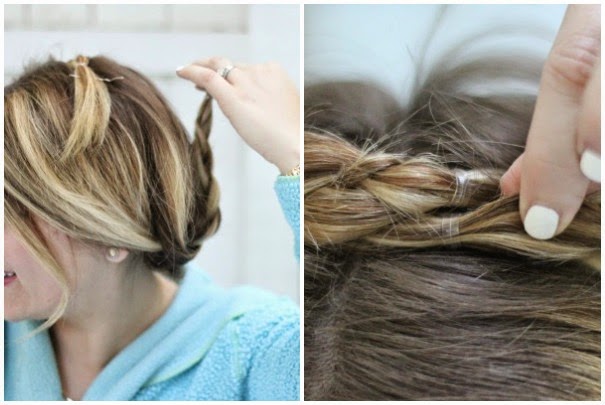 5. Now that both pieces are at the crown of the head and you've hidden both elastics, I usually take a few moments to pin those "humps" at my ears. Literally I just pull them towards the back of my head to where they are more flat and pin them until I get them looking normal. I then pull the braids apart a little to make them appear messy and thick.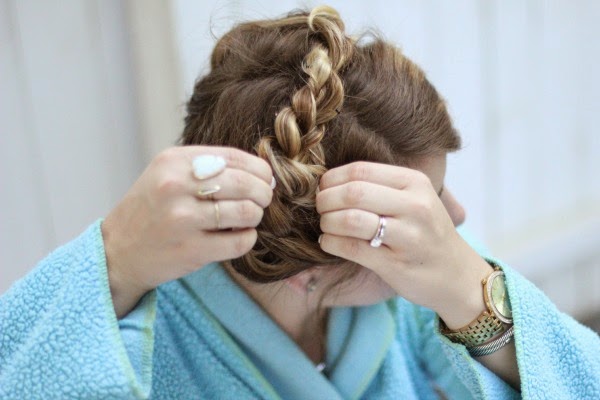 6. Once you've done that, I pull some pieces down and curl them a bit to achieve a more "beachy" look. The spray def. helps add texture to these pieces as well! Poof you're done!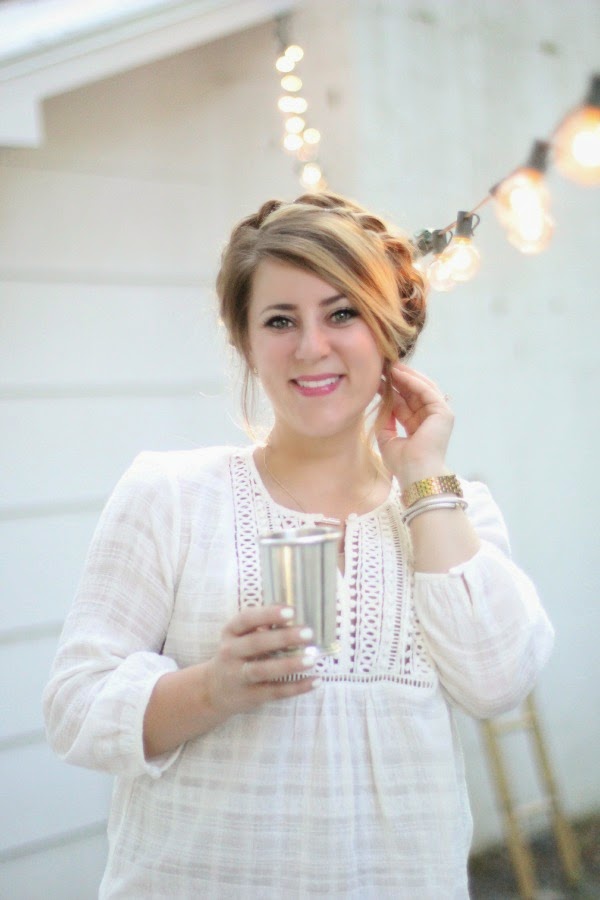 How do you avoid the humidity during the summer? What are your favorite hairstyles?
Make sure to check out facebook.com/johnfriedaus for more fun hair inspiration!
Thank you for reading and please let me know if you ever have any questions!