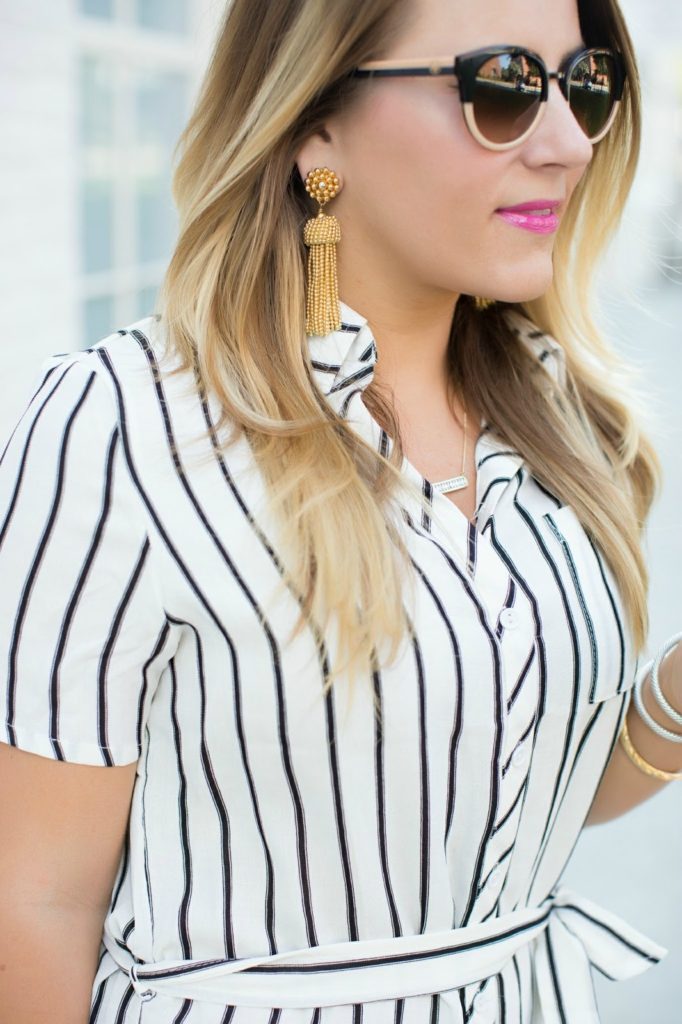 While most little girls were taught the importance of healthy skin at a young age, I must admit I was not one of them. My family has a lot of Cherokee Indian in our blood line, so my parents tan naturally and stay tan throughout the year. My mom's year round tan makes me so jealous! This is not the case for me, as apparently that skin didn't get passed down to my sisters and me (all blondes while my parents are dark haired). Exhibit A, I am pasty white right now and it's fine because as I've grown older I am realizing the importance of skin care. I was the girl in high school who tanned in the tanning bed before prom and even into college at times. Once I met Aaron, he would lecture me on the dangers of the sun and my girlfriend even had some cancerous moles removed. Since then I have not stepped into a tanning bed and wont ever again. I even wear sun screen now which is cray cray! And I don't just protect my skin from the sun nowadays, I try to take care of it all around with creams, gels, you name it! I want to keep my skin fresh, young and beautiful!
So today, in honor of Galderma's Break Up with Your Makeup sweepstakes I thought I would share my skin care routine with y'all! I'm not 100% perfect, but I'm trying to get better. You can also learn more about rosacea and treatments offered by Galderma on the Break Up with Your Makeup page. While you're there, be sure to vote for your favorite no-makeup selfie and story, and you could win one of three $500 gift cards.
Wash your face every.single.night. I know this is hard, but getting your makeup before bed is essential. I love makeup wipes for that reason. On nights I'm out late or just too tired to wash my face, I reach for a wipe and usually use two just to make sure I've gotten everything off. If I do have the energy, I use a mild soap with a little bit of salicylic acid in it.

SPF, I love a good BB cream with SPF built in. I use my BB every day, so in return, I'm also sun protecting everyday (and sometimes I put another layer on with an actual SPF).

If you have skin trouble, do something about it! I have struggled with my skin all my life and have a dermatologist I see regularly. However, even using a great acne wash and toner can really make all the difference! If you need a little extra help for skin issues like rosacea, be sure to check out the line of prescription products from Galderma, including Soolantra® (ivermectin) Cream, 1% that helps treat inflammatory lesions, or bumps and pimples of rosacea.

Above all, hydrate. Make sure you drink those 64 oz of water, each and every day. It's amazing what H2O can do for the skin!
Those are my healthy skin tips, I'd love to hear yours!
Learn more about rosacea and treatment on the Break Up with Your Makeup webpage. While you're there, be sure to vote for your favorite no makeup selfie and story and you could win one of three $500.00 gift cards.
Important Safety Information – Soolantra® Cream
Indication: SOOLANTRA® (ivermectin) Cream, 1%, is indicated for the treatment of inflammatory lesions of rosacea. Adverse Events: In clinical trials with SOOLANTRA Cream, the most common adverse reactions (incidence ≤1%) included skin burning sensation and skin irritation. Warnings / Precautions: Not for oral, ophthalmic or intravaginal use.
You are encouraged to report negative side effects of prescription drugs to the FDA. Visit WWW.FDA.GOV/MEDWATCH or call 1-800-FDA-1088.

All trademarks are the property of their respective owners.

I was selected, as a member of Clever Girls, to post on behalf of the Break Up with Your Makeup program sponsored by Galderma Laboratories, L.P. The content and opinions expressed here are my own. You should discuss any medication with your doctor.