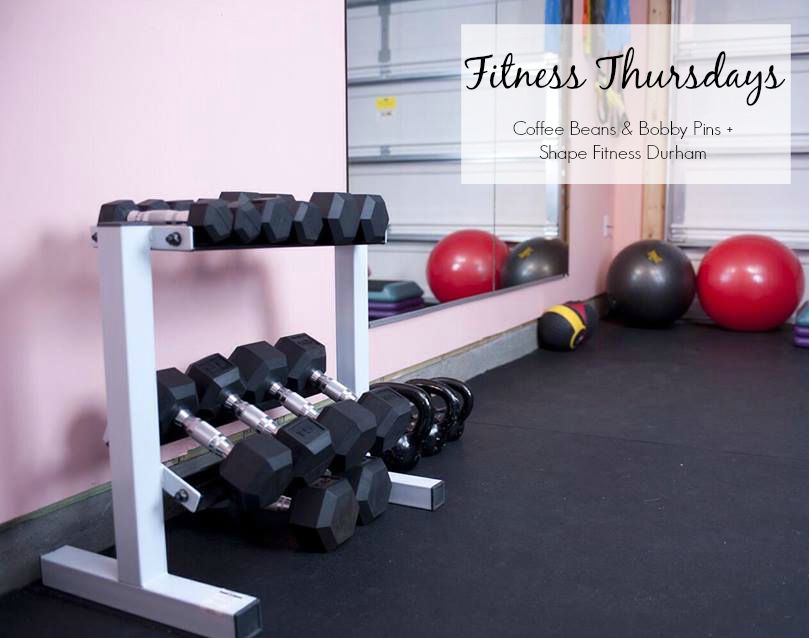 Annnnd who's ready to burn? I'm back with Rachel today to share one of our favorite muscles groups to work…the glutes (butt muscles). Rachel designed this glute workout to burn out your bum and help you get a firm, toned booty (I'm trying to work on mine!!).
Complete 12-15 reps of each exercise and repeat the entire workout for a total of 2-4 rounds. Let's get after it!
1. Deep Squats
Deep squats are AWESOME for targeting the glutes. You want to place your feet just wider than hip width apart and turn your toes outward, slightly. With all of your weight in your heels and while keeping a flat back, squat down as far as you can. You want your hips to end up below your knees, your butt almost to the floor. Now push through your heels, squeeze the butt, and keep your chest up high as you raise back up to a standing position. Repeat 10-15 reps and add weight (by holding dumbbells) if you want to up the ante!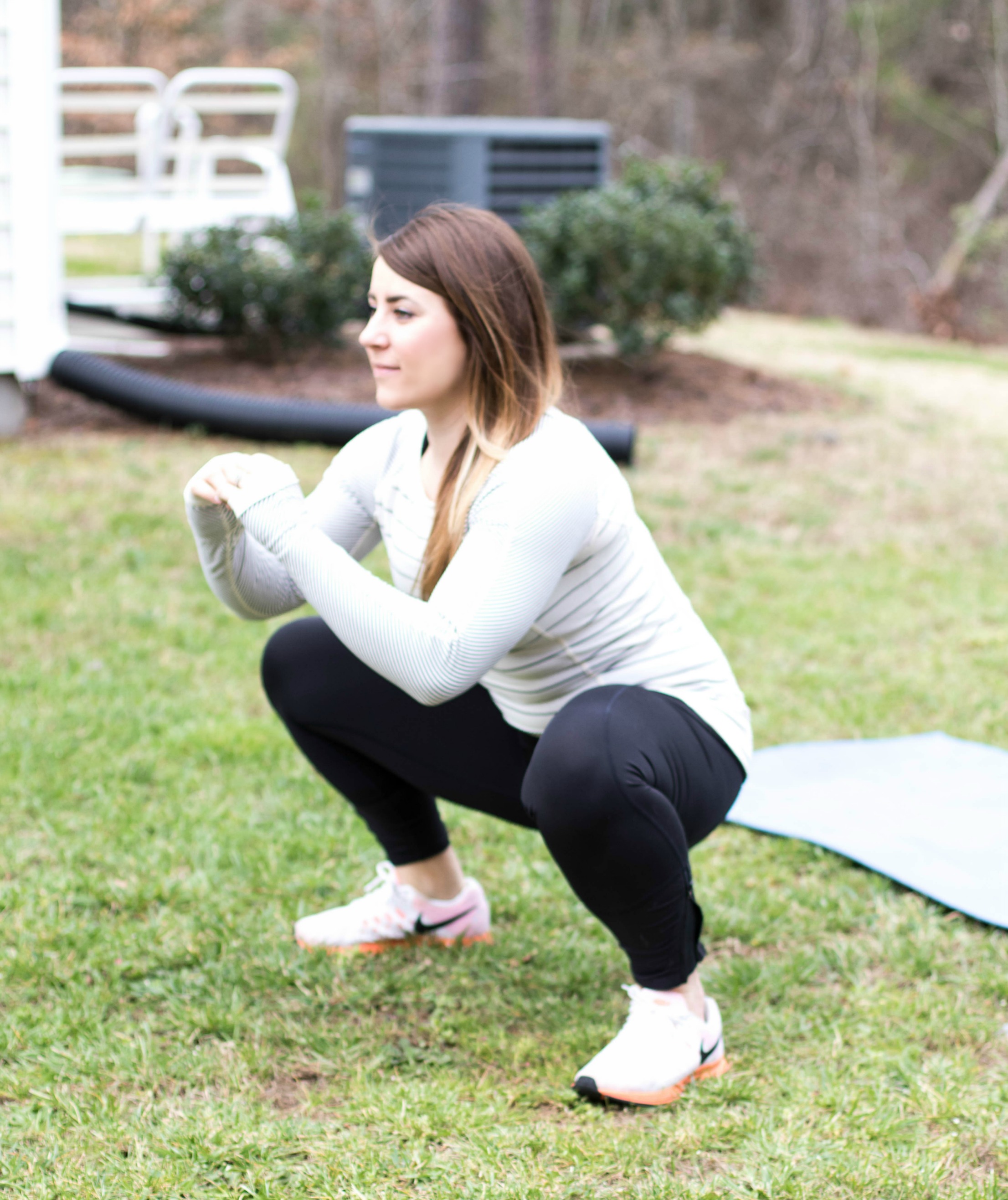 2. Walking Lunges
Begin by taking a giant step forward with one foot and lower down into a lunge. You should have all of your weight in your front heel and both knees should be at just about 90 degrees. Push through that front heel to bring the back leg forward until you are standing again. Repeat with the other leg, continuing to move forward with each lunge. Carry dumbbells for added intensity and complete 12-15 lunges on each leg.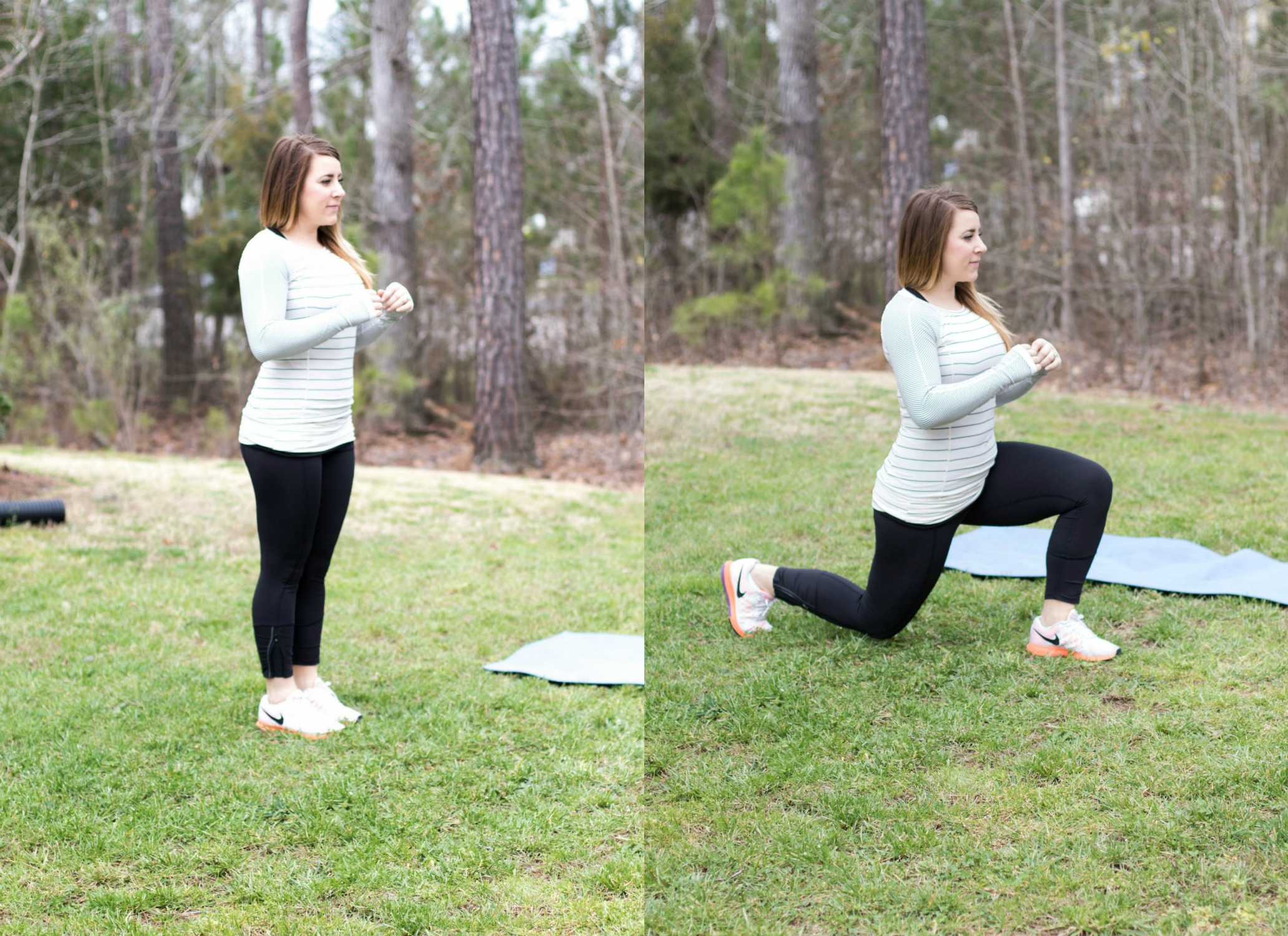 3. Single Leg Touch Down
This exercise requires quite a bit of balance, so take your time with it and don't rush the movement. Stand on one foot, trying to keep most of your weight in the heel. Let your knee of the standing leg bend as you reach down to touch the floor. You should keep a flat back and tight core throughout the motion. The back leg should float backwards naturally as you focus on balance while you reach down. Now contract the glute of the standing leg and push through the heel to return to stand. Complete 12-15 reps on each leg.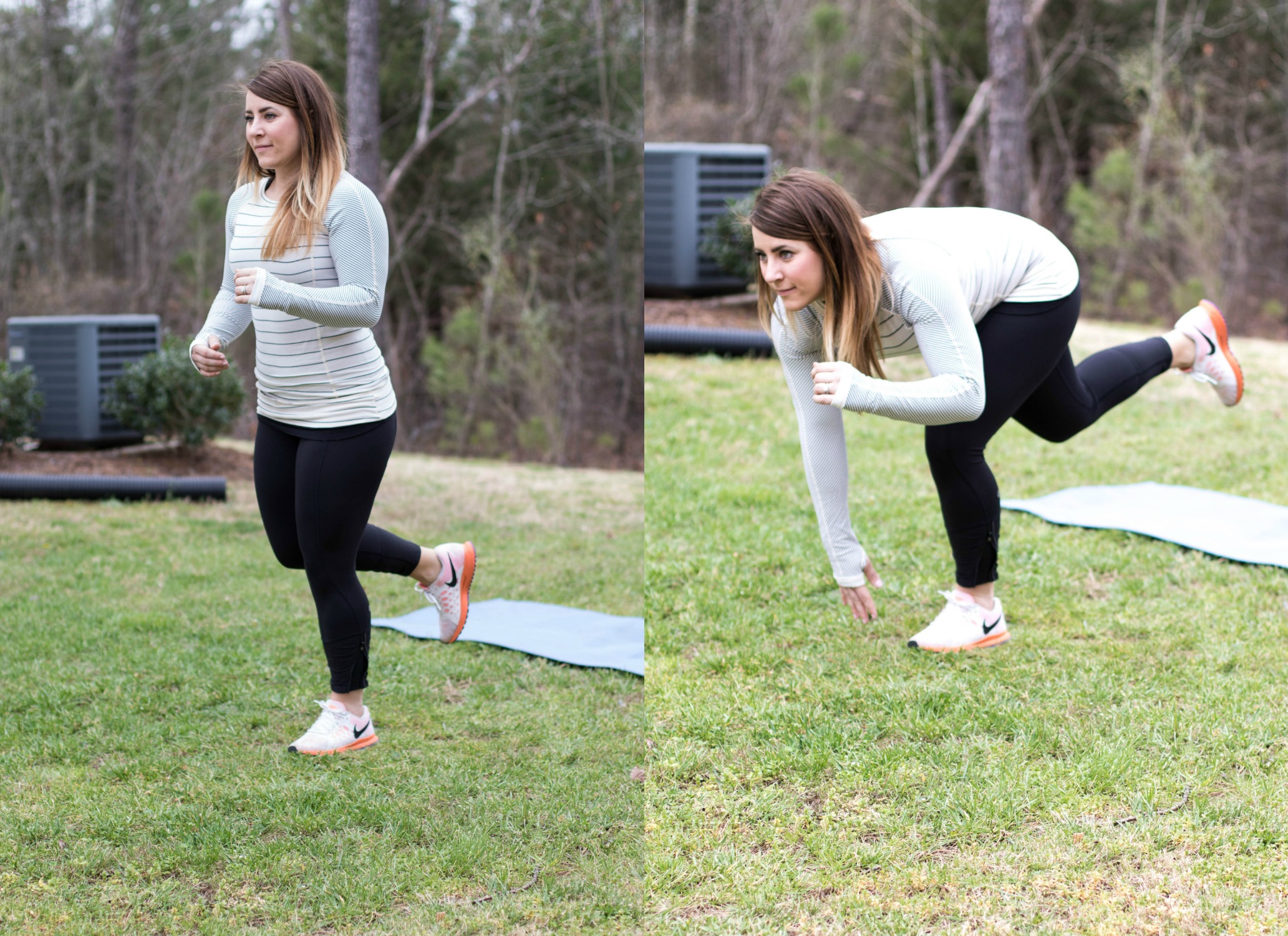 4. Curtsy Lunge
From a standing position, take a big step backwards with one leg and aim your foot behind the front leg, much like a curtsy, and lower down into the lunge. Keep all your weight in your front heel and then push through that heel to return to stand. You will feel this in your glutes and quads (the front of your thigh). Repeat on the other leg and continue to alternate legs until you complete 12-15 reps on each leg. Hold dumbbells to increase the intensity.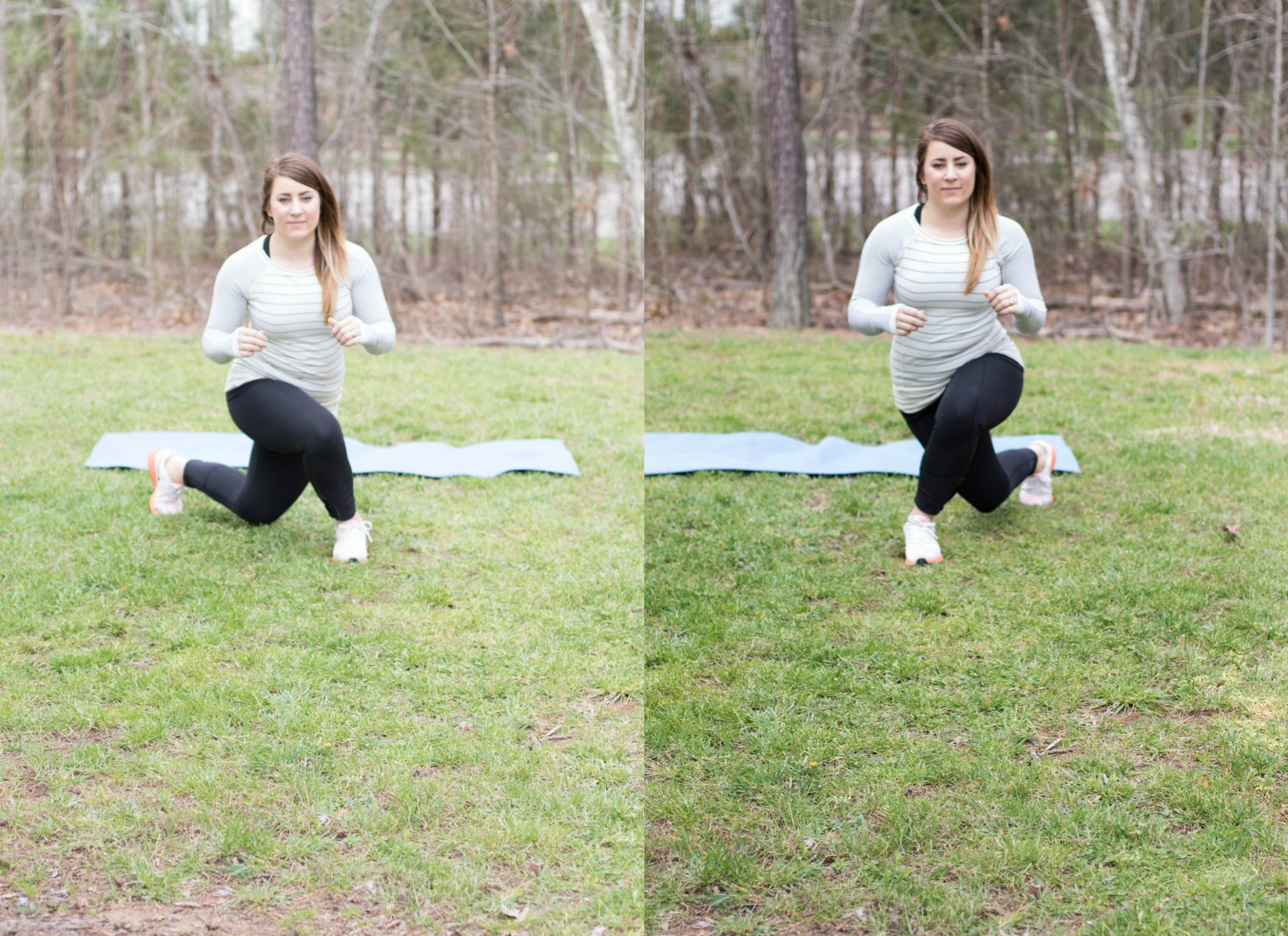 5. Table Top Hip Thrusts
For this exercise, start on your hands and feet, with your chest facing up. Your knees should be bent so that your feet are flat, and your finger tips should be pointing toward your feet. Now push through your heels to lift your hips up as high as you can, into a "table top" position. Squeeze the glutes in this position before lowering your hips back down to the floor. Repeat for 12-15 reps.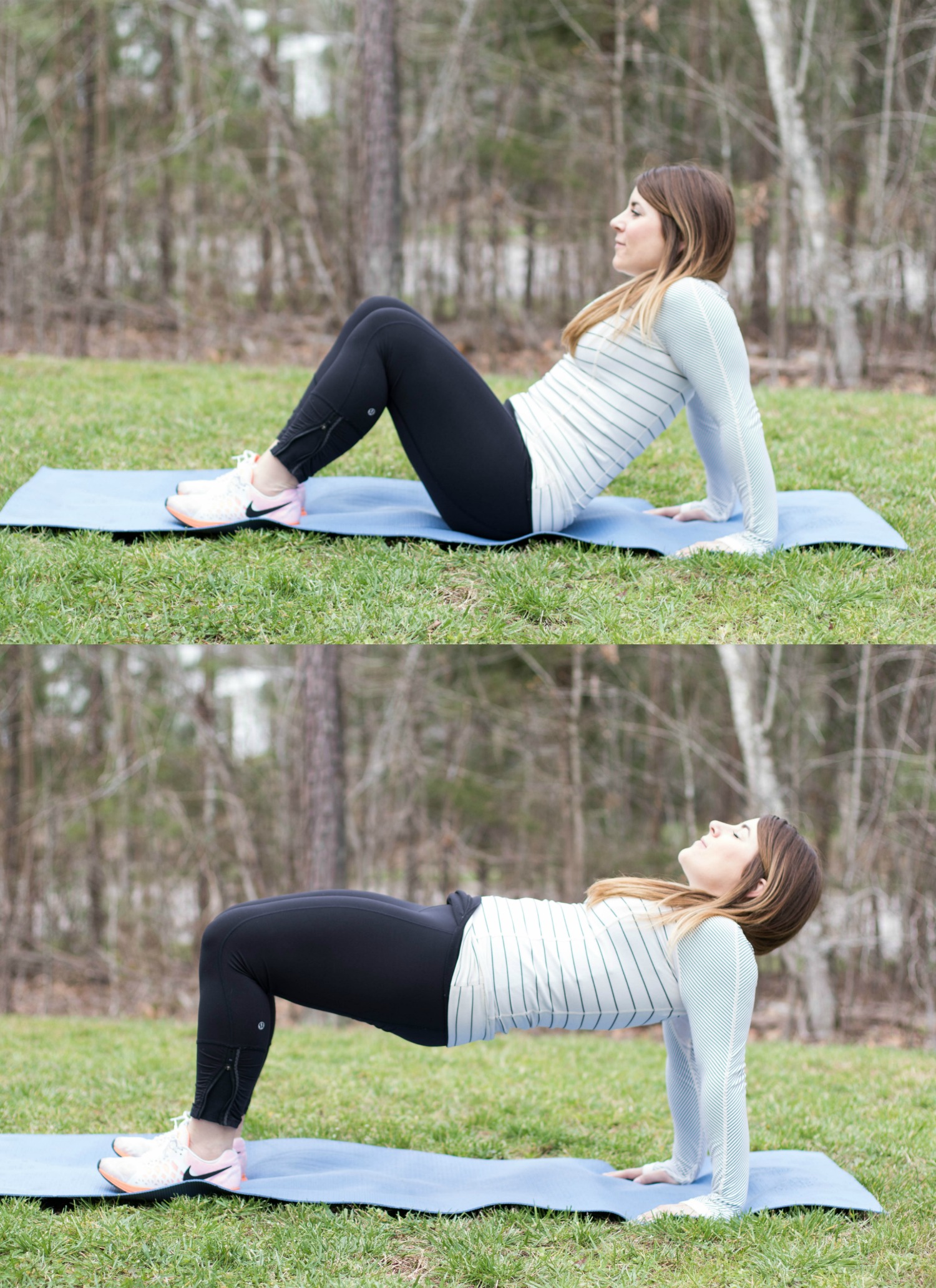 Aaron always jokes I have no butt it's true. You know what else I don't have? Any makeup on in these pics! ahh But as always, I want to be real with you. I actually do these workouts and who wears makeup to the gym? Not me. It's almost Friday and I'm heading to Chi town tomorrow and still haven't packed….give me all the packing tips for carry on's annnnnnndddd go!