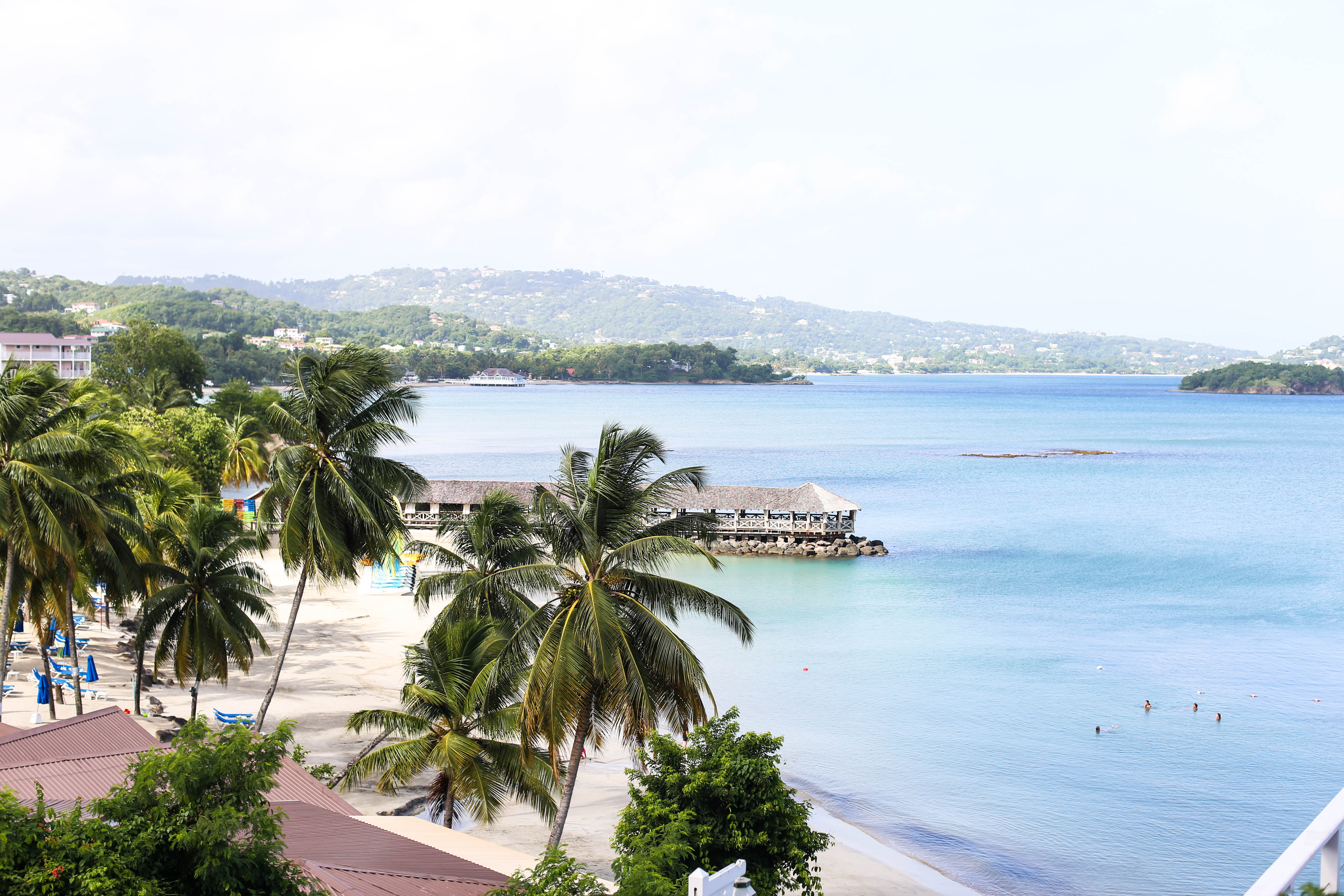 I'm excited to finally share about our St. Lucia vacation to St. James Club Morgan Bay (apologies in advance for ALL the pictures) that we took in August. It's taken me a while to get this post up because I really wanted to consider the pros and cons of the Morgan Bay resort/island and make sure I could go through all of the amazing photos we took, and it's definitely taken longer than planned! Plus, August is actually their slow time on the island, so I wanted to write this closer to fall/winter when it's actually their busy season (we went during hurricane season and it only rained one day) and you might be considering St. Lucia.
Aaron and I debated a long time about doing an all-inclusive vs. not, but in the end, we decided that all inclusive was the way to go this time around so that we could truly relax and have no worries. It was kind of assumed that this would be our last big vacation before starting a family (not anytime soon, FYI I am NOT pregnant), so we wanted something low key but beautiful. We've been to Punta Cana and Mexico, so we ultimately decided that we wanted to visit the Caribbean, and since St. Lucia was more affordable than some of the other islands and has an amazing reputation, it was a no brainer for us. The next biggest decision was just picking where. When looking for an all inclusive, I always consider a few factors:
How may restaurants are there? This is important to me because I never want to be on vacation and feel like I don't have food options. I just always assume that we wont go off the resort, so I like variety. St. James Morgan Bay actually has six options and a coffee bar/pastry shop. For breakfast and lunch, two restaurants are always open which is nice compared to other resorts we've visited that only have one. For dinner, the main buffet was open each night as well as the a la carte dinning options. We tried all of them and while all were great,  but we LOVED the Tree Top Bar (amazing pizza!). Additionally, we opted to visit Le Jardin one night. Le Jardin comes at an extra charge, but is more romantic and peaceful than some of the settings and adult only. It was lovely with a pianist, amazing wine selection and it's air conditioning! I had crab legs and they were amazing, Aaron had steak and was equally pleased. We also really enjoyed the Plum Tree Bar and Grill for lunch. Buffets can get a tad boring after a week, so this offers an alternative and a la carte lunch options (think pub grub in a good way!).
How many pools/beach Size? I hate crowded pools, so I always like a resort with at least two. I'm also always nervous about the beach being crazy packed and not having enough beach lounges. I will say the beach at St. James is on the smaller side, but there are a ton of beach chairs which is a huge plus. It's also So close to the pool area that you can easily move back and forth throughout the day if you'd want to! As far as pools, there is one that the older kids seemed to migrate towards, one with a swim up bar (large), an adults only pool up on the hill (very nice and right near a bar) and lastly, one near the Plum Tree Grill which has slides for the smaller kiddos.
Nightly Entertainment. We like to know what to expect from entertainment because Aaron and I typically partake in these activities. Every night from 8-11 PM the resort has something planned, including Wednesday nights when they host a giant beach luau which was so fun! They have performers (i.e. stilt walkers, dancers and fire throwers), roasts pigs, provide fresh coconuts and more. It's very family friendly event and we really enjoyed it. Other nights of entertainment included karaoke (yes, we participated), a great band and a DJ.
Daily Entertainment. This is also important to us. I could lay on a beach all day and read a book, but Aaron can't. He likes to move around and do things (like a toddler). 🙂 St. James Morgan Bay had your typical entertainment, volley ball games, water aerobics, etc., but I was also surprised that along with non motorized water sports, they also had motorized sports included in the package. You could jet ski, water ski, sail, paddle board and more. We took advantage of the paddle boarding and wow what a workout, but we really enjoyed it!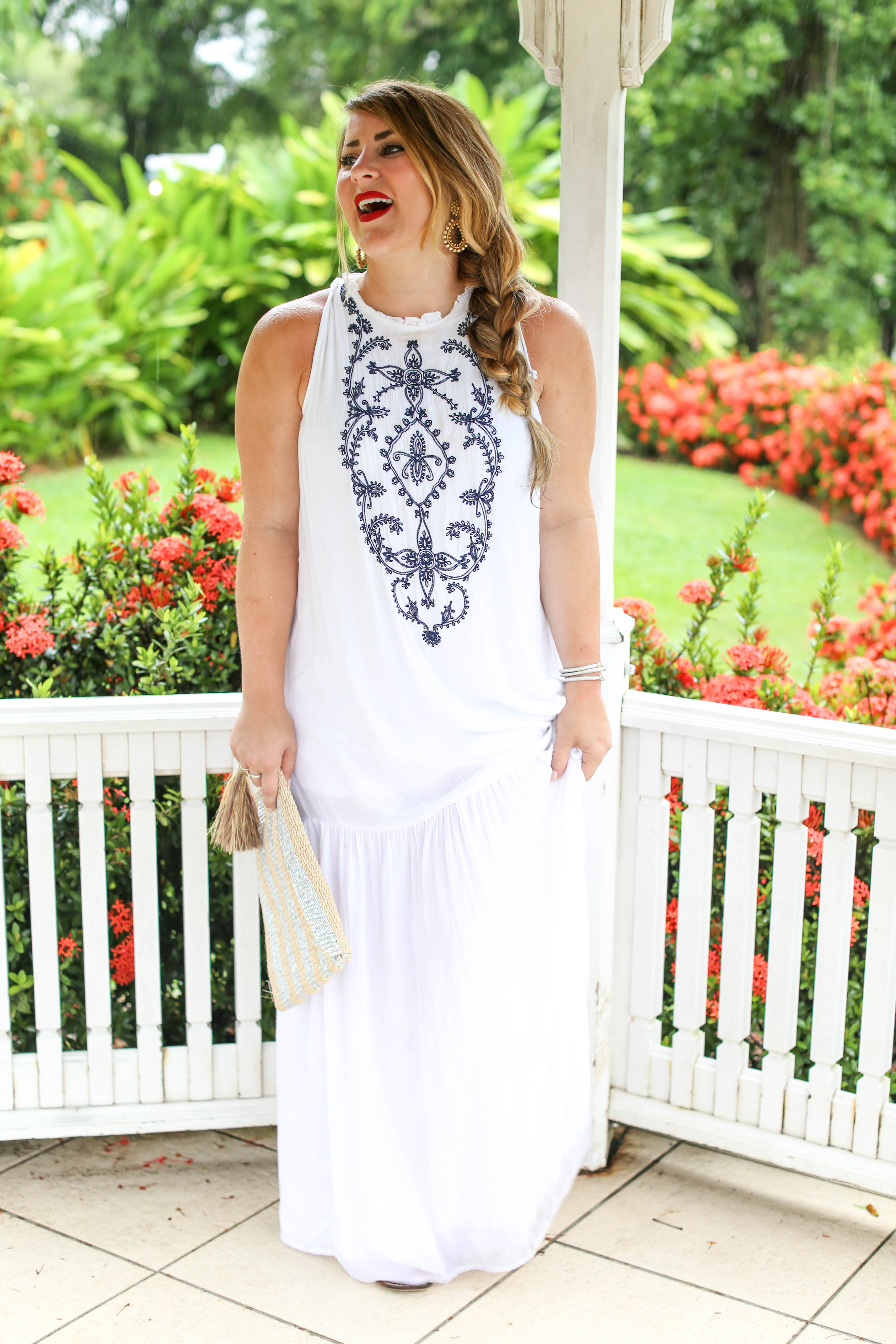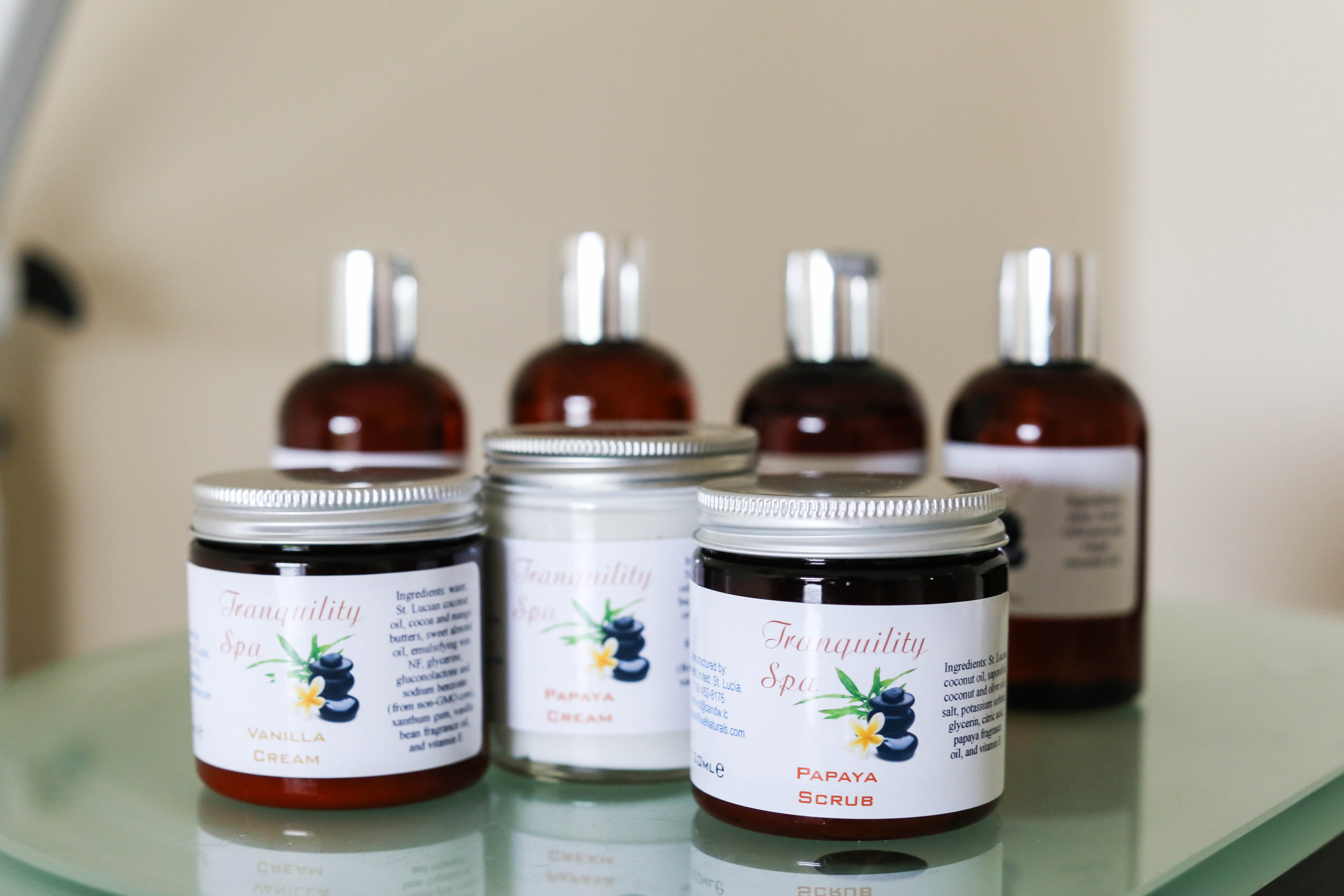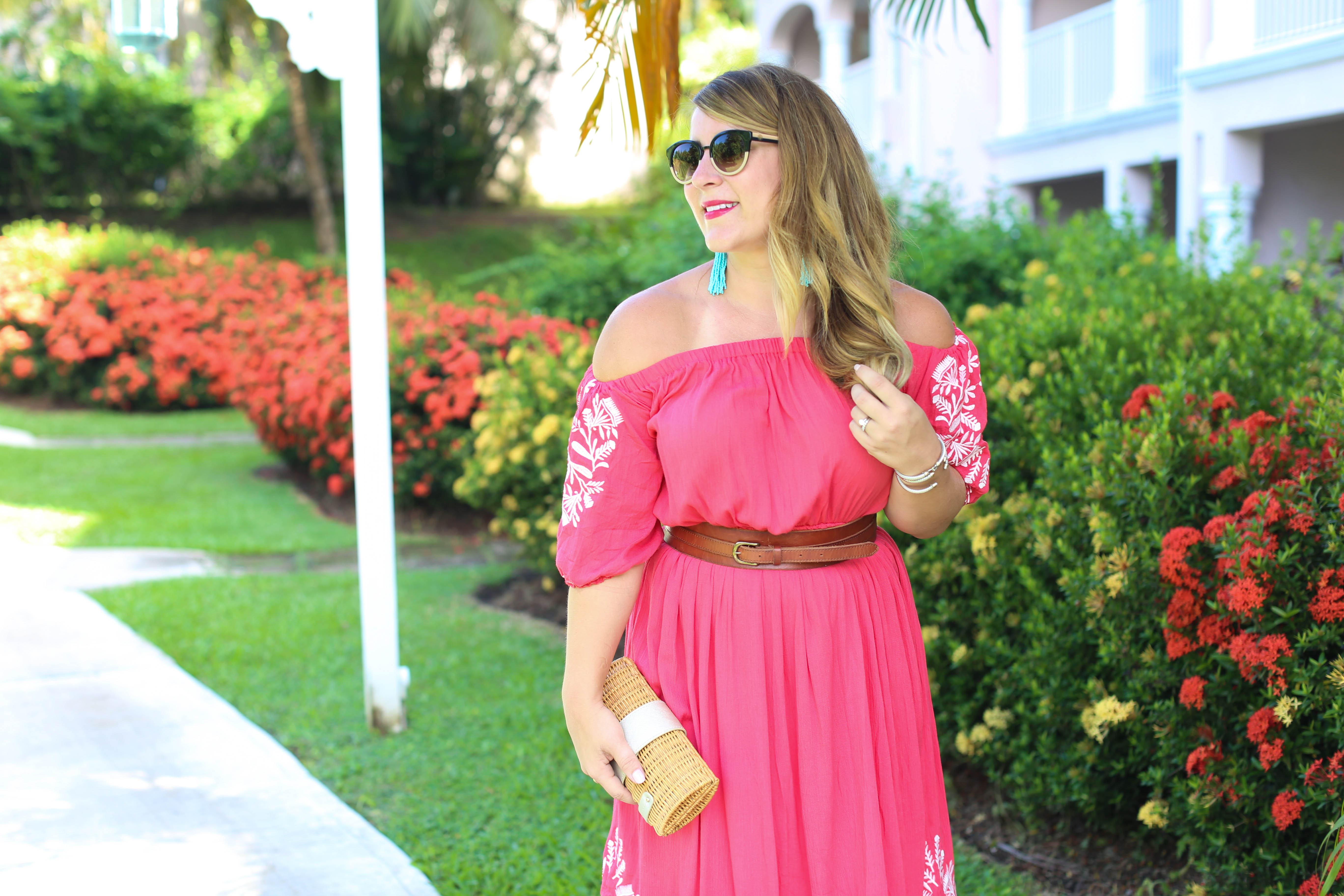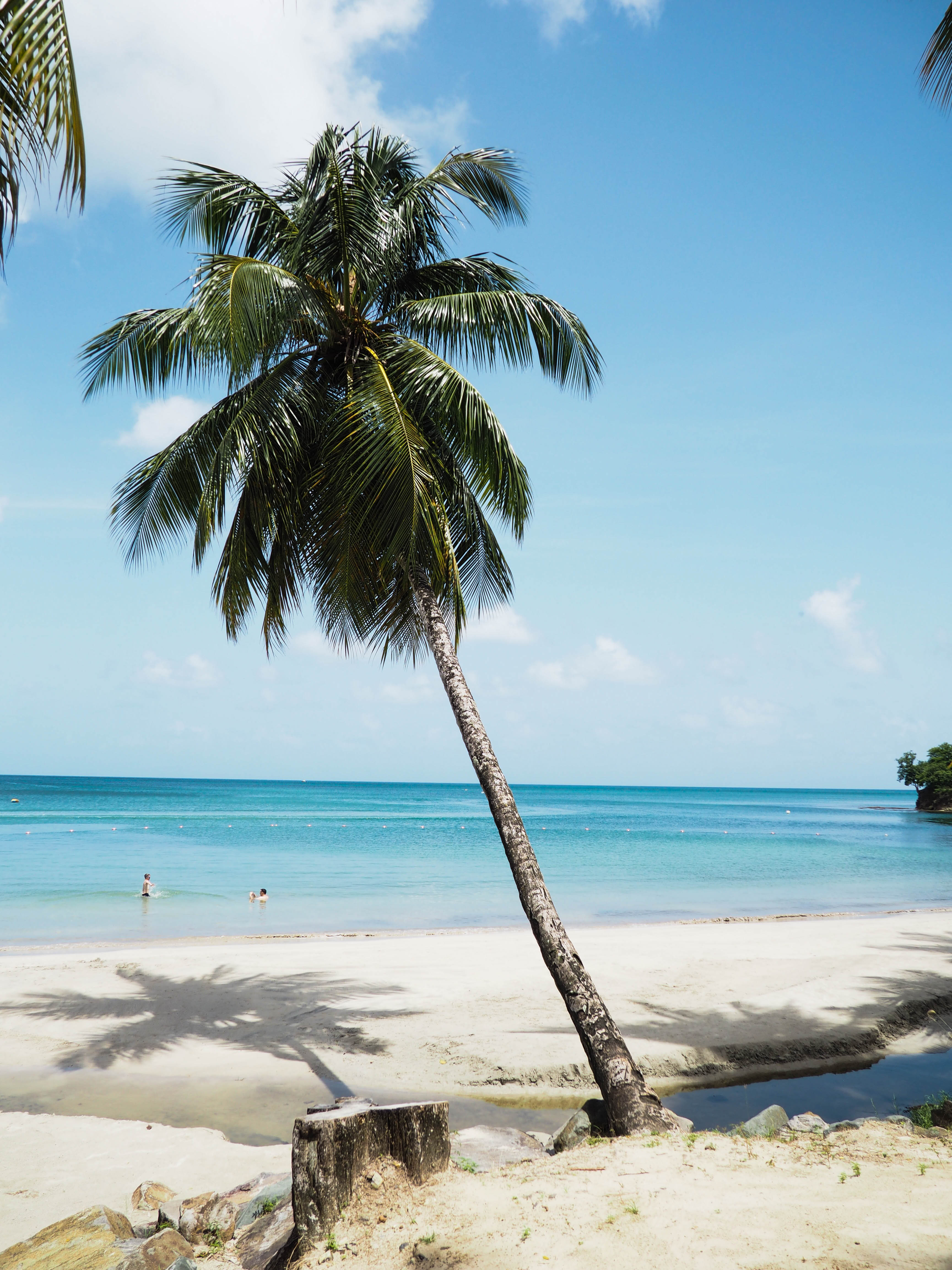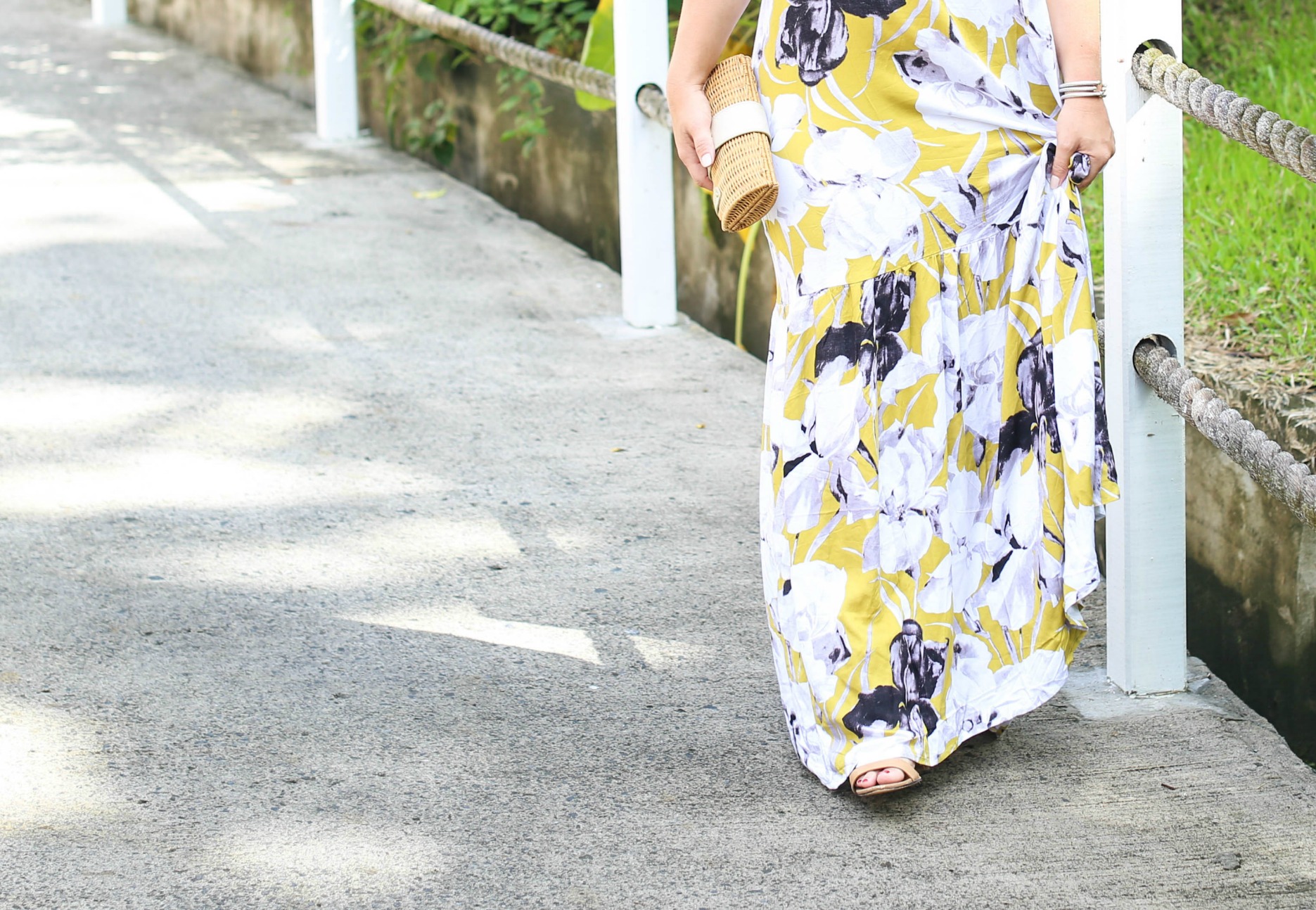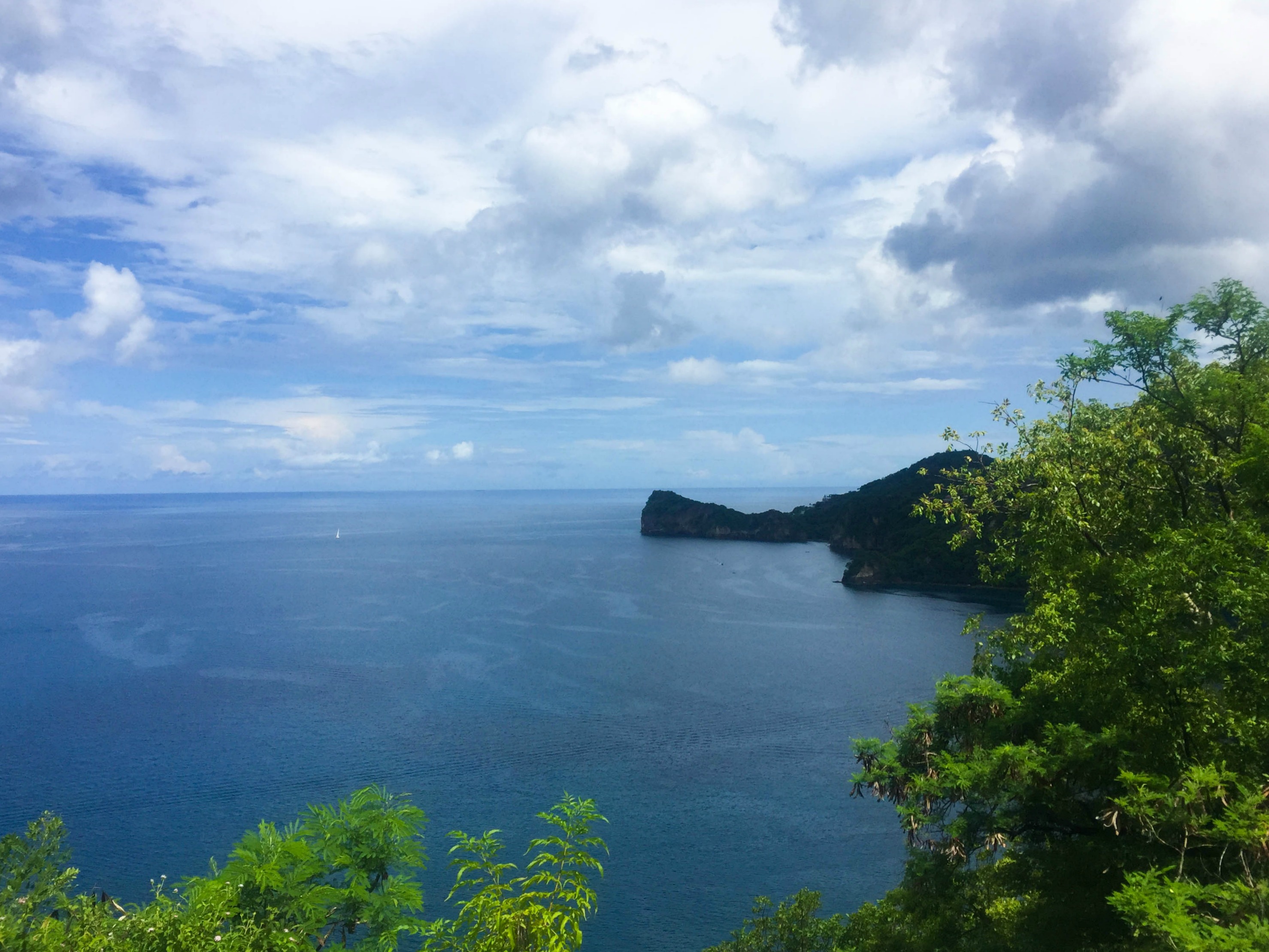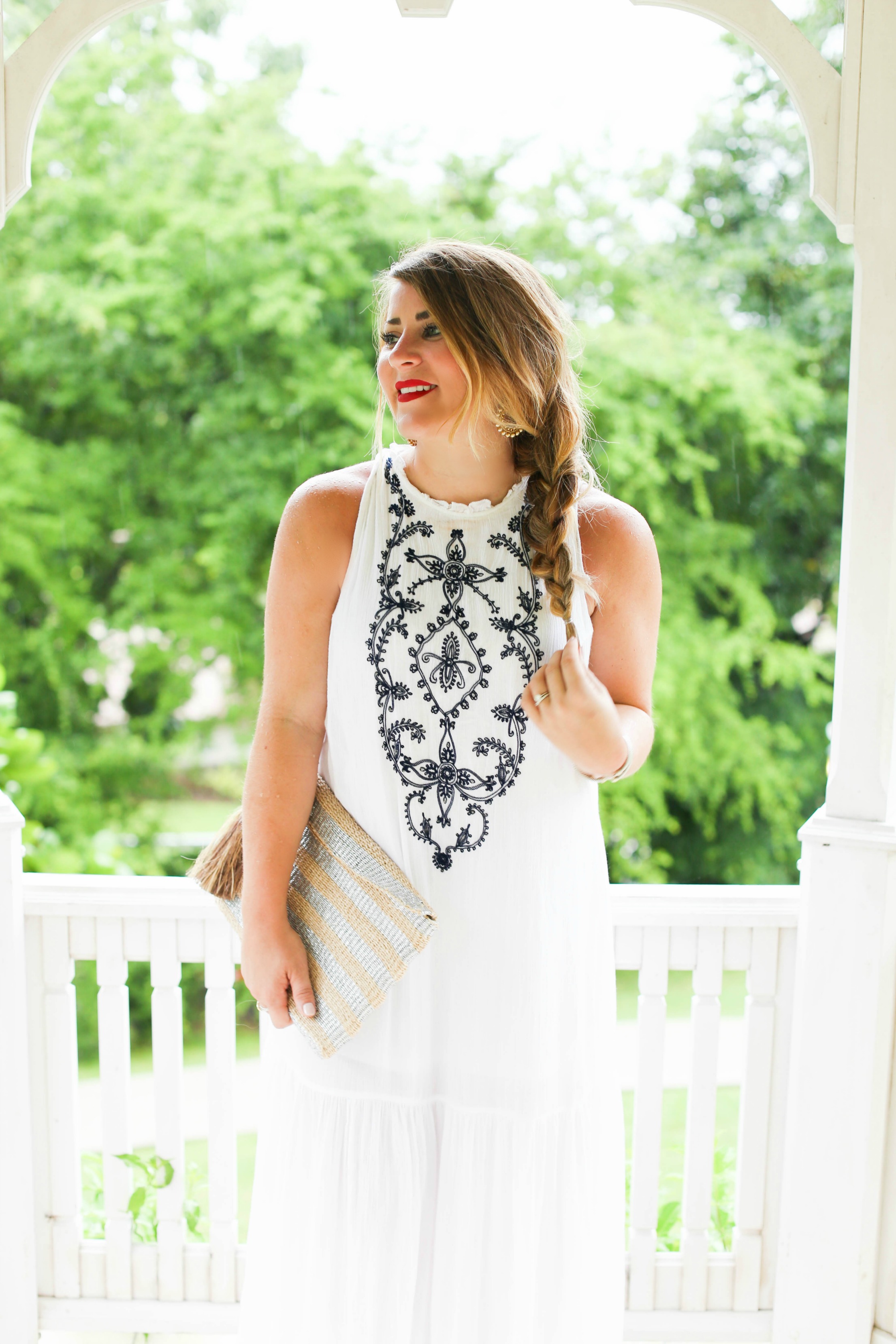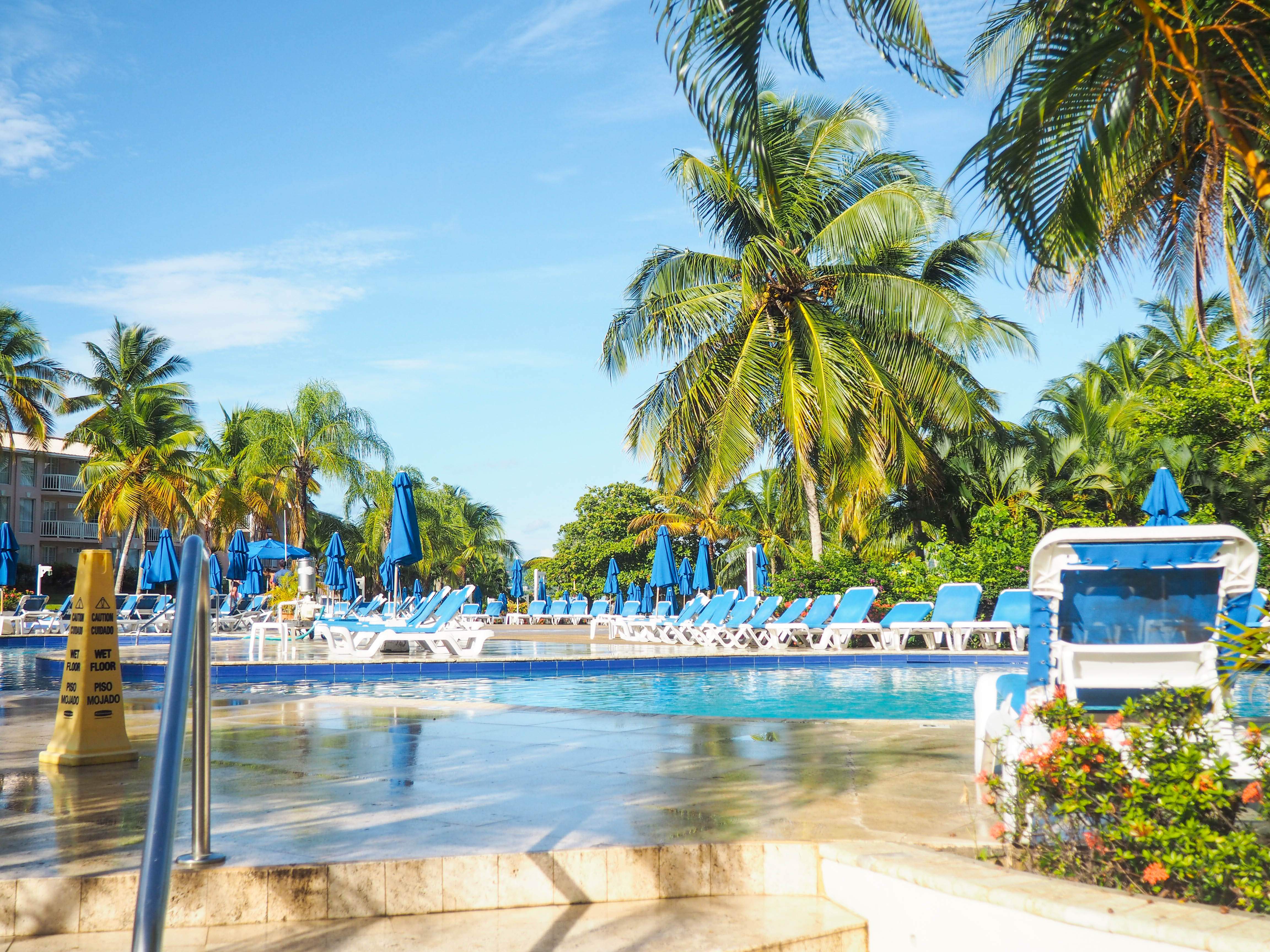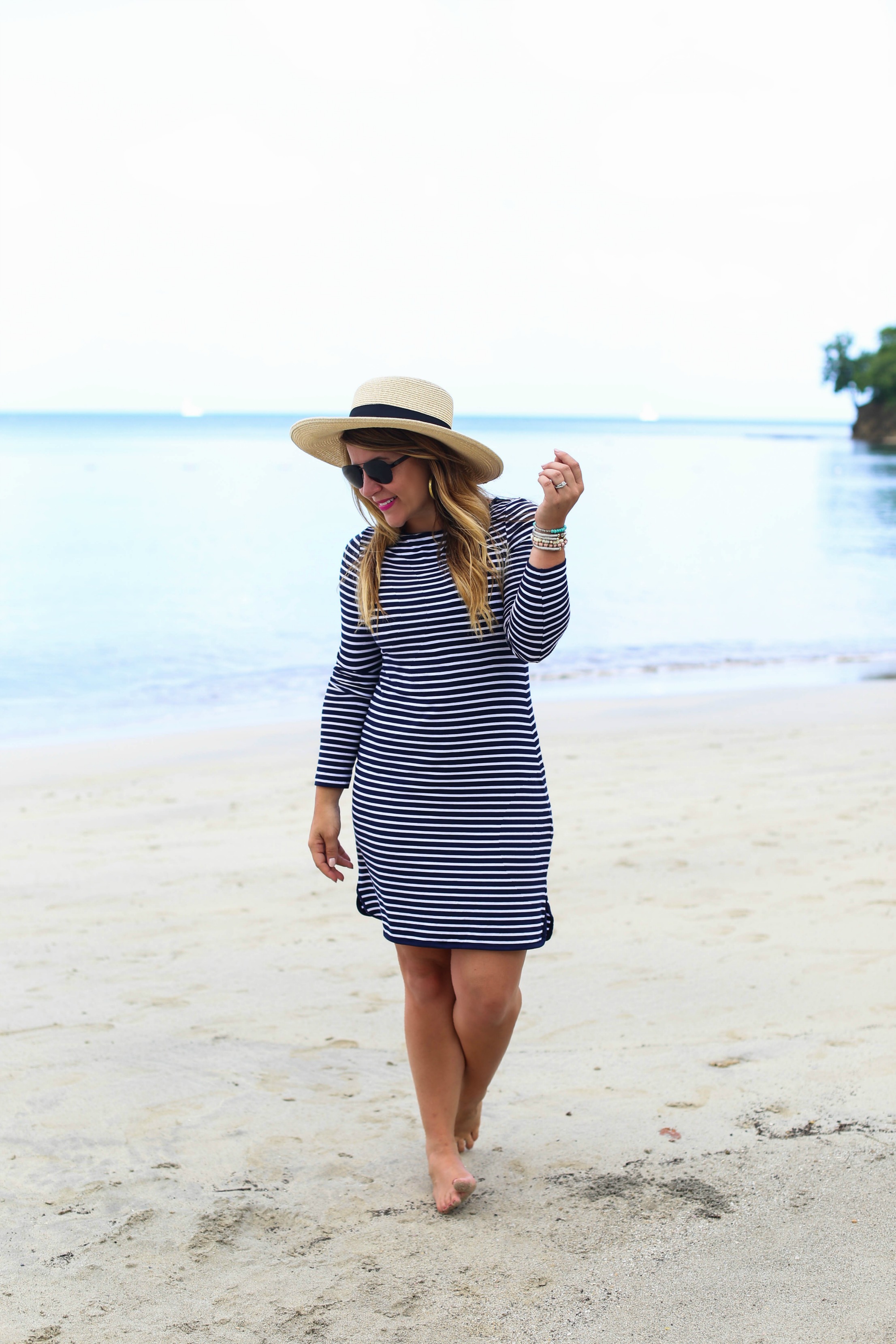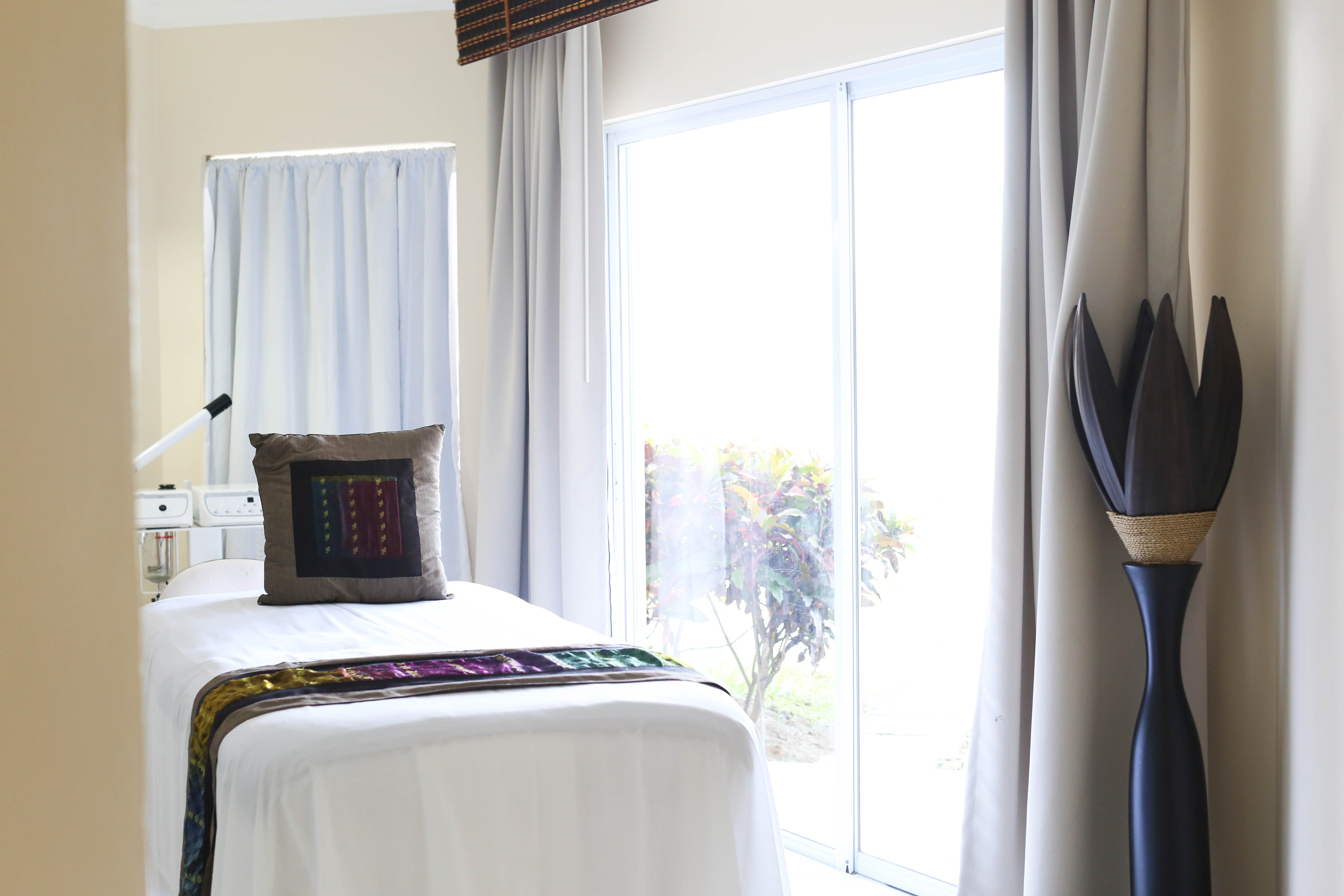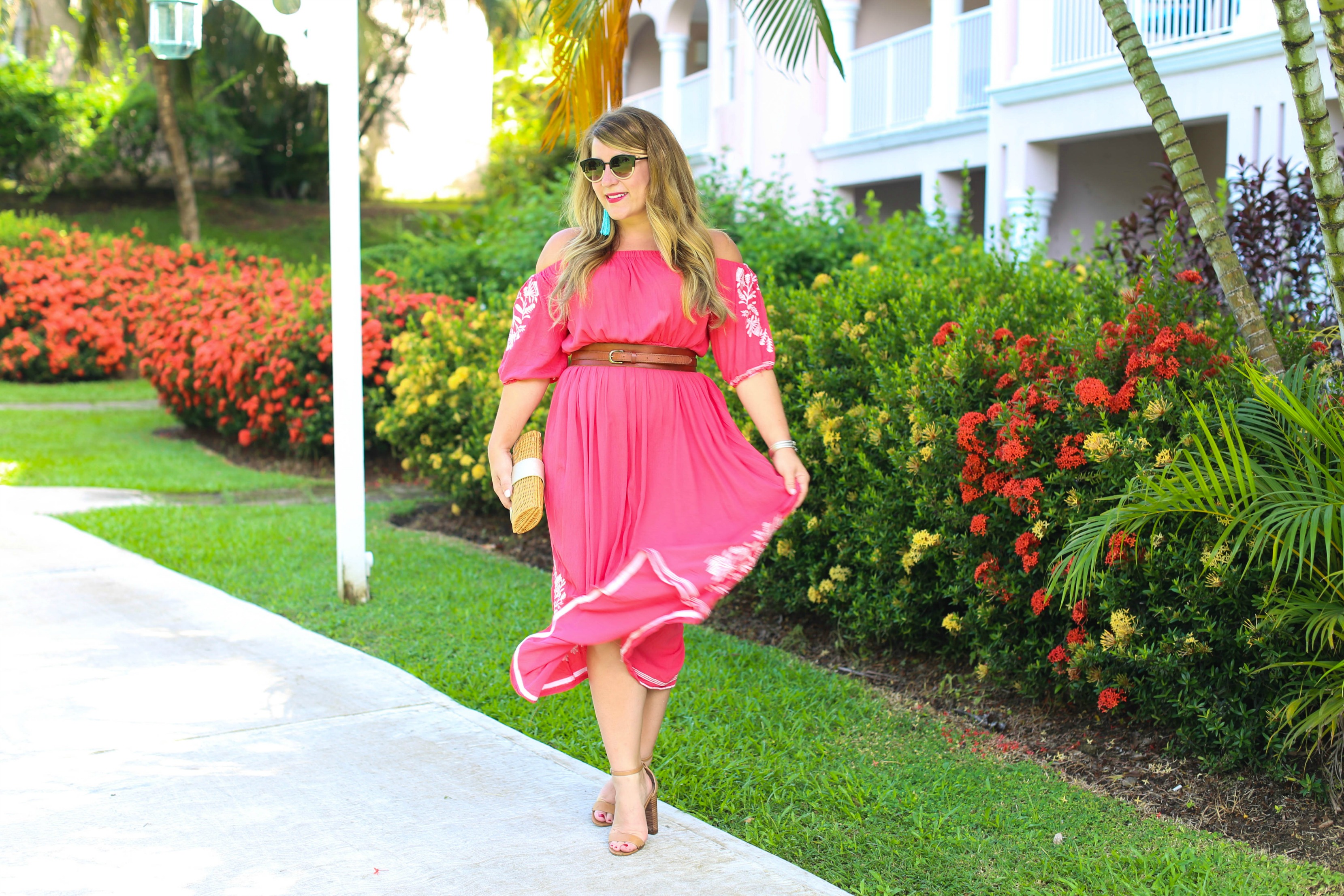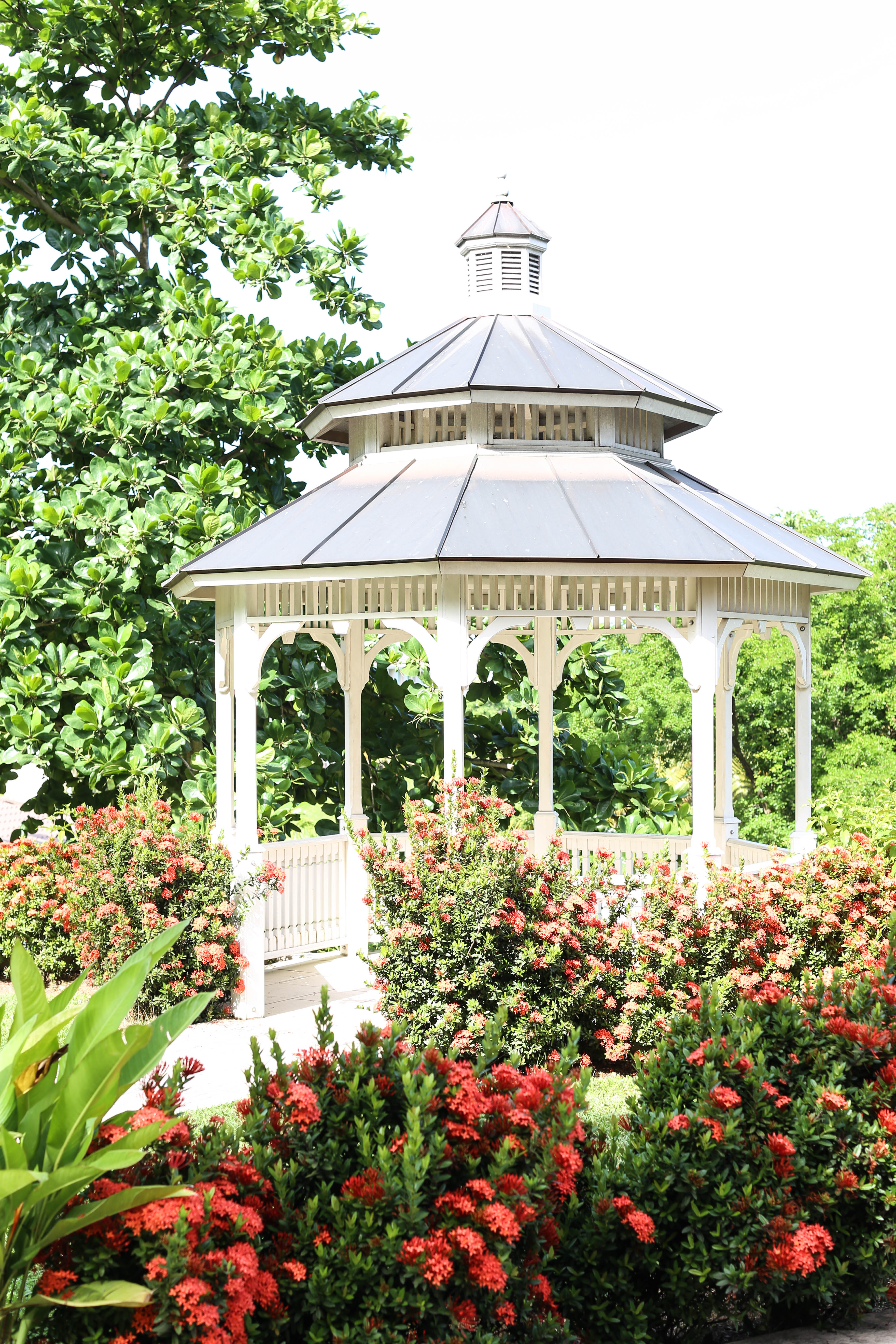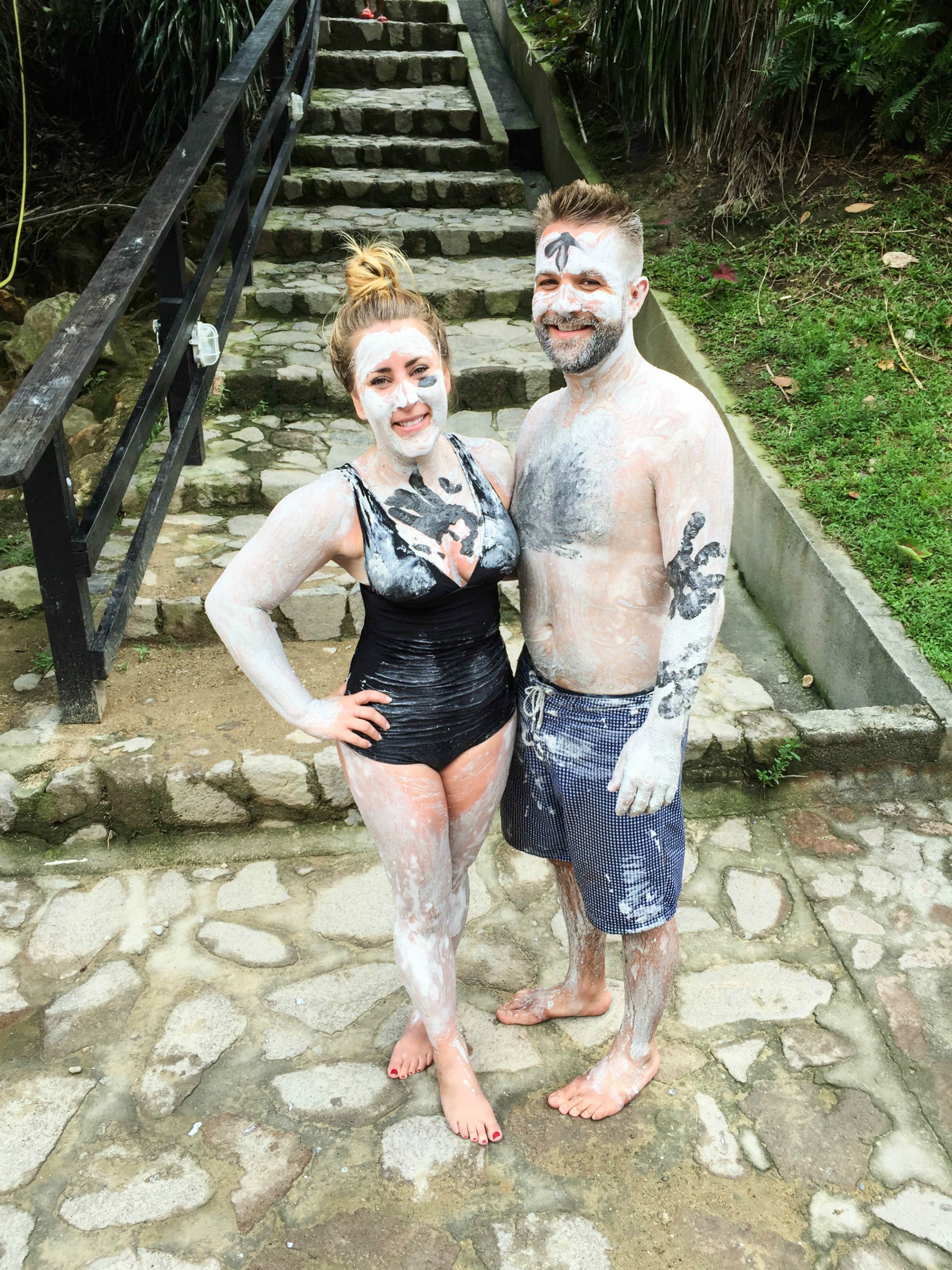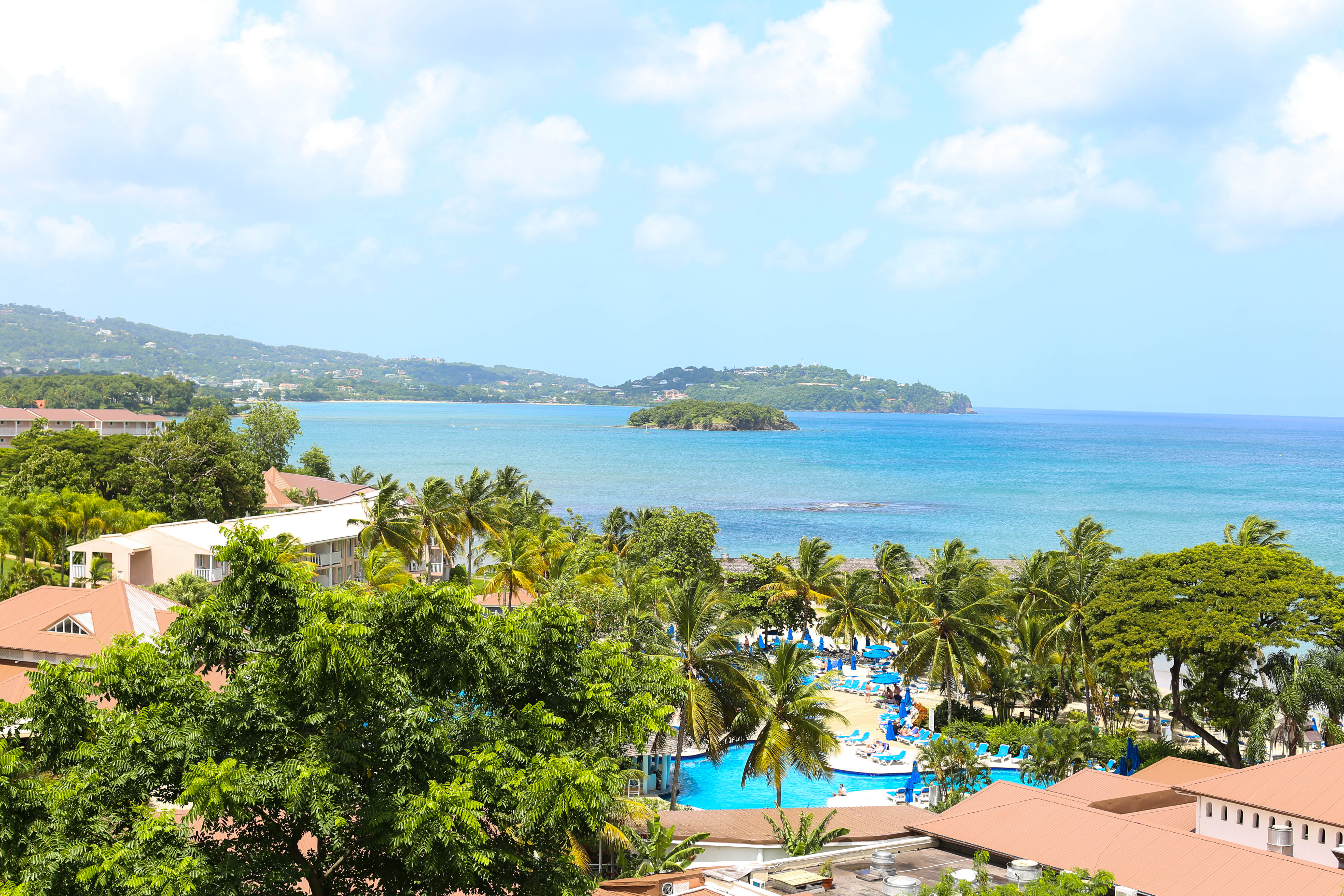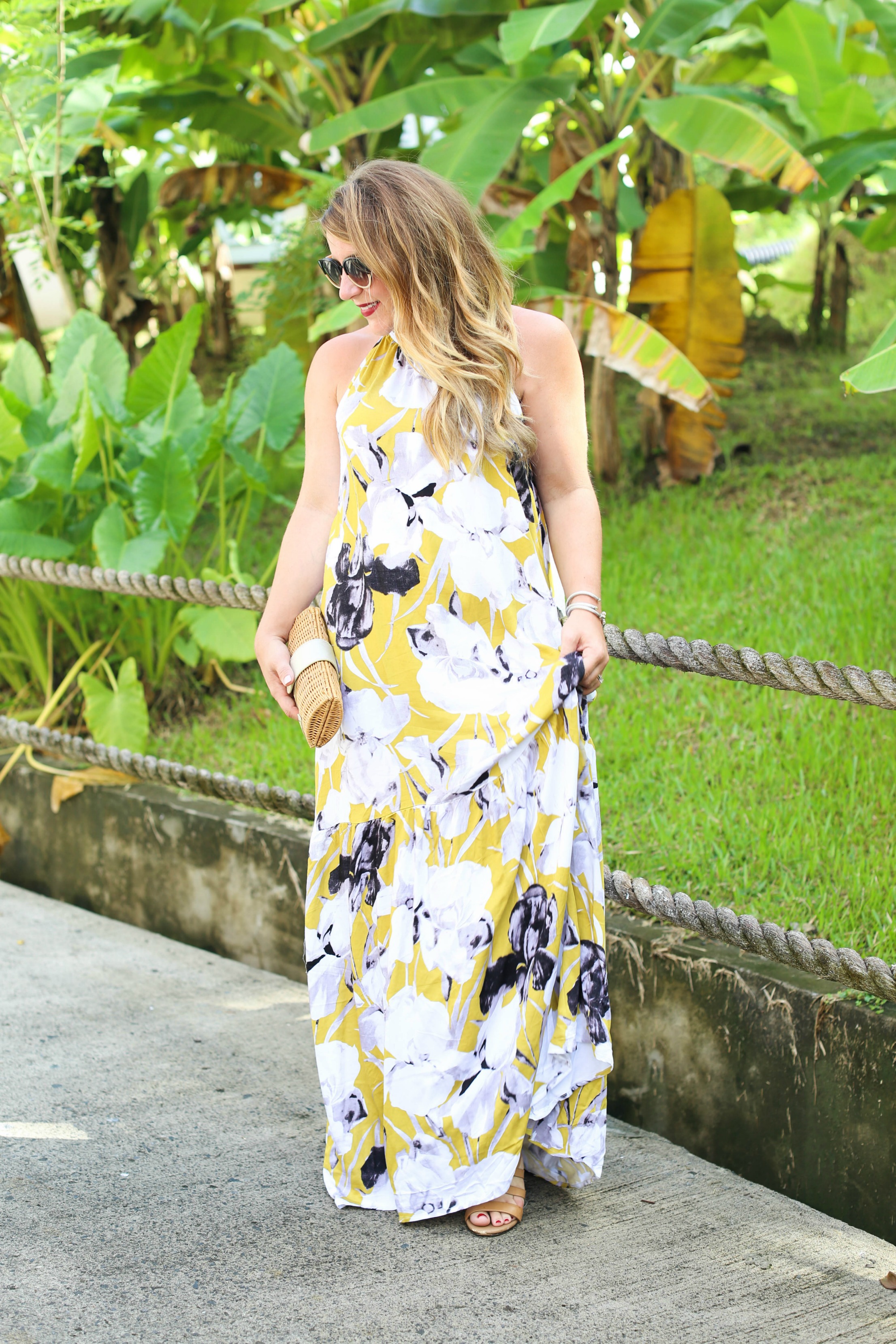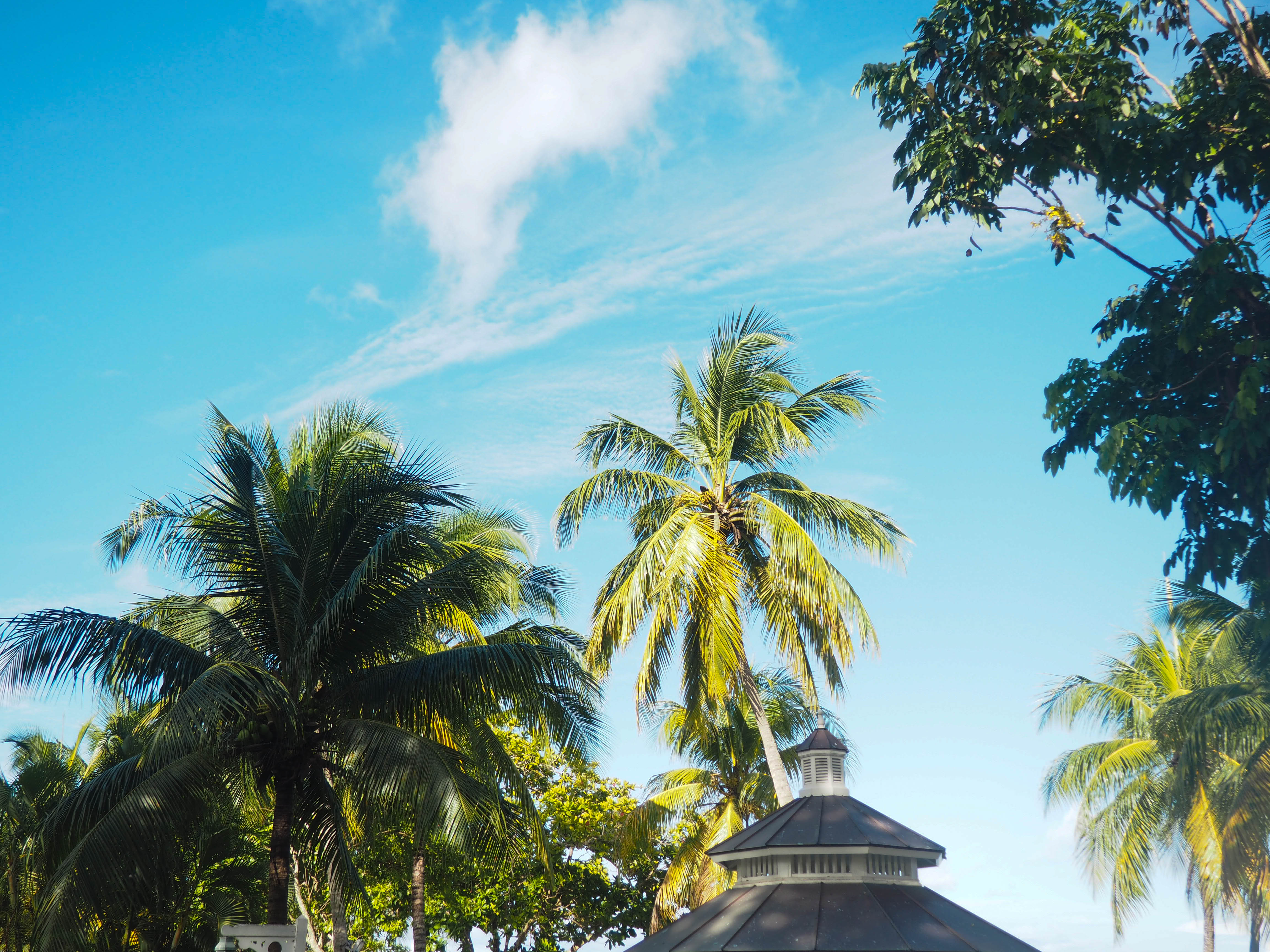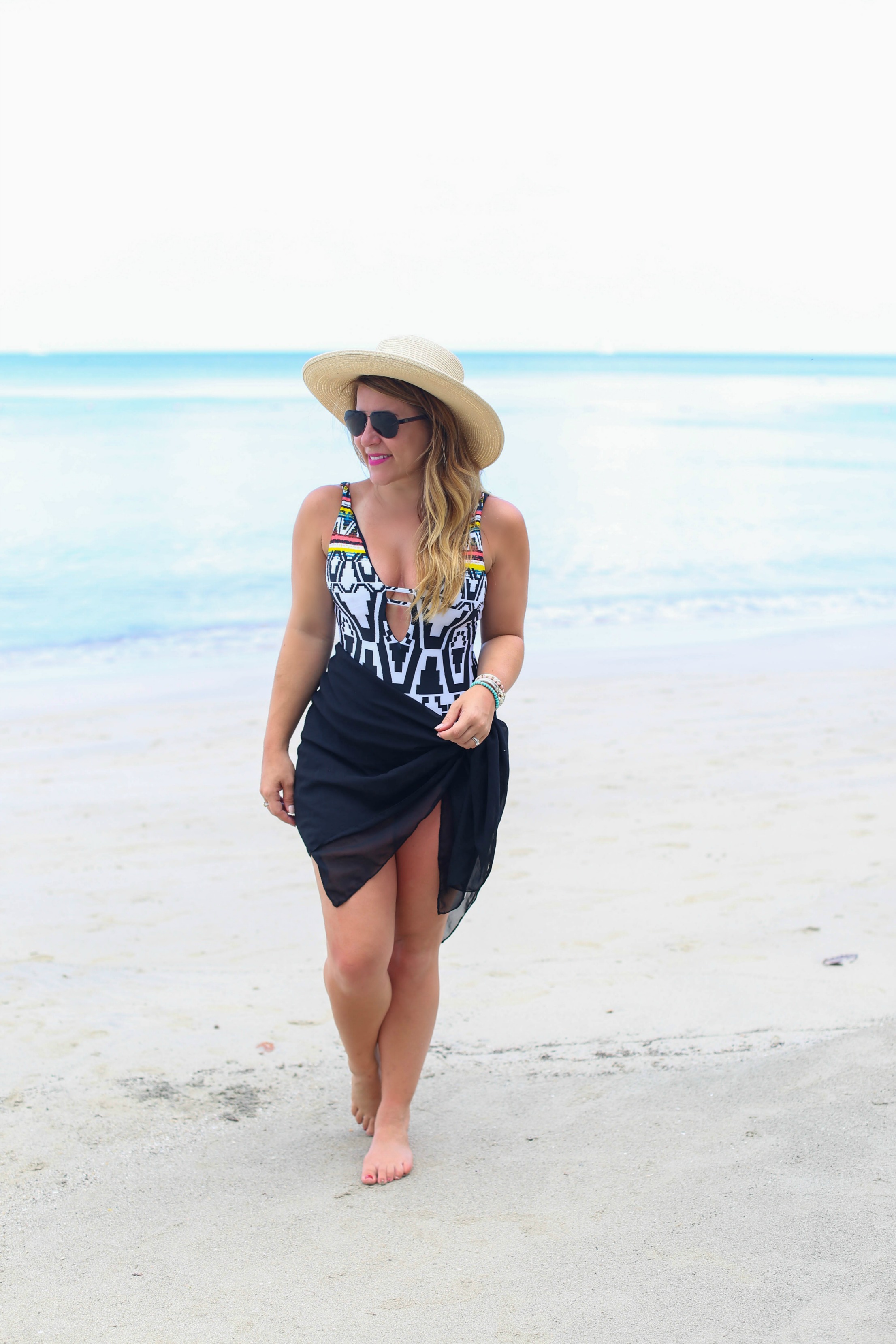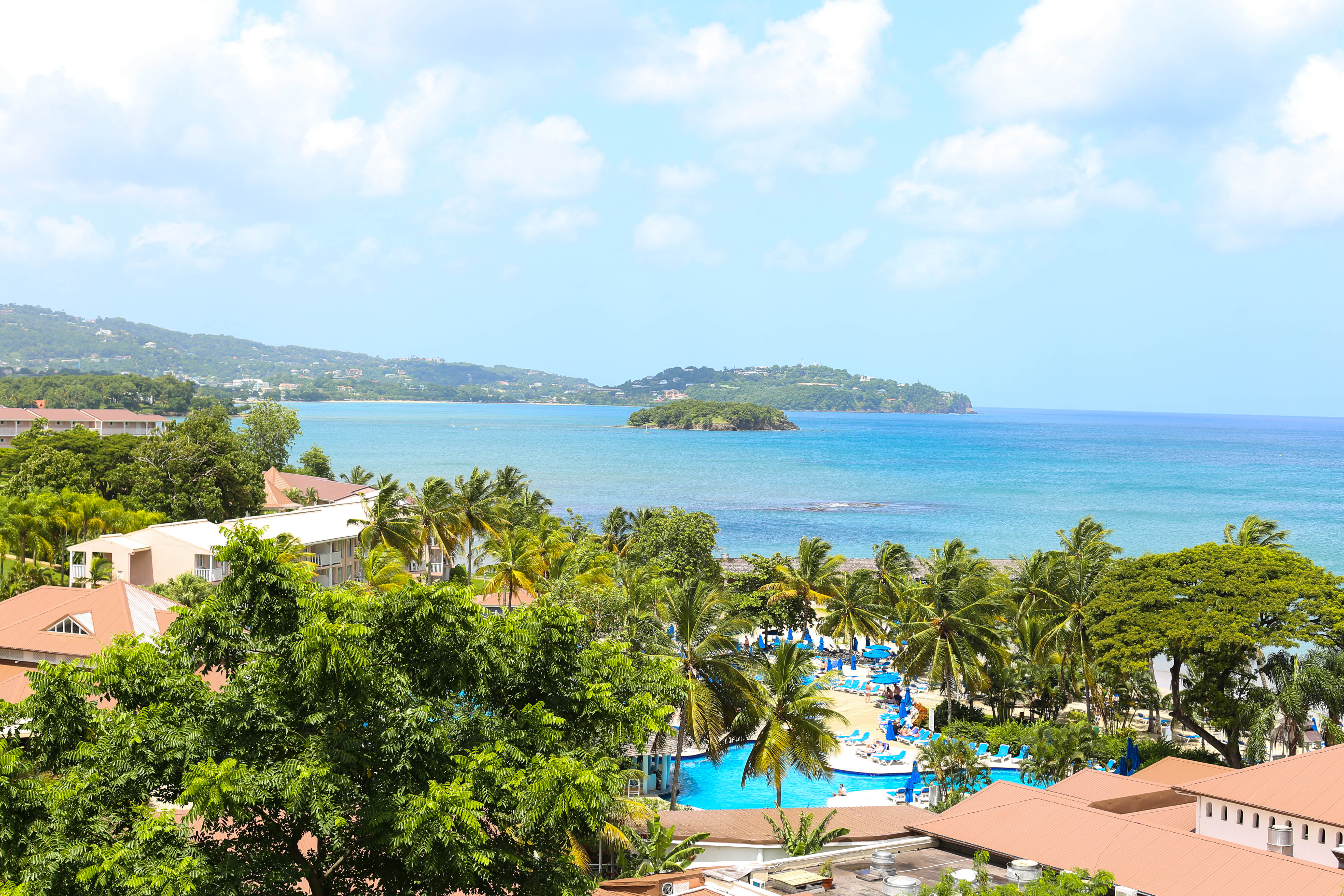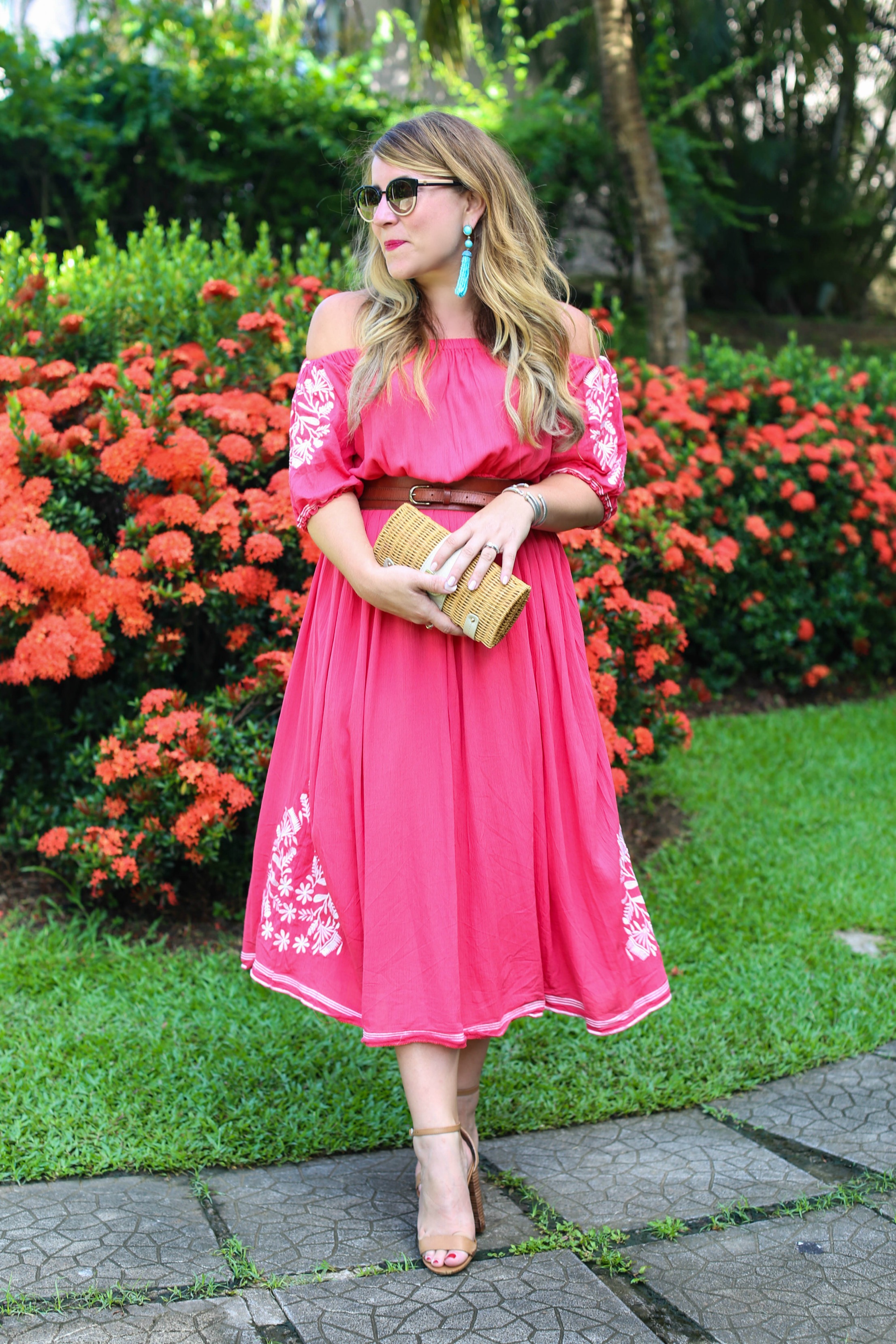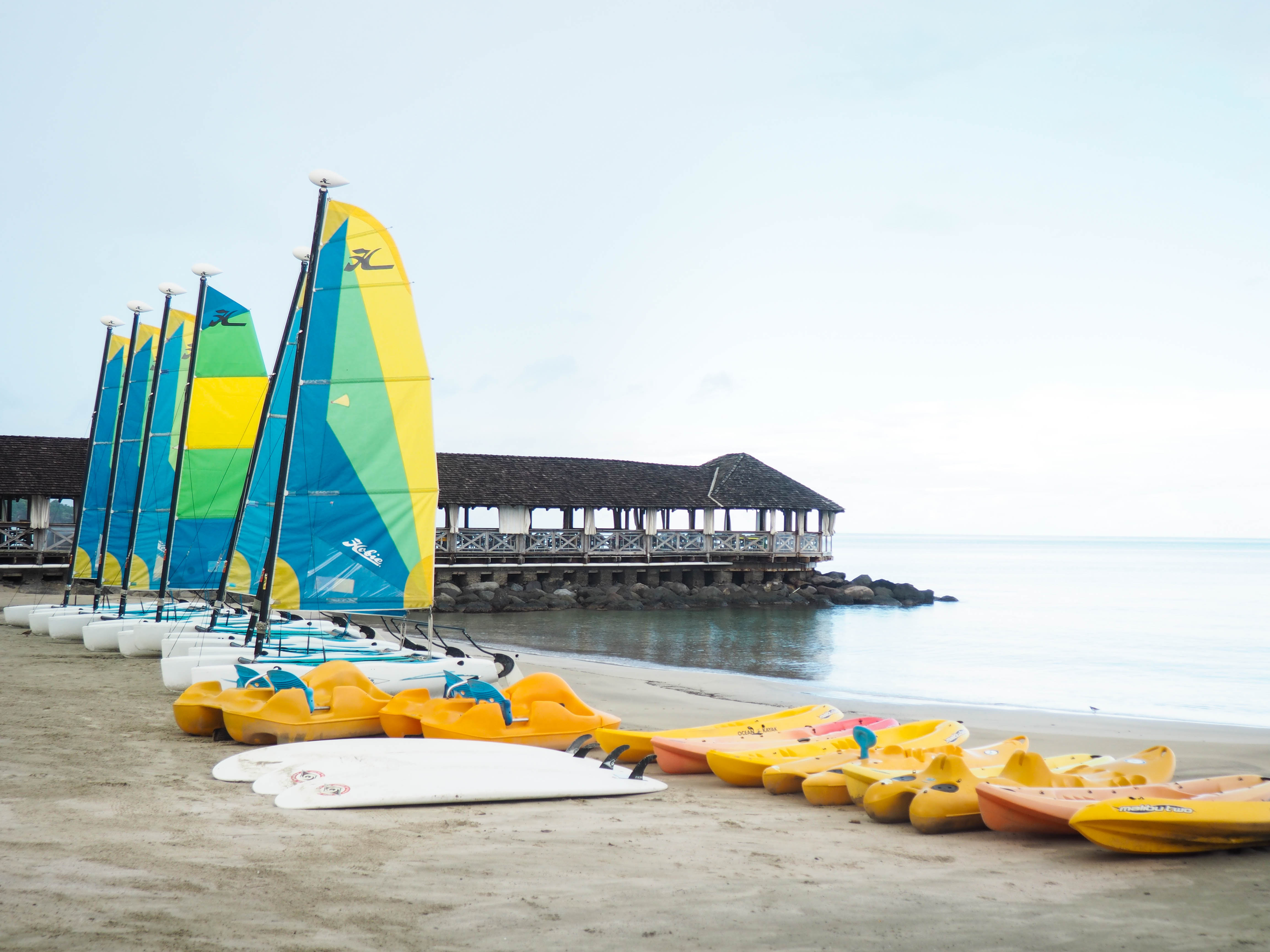 White Dress (similar) / Pink Dress / Black Swim Suit / Printed Swim Suit / Swim Cover Up / Hat / Sarong / Braided Clutch / Floral Maxi
We also decided that since we were going the all inclusive route, that we would do a few excursions to shake it up a bit. So what else did we do on the resort or off?
Shuttle Services. Let me first back up to how we arrived. Resorts in St. Lucia are typically pretty far from the airport. You can choose to helicopter, or shuttle. We opted for the shuttle to save money, plus we kind of wanted to drive through St. Lucia's scenery. At first we were going to book through our resort, but I found Islander Group Janus Airport Shuttle and read amazing reviews. Our driver, Swame was simply amazing. He had fresh cold bottled water for us, gave us history of the island as we drove and even stopped numerous times to take photos of us at look out points along our drive. I would highly recommend the Islander Group with Janus, plus they were less expensive than what the hotel quoted us. I cannot recommend them enough.
Tranquility Body and Soul, The Spa at St. James Morgan Bay. We had a couples massage during our visit and it was top two of the best massage I've ever had. The spa is relatively new to the resort, but it's full service and they run specials like "ladies days," etc. The couples massage room was simple, clean and personalized. It had candles along the walk and was over looking the gorgeous ocean. I would have loved to get a facial with their line of products (which smelled amazing), but I knew Aaron would be more into a massage than a facial or pedicure! I don't blame him.
Joy Excursions. We debated back and forth about doing an excursion, but I am SO glad we decided to. St. Lucia has the Piton Mountains which were formed by a volcano once upon a time, which means there is also a volcanic bath on the island. From the very beginning of the day, the Joy Cruise was fun. Our crew was both hilarious and accommodating. We started by boat which took us out into the deep crystal blue waters where we docked and hopped into a shuttle van to tour downtown Castries. The van took us to the volcanic bath, where we bathed in the sulfur springs (hot!) and then rinsed. From there, we traveled to a gorgeous waterfall and took another swim, then it was to Joy's private residence for an authentic St. Lucian lunch. His home had about every exotic fruit tree you can imagine- it was truly beautiful. Once lunch was over, we traveled to a public beach with amazing snorkeling right near the Pitons. Definitely the best snorkeling I've experienced! I will say though, that the ride back was most fun. the crew played music, passed the rum punch and everyone just relaxed and chatted. The crew was amazing and I definitely think it was one of our favorite parts of the trip.
Of course, we had a few things about the resort that we didn't like too. For example, wifi was not free in the rooms, so we ended up paying for it for the week ($50.00). However, only one device could be connected at a time. Additionally, besides Le Jardin, none of the restaurants are air conditioned, but I will admit, it wasn't as uncomfortable as I thought it would be. In the evenings there is always a light breeze which is great. The rooms were pretty standard, but clean, which is why I didn't take any pictures. I definitely recommend spending more and getting a room on the hill with an ocean view. The balcony was my favorite place to be in the evenings and mornings (many pictures are from our balcony). The resort is also fairly close to the road which was surprising, but given how small the island actually is, I think that's how most resorts in St. Lucia are. Aaron's biggest complaint was that room service and a mini bar were not included in the package as other places in our past, but you can purchase room service if you need something, although waters in the fridge would have been nice.
Overall, I'd say our negatives about the resort were pretty slim. The gym is amazing (one of the best resort gyms I've seen), they have child care for parents, tennis courts and plenty of places to sit and enjoy the free wifi near the lobby. We met some great couples and people while on the trip which is always fun and I can honestly say that I would recommend St. James Club Morgan Bay (and def. the spa), Joy Excursions and Janus to anyone. We had a great trip throughout and just looking at the pictures makes me nostalgic for those deep blue waters again!
I hope this was helpful! It's a lot to take in and it's definitely my most thought about/time consuming blog post to date, but I love reading review of resorts and honestly wont book without doing so! I'm already planning our next visit in my head, definitely one of the most beautiful places I've seen!
Have you been to St. Lucia or Morgan Bay? Any other resorts you'd visit?