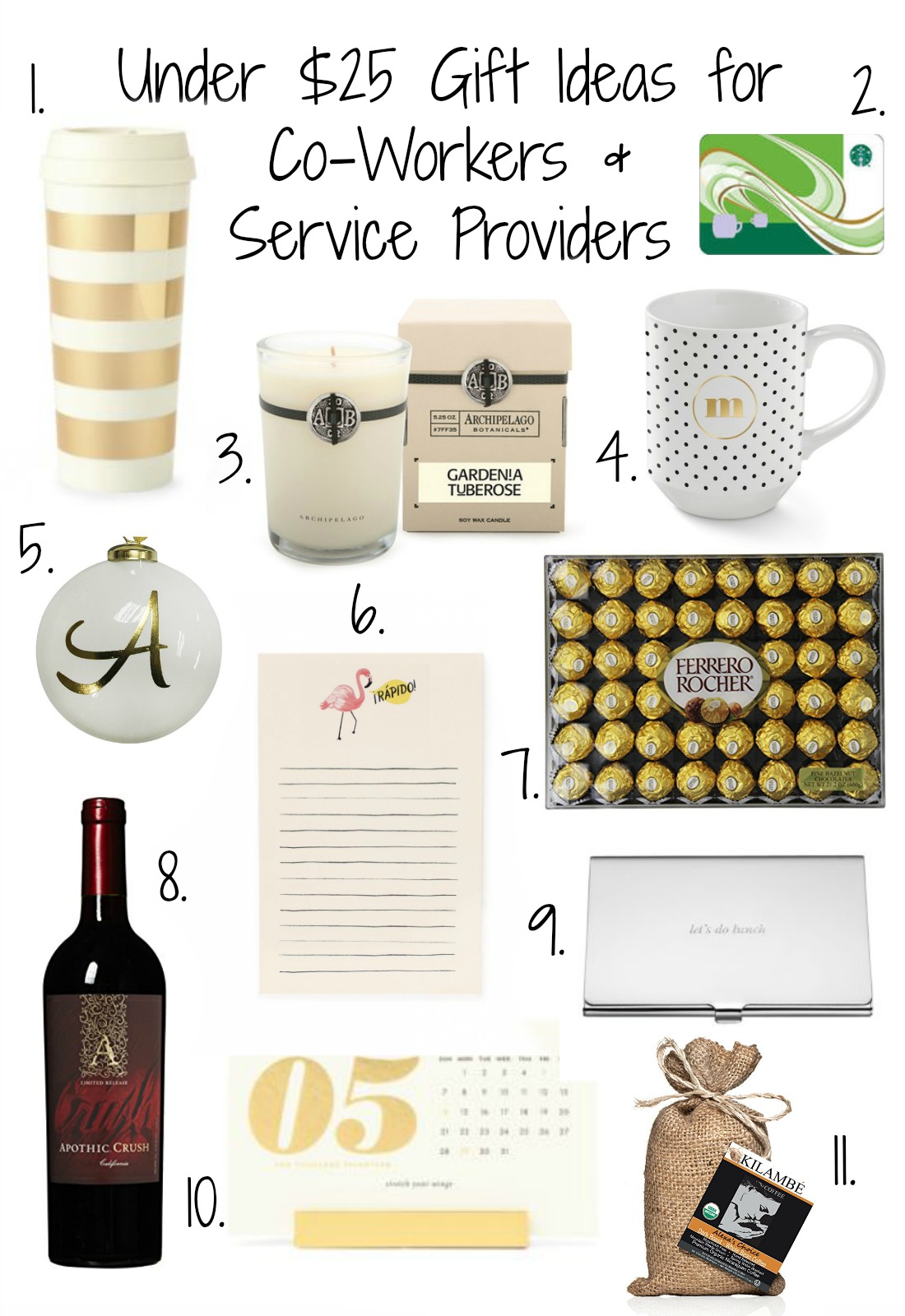 1 / 2 / 3 / 4 / 5 / 6 / 7 / 8 / 9 / 10 / 11
I wanted to switch my gift guide up to some of the hard to shop for people in your life including co-workers and service providers. I know many don't shop for these groups of people, but those that do always seem to be stumped (myself included). These are people I don't want to spend a ton on, but definitely want to show some appreciation for, so I'm rounding up my under $25 gift guide for that reason!
These are actually gifts I've gotten, or plan to give co-workers and now that we own a house, it's also a roundup of gifts I give my service providers. If you're like me and have a ton of packages delivered, recycling picked up, etc. I like to give our service providers a little happy during this season. Sometimes I just write a check as a small "bonus" (i.e. to our lawn care person), but some people also buy something for home care providers, house keepers, nail salon techs, hairstylists, etc. And while those individuals can most likely accept any type of gift/holiday happy, mail services seem to have tighter guidelines. I found this article the other day which I think was super helpful in knowing what is accepted/allowed and what is not. I've broken it down below.
UPS – UPS drivers are discouraged to accept cash or gifts, although they appreciate a holiday goody to get them through their winter route. There is no official policy although the drivers are encouraged to use their best judgment.
Fed Ex – Employees can accept gifts valued at $75 or less, but gifts of cash of any amount may  never be accepted.
USPS – No cash or cash equivalents (gift cards) and no gift with a value of more than $20
Anyway, it seems like small gifts under $25 are a safe bet, so the list above should be helpful. I also like a cute mug or tumbler filled with coffee/tea, etc. But that's just me!
Do you buy for these types of people? We do for our lawn care person, sometimes the garbage/recycling and this year maybe our house keeping company (still debating because we just started using one). Who am I missing?
Happy weekend friends!