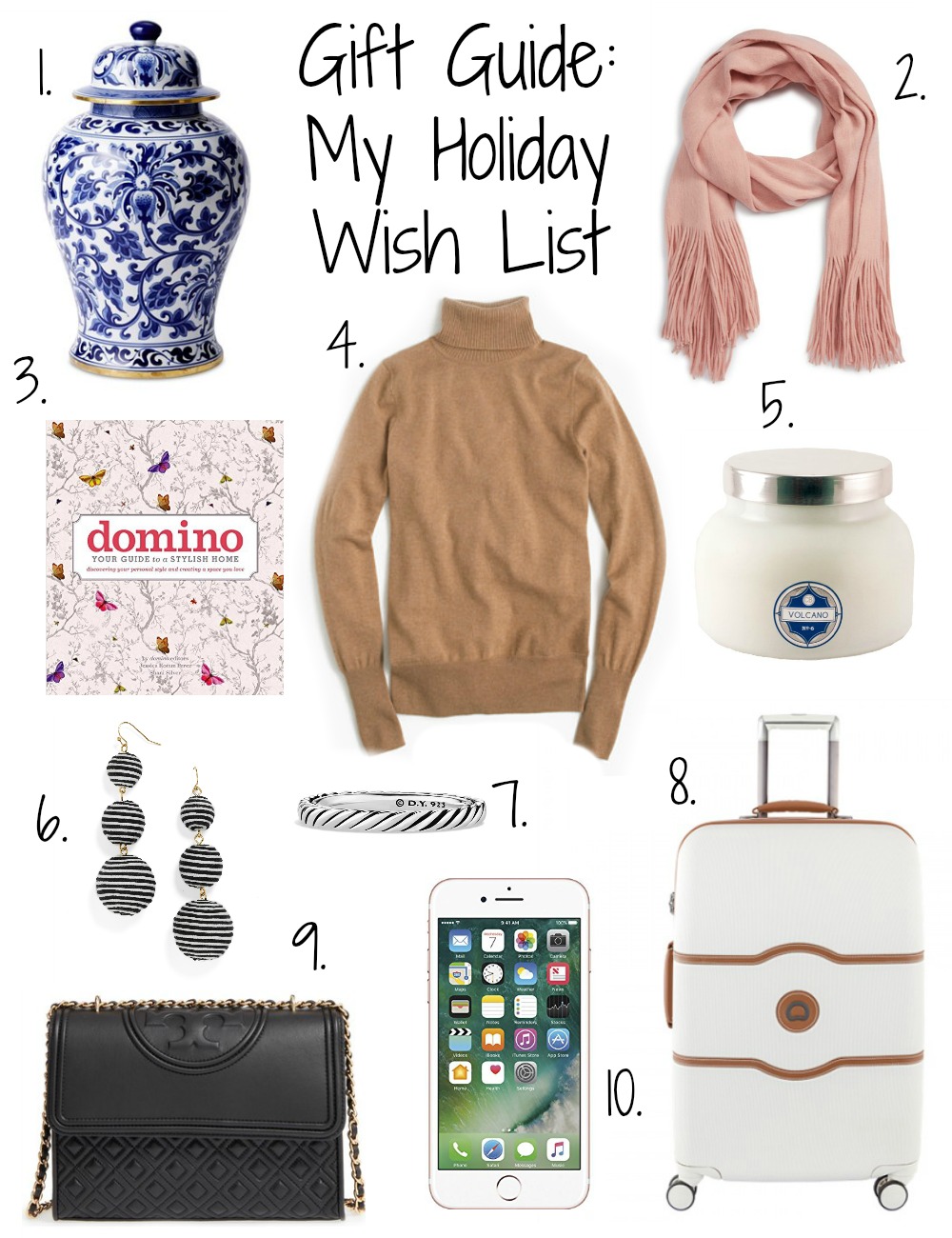 HOLIDAY WISH LIST: 1 / 2 / 3 / 4 / 5 / 6 / 7 / 8 / 9 / 10
Happy Sunday! I don't usually post on the weekends, but I had some free time and thought it might be fun to show you what's on my holiday wish list this year! Since our Anniversary/Hanukkah/Christmas all usually fall within a week of one another, I'm constantly brainstorming gifts for my holiday wish list for not only friends and family, but Aaron as well. I always try to make a holiday wish list of high and low priced items because for our Anniversary I may get something nicer, but for Hanukkah, we typically only spend $10-$25 per night. This year I've told Aaron to go in search of blue and white Ginger jars from my favorite, the Cheshire Cat in Cameron Village, I love decorating with them and want to line the top of our bookshelf with them like this once I get enough (I have a long way to go, I only have two). I'm also asking for a new iPhone, Luggage from Mori Luggage (I always try to buy my luggage from a reputable place), a new black bag and a tiny silver DY ring to have for stacking.
If you're still stumped for what to put on your holiday wish list, I also take this time of year to stack up on my favorite, gift cards! Who doesn't love shopping with someone's money beside your own? I have been getting blow outs pretty regularly from the Parlor and I'm obsessed, so gift cards for that are definitely hitting my list as well  manicure gift cards. These are both things I love to do, but are also not necessry, so it helps when you're not spending your own money on it. I literally told Aaron if he just wanted to get me a few gift cards for Hanukkah, it would be perfectly okay with me!
So what's on your holiday wish list? I'd love to hear? I used to solely ask my parents for clothes, but as I've gotten older I realize I'd rather them buy stuff for the house. The last few years my mom has been adding to my Christmas Spode collection and I love pulling it out each year since it reminds me of her. 🙂
Happy Sunday friends! Thanks for reading as always!
XX