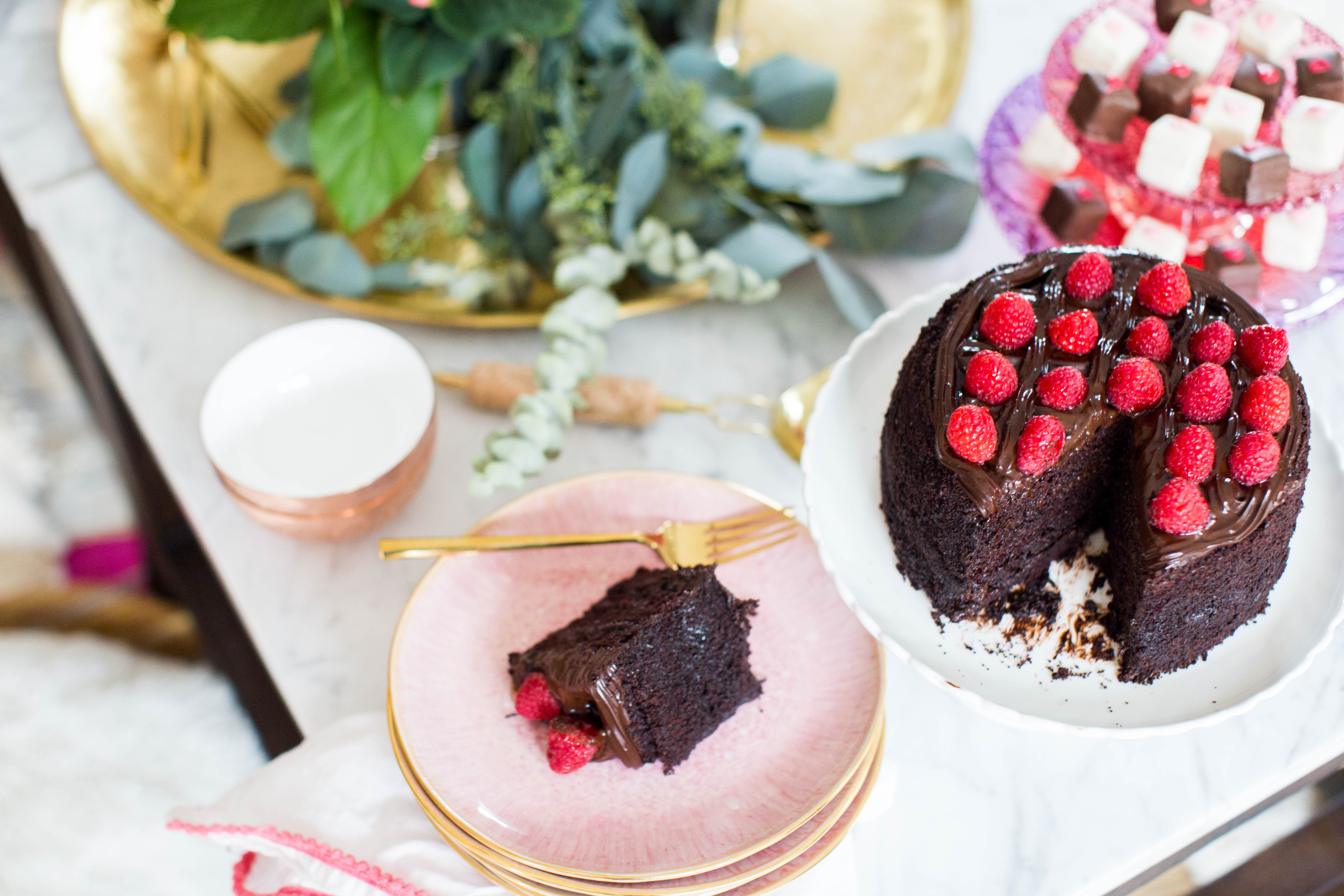 Pink Plates / Gold Plates / Gold Speckle Cups / Gold flatware / Gold Tray / Tables / White/Pink Mugs / Coffee Pitcher / Serving Bowls / Gold Bowls / Large Cake Stand / Small Cake Stand / Pink Pillows / Gold&Cream Pillows / Gold Pillow / Foil Pillow / Trellis Pillow / Cream Throw / Pink Throw
I'm excited to share today's post, because it's not only full of totally delicious sweetness (and of calories), but also because I worked on it with my friend Lexi and because it's for one of my favorite holidays, which ironically we don't do much for, Valentine's Day. I don't decorate my house and Aaron and I don't go all out on gifts, we typically do dinner and that's it. But I do love seeing all the pink/reds and reminding people that you love them. Plus, it's full of deliciousness – cookies, cakes, chocolates, petit fours, etc and if it involves a party which I'm always down for (here is a holiday brunch I shot with Lauren) So today, Lexi and I thought it would be so fun to share a little guide for How to throw a Valentine's Day inspired dessert party!
A little background about my friendship with Lexi first (I love a good side note). Lexi emailed me probably about a year and a half ago when her and her husband moved from FL to NC. We kept saying we were going to get together, etc. and the timing just never worked out and while we kept in touch through email and stalked each other on social channels (her Pinterest is swoon), we just never made it work. Fast forward about a year and our husbands met at the hospital before we did AND her and her husband moved into our neighborhood. It was essentially the powers telling us we needed to be friends. I love it when things work out like that. She is such a total Boss Babe, so sweet and knowledgeable and it's always nice to find a friend that not only understands the blog world, but also the residency one! End note.
So when a few weeks ago, Lexi asked me if I could help her style/shoot/collab on a Valentine's Inspired Dessert Party, I said sign me up! The goal was to throw something together quick, that you could do on your own easily and cost effectively for a Galentines day event or even something more low key and romantic at night for your and your sweetie (I suggest replacing coffee with wine). So we skipped the baking portion and went to trusty Fresh Market (y'all, that chocolate cake, wow). From there we picked up petit fours, cakes, ice cream, fresh flowers, etc. Mixing a ton of amazing boho inspired items from Anthropolgie and the floor, we created a fun little sit on the floor and "treat yo' self" party that we actually did indulge in ourselves!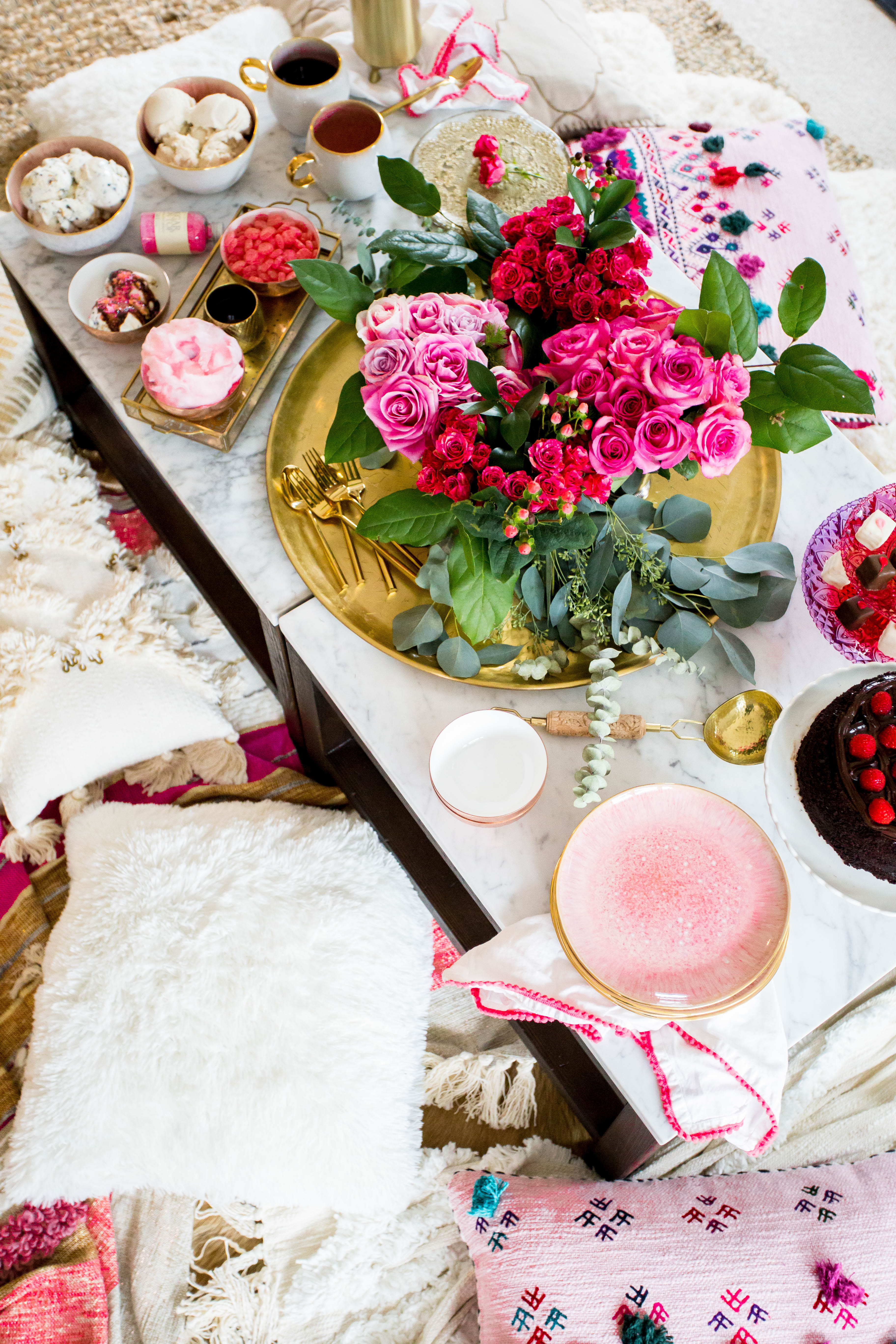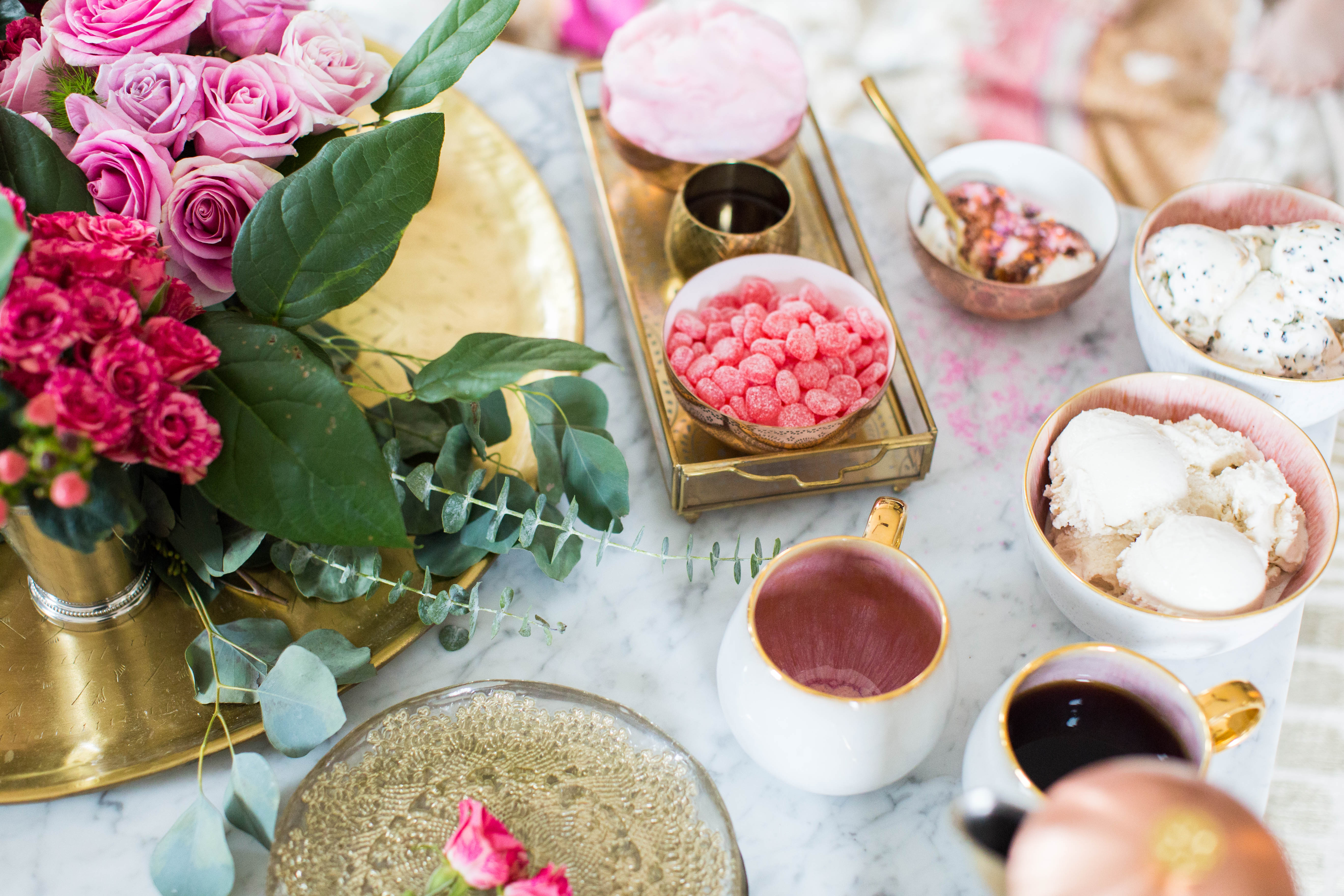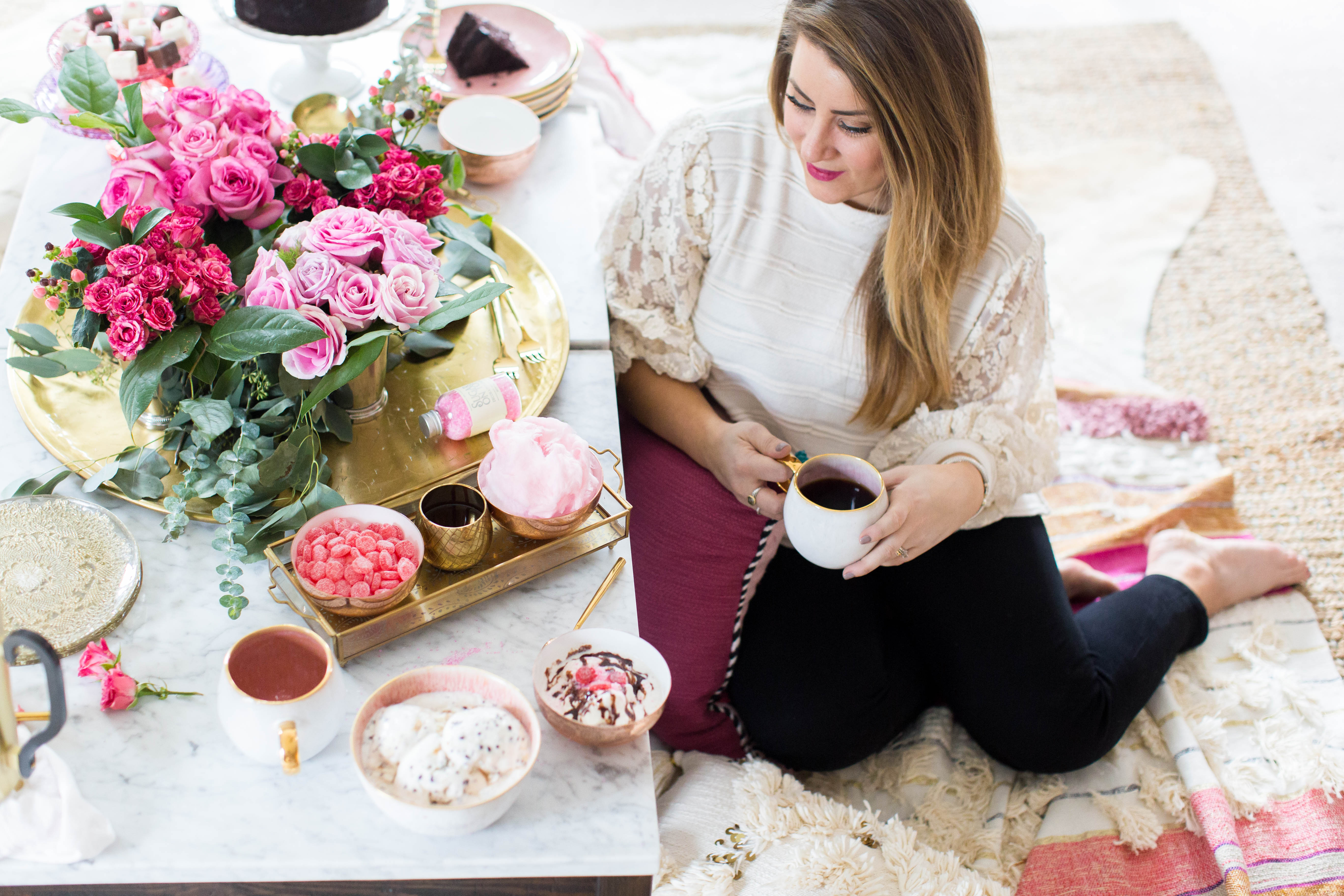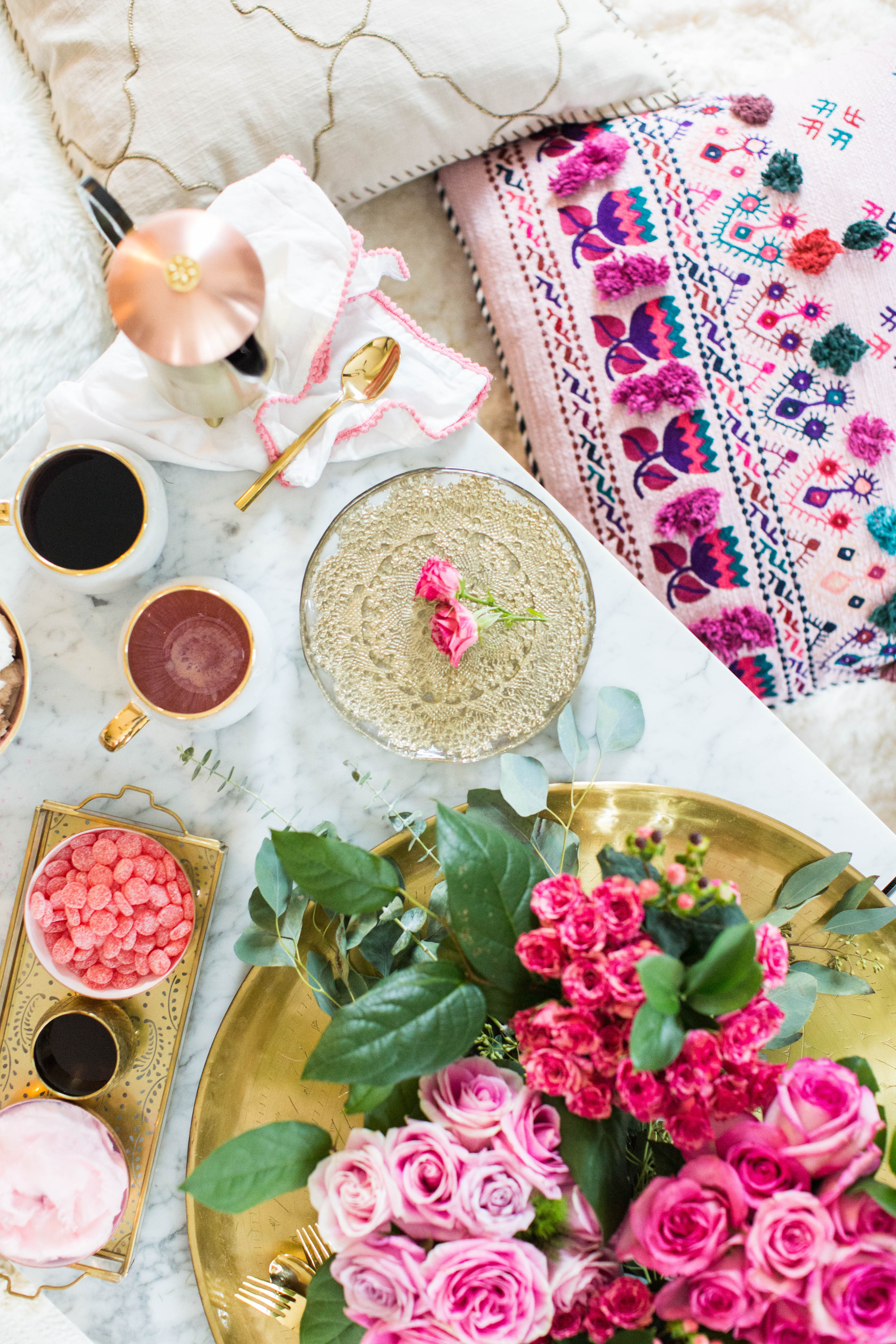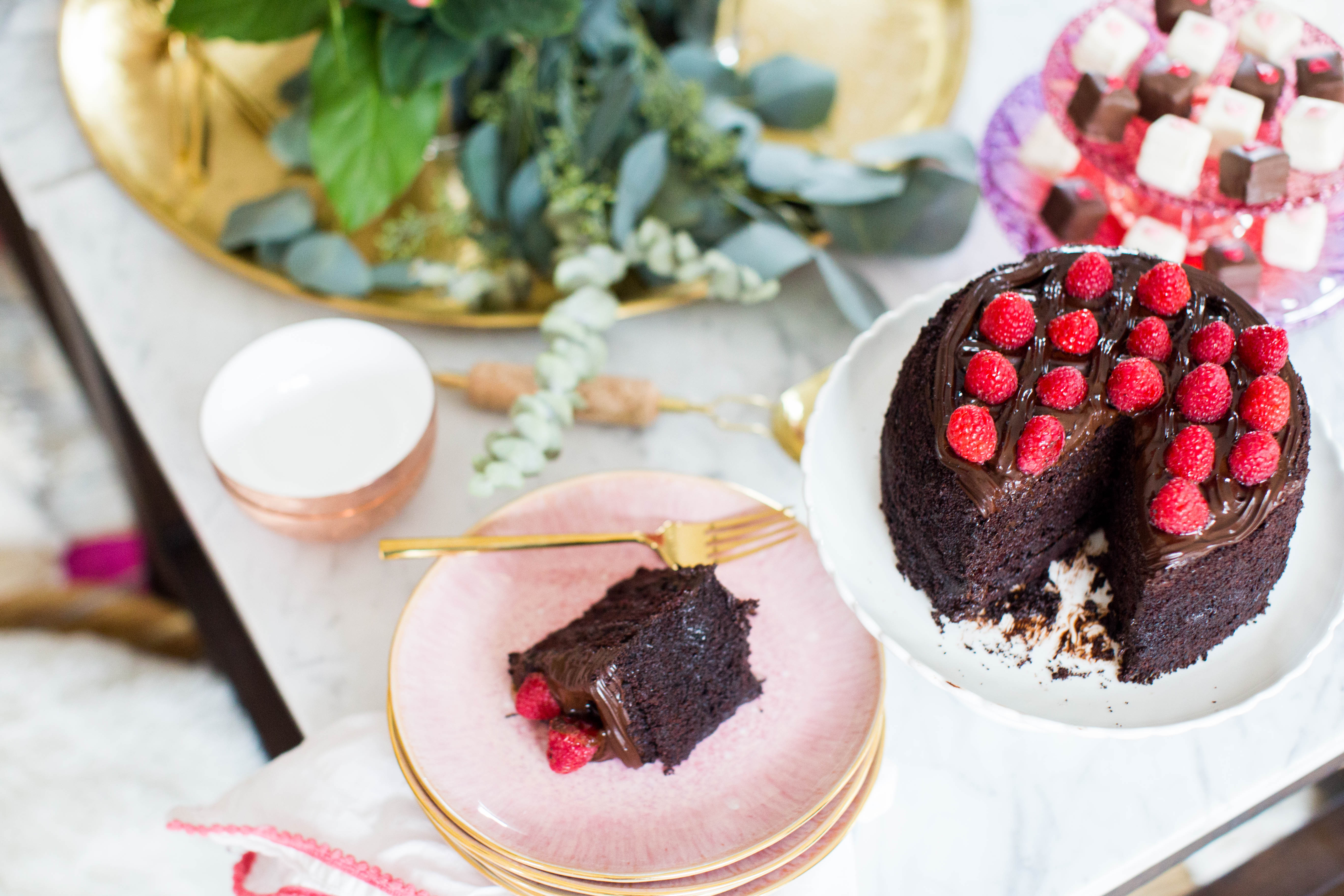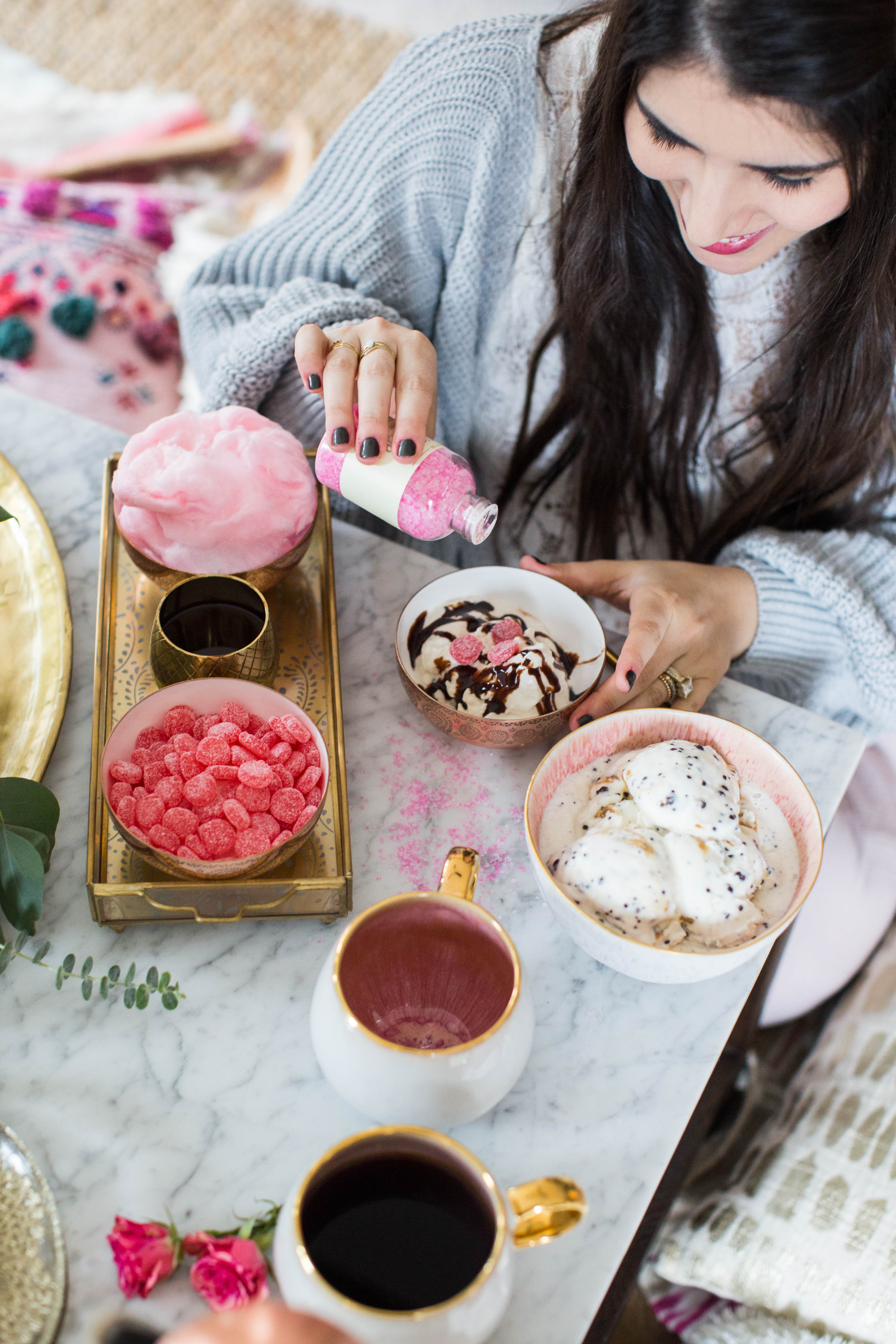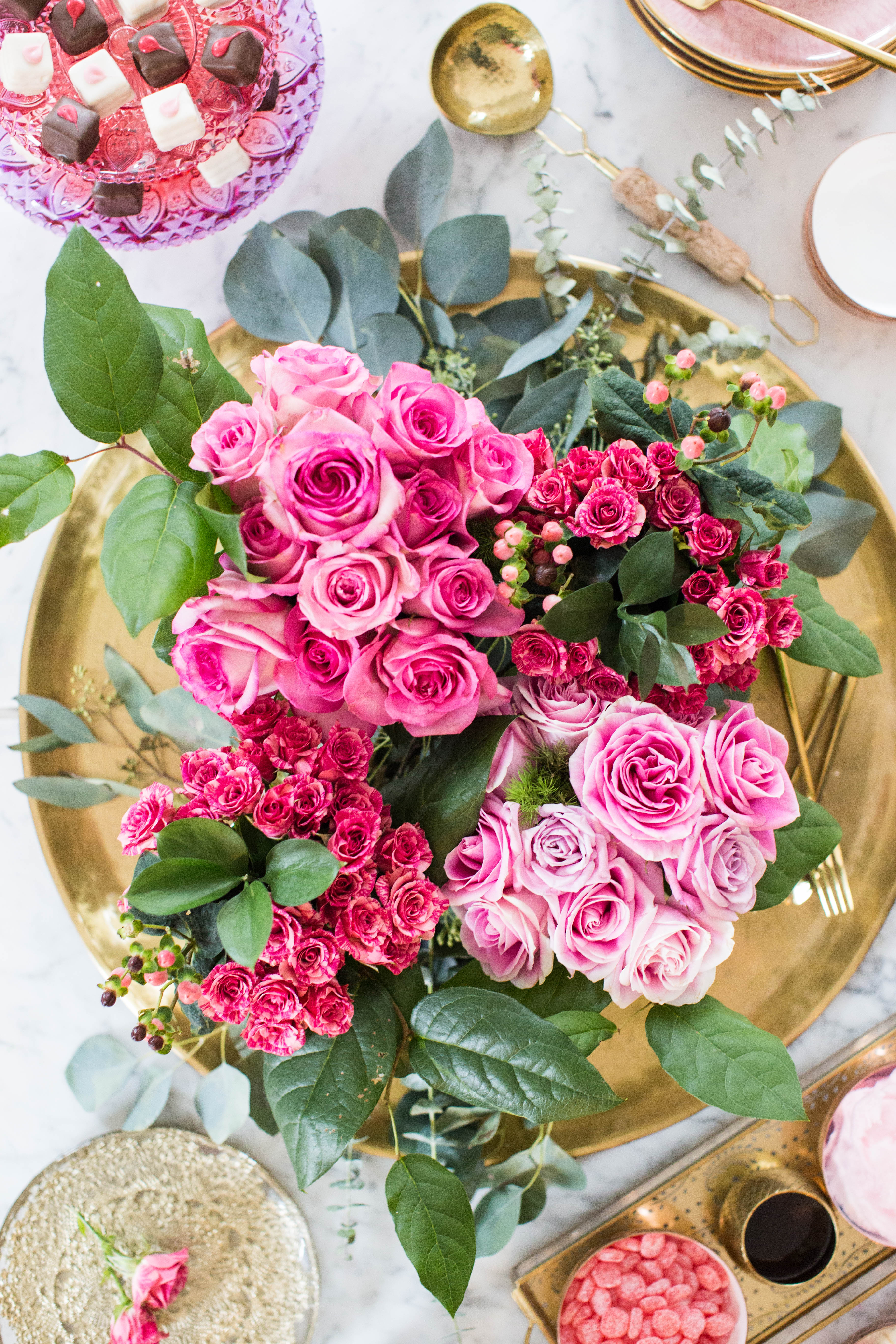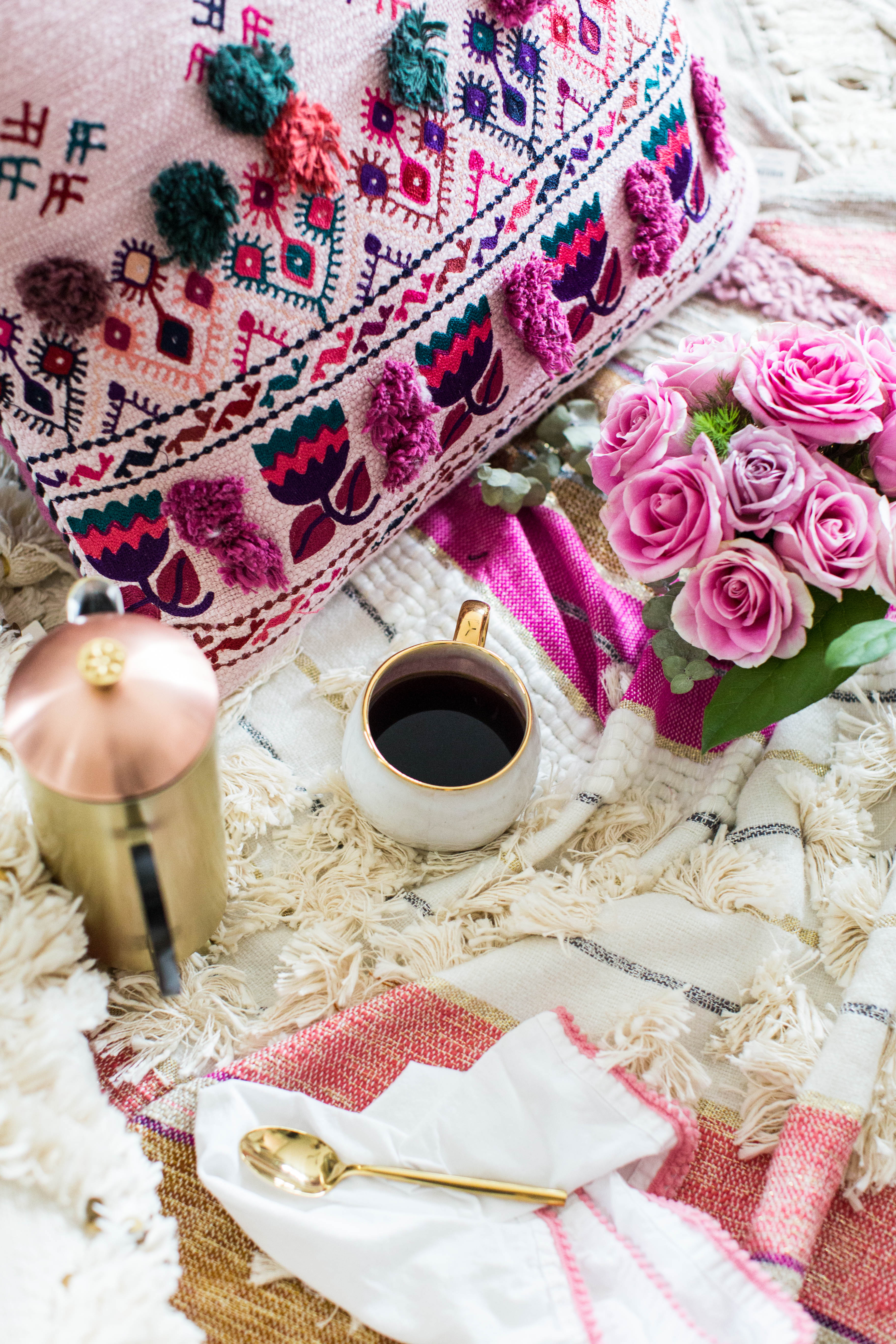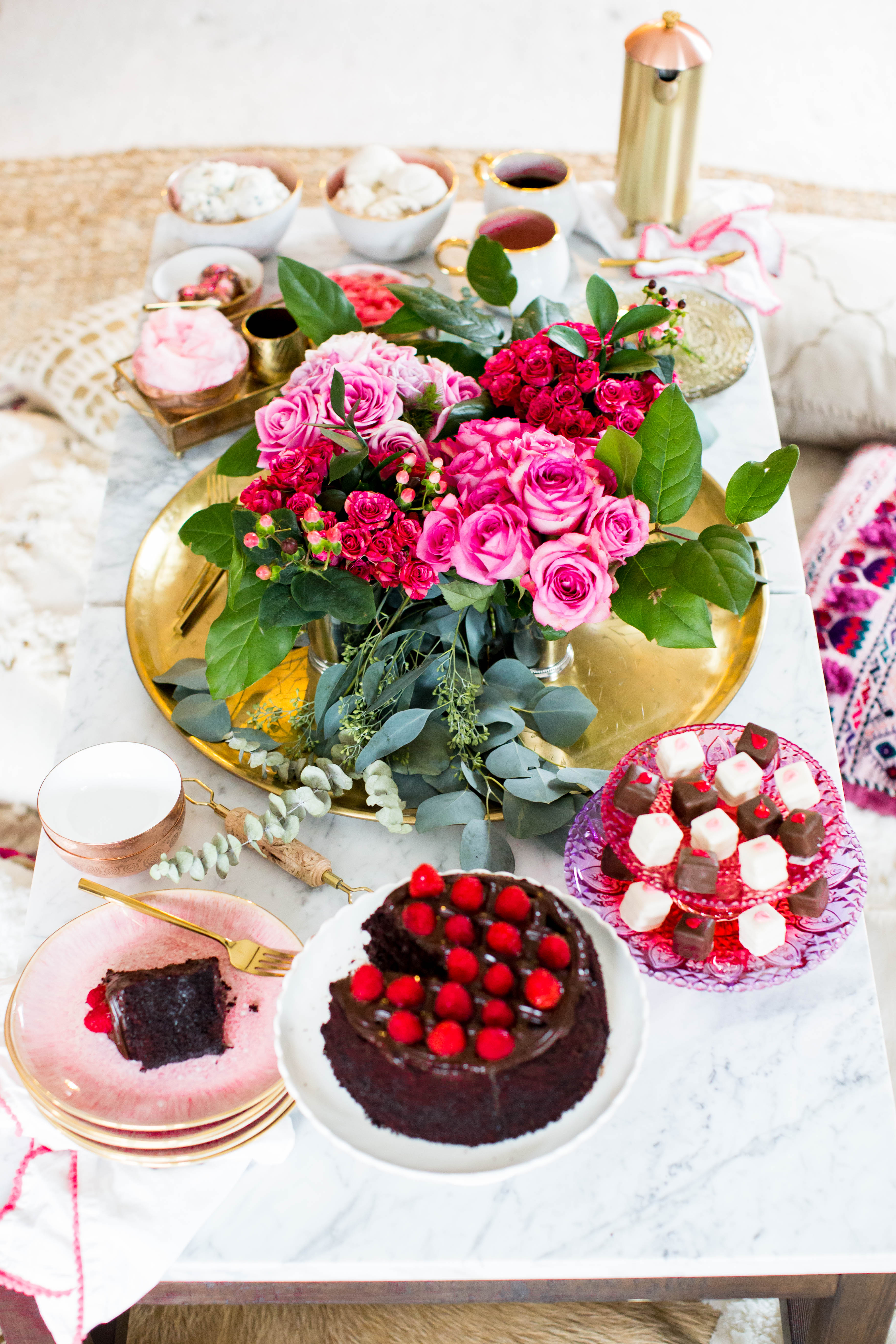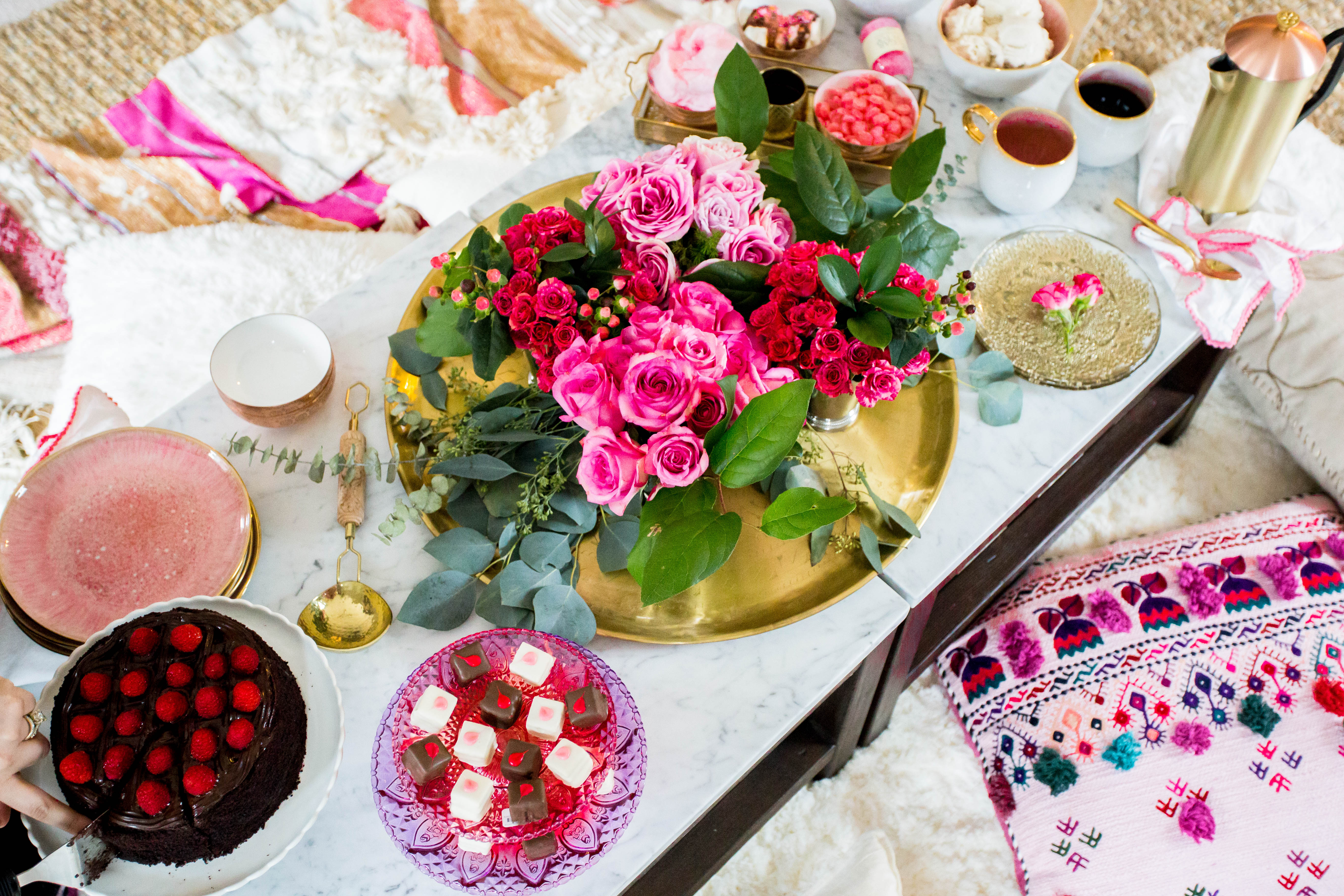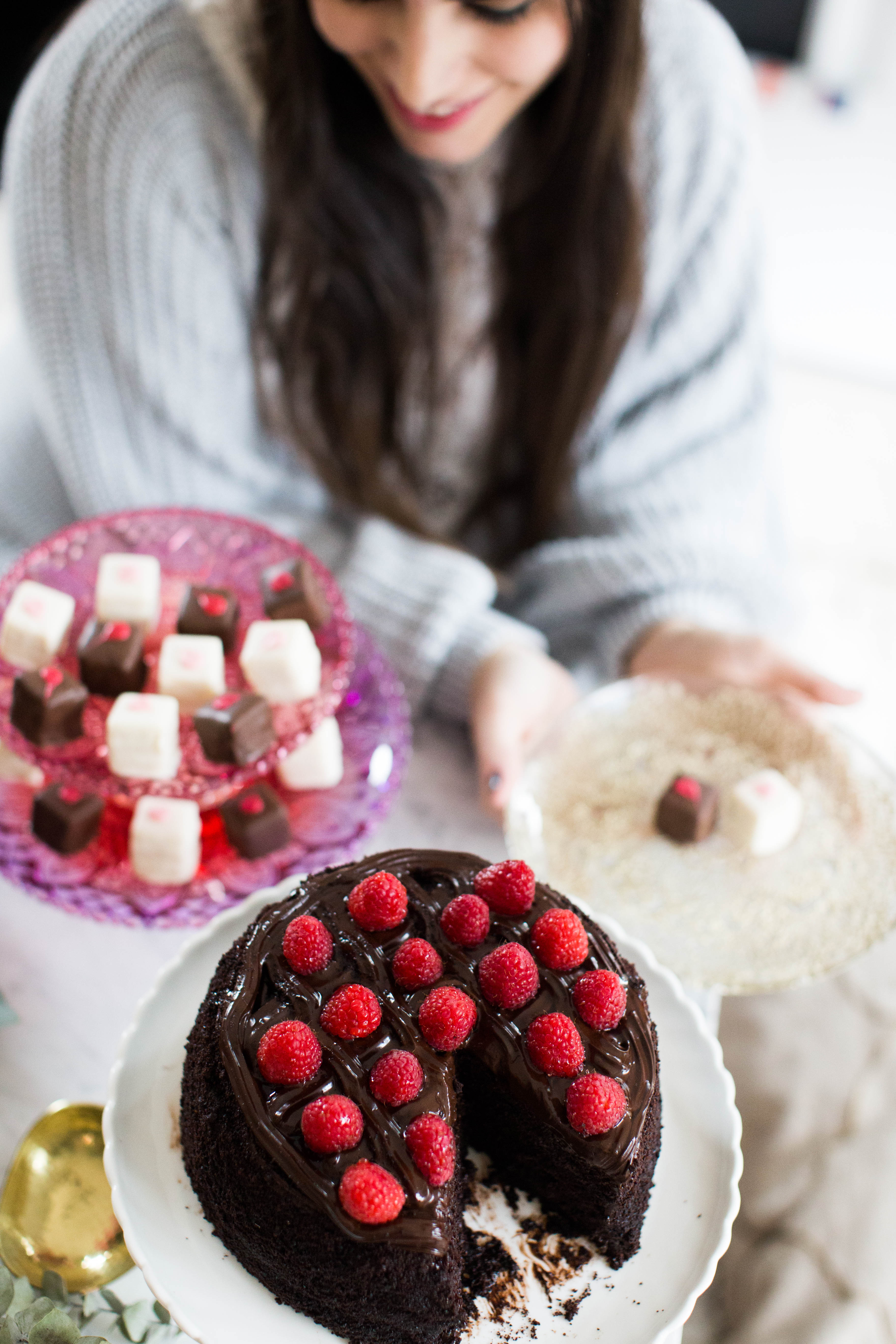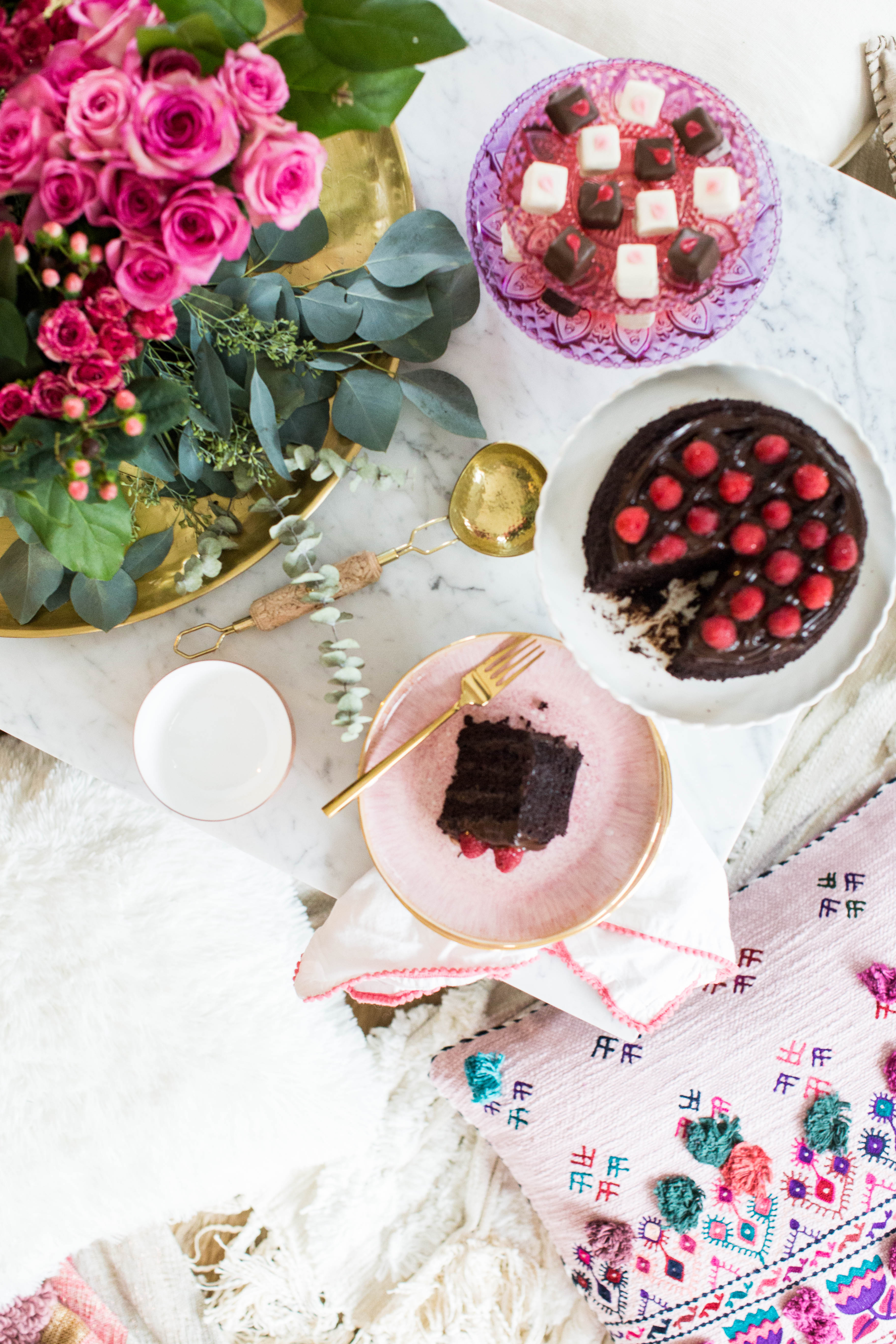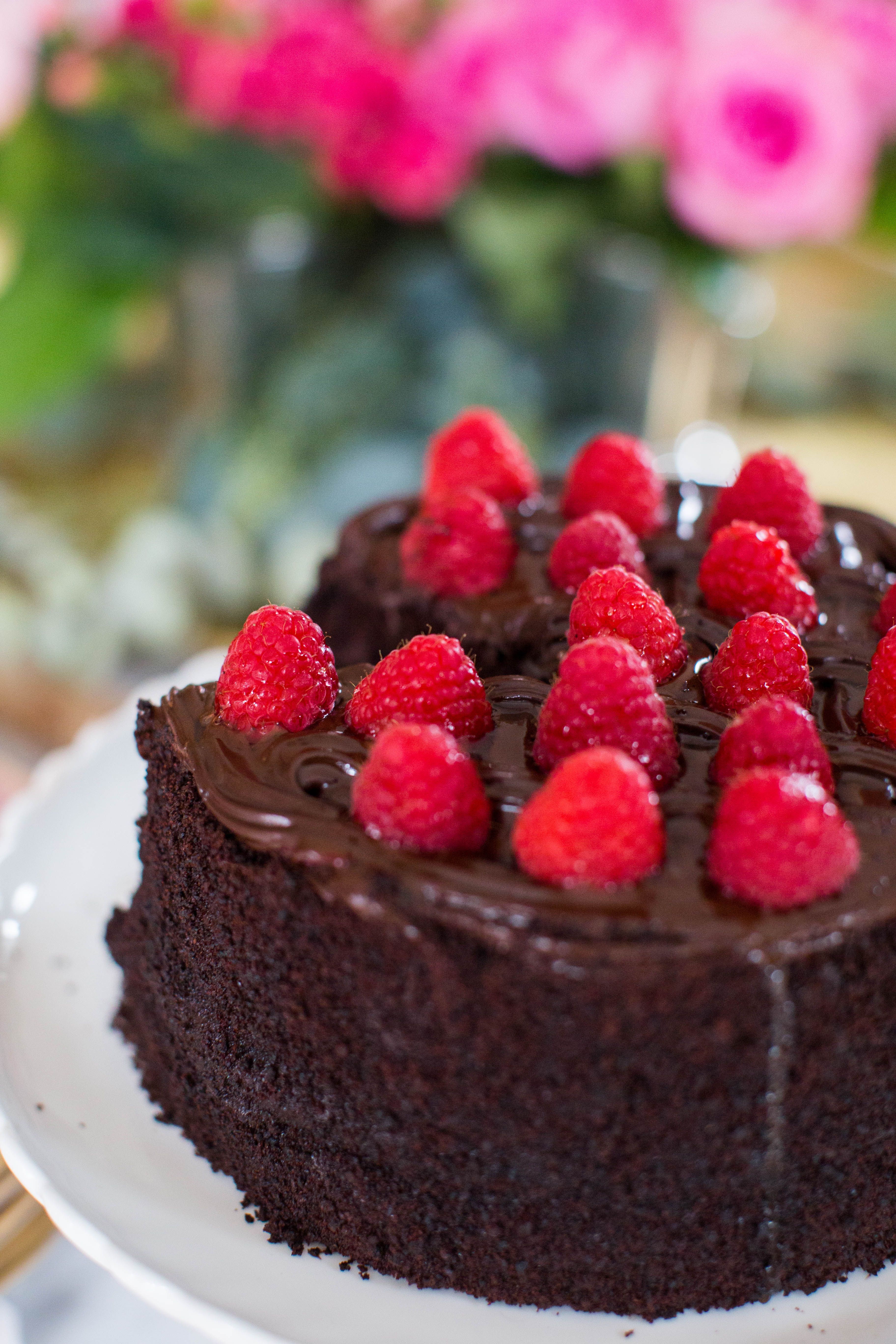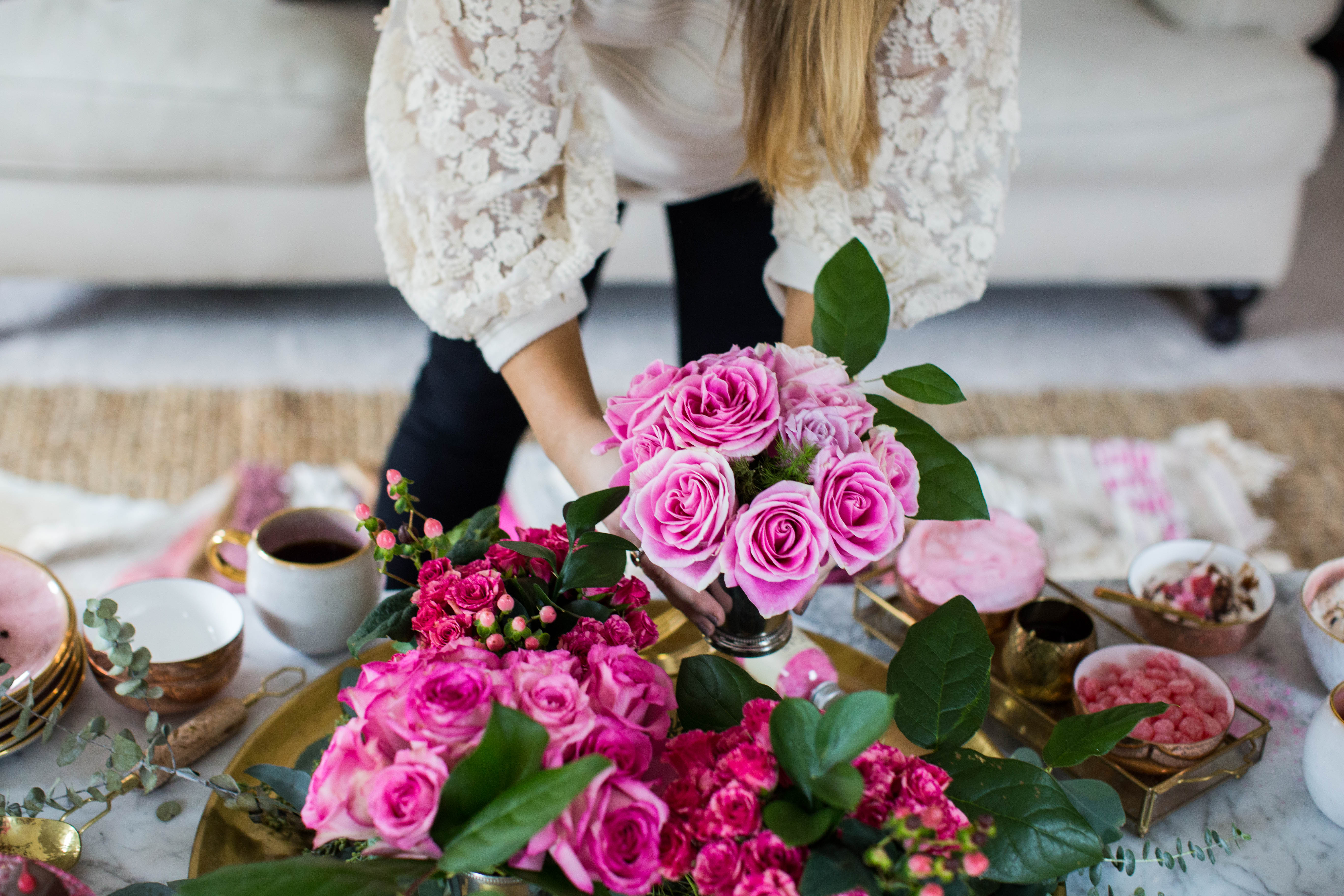 While I'm in awe of the gorgeous flowers we picked up from Fresh Market, but can we also just talk about all the pink/gold dishes. MAJOR swoon. I was obsessed with these little gold bowls that they call a "nut bowl" but honestly offer so much versatility and come in silver, gold and rose gold – aka you need. And what about these gorgeous blankets? I'm in love with this throw and while I need another blanket like I need a hole in my head, it must be mine.
What I loved about working on this shoot is to remind all you busy ladies out there that don't have time to make everything from scratch, that's it's okay to "cheat" a little and buy pre-made. It's truly all about presentation when it comes to looking like you spent hours on it. With my busy days, I'm all about less work and more play, so once we finished shooting, my favorite part of the day was just relaxing on the comfy floor (thanks to all the amazing pillows) and chatting life with my gal pal.
Are you doing anything for Valentine's/Galentines Day? I have to admit, I'm more a fan of the Galentines side of the pink and red holiday. Who doesn't love pouring a cup or coffee or wine and just catching up with your gal pals? I miss my Ohio gal pals all the time, but am thankful to have so many amazing ladies in my life here in NC!
You can shop all the items above below!
Wear:
Tablescape: