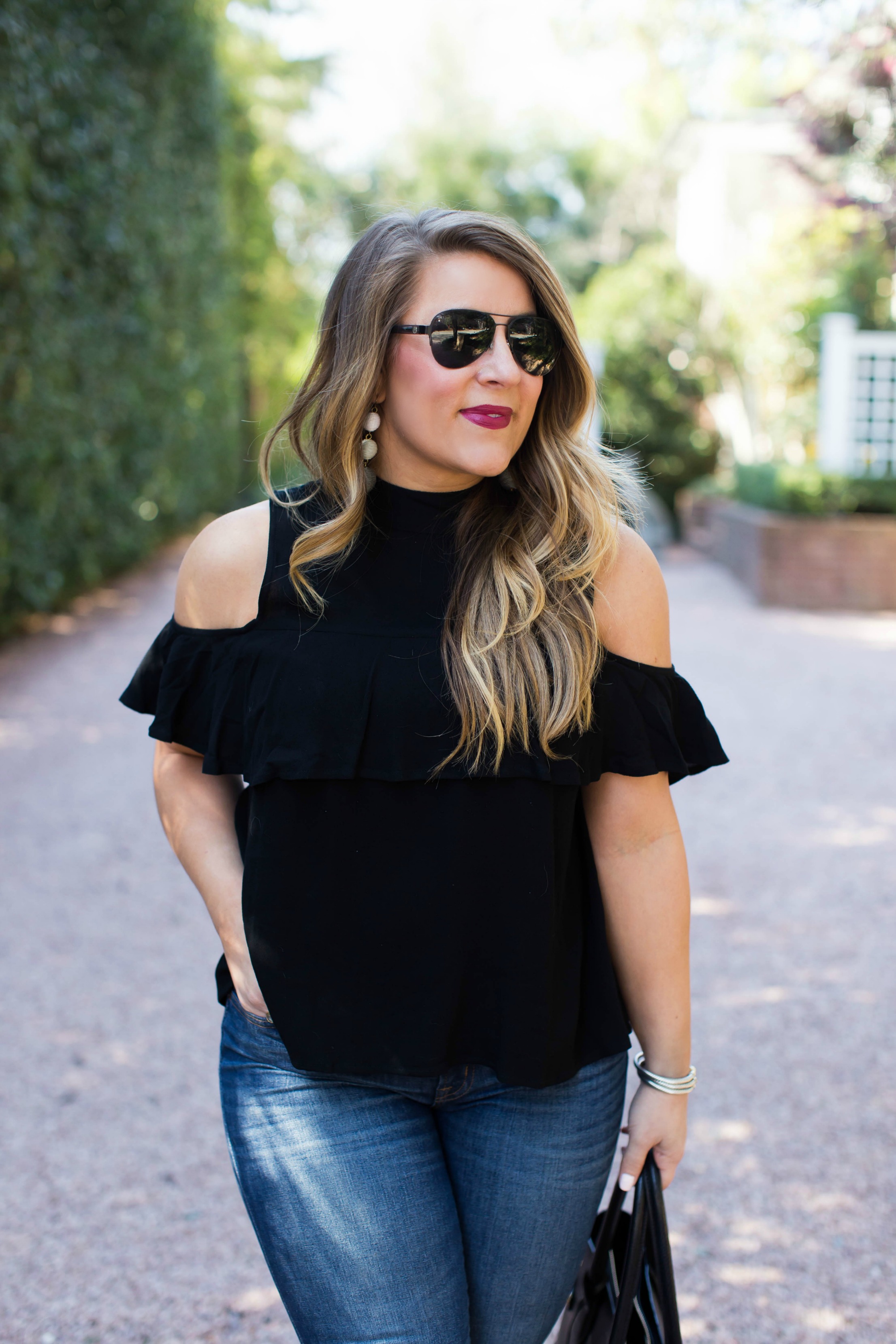 Top / Jeans / Bag / Earrings / Bracelets / Shoes
I hate to admit it, but I spent the better part of the beginning of the year hating on cold-shoulder tops. Something about them I just did not like from first sight, I thought they were a little trashy and a lot stupid (full disclosure). The blogger in me soon realized everyone loved them, so I thought, "crap, if you can't beat them….". I purchased this inexpensive one from Nordstrom and I have/hate to admit, but I liked it. I was surprised because since I'm fuller chested and legged, I didn't think I could pull one off, that I'd look "silly". Maybe I do, but I still became a believer. Chances are, if you're thin, you can pull anything off. My best friend doesn't think she can, but she can. But if you're built like me, it's a little harder to have that luxury, especially when it comes to "trendy" things like cold-shoulders. I have a few tips though if you think you can't pull them off to help you along the way of actually pulling them off!
Don't splurge on one. This one is on sale for $26.00 and because it's a little more on the flowly side, it's perfect for a trial run.
Try it on. I would have NEVER thought I would like this top and I did. Sometimes we assume we can't wear something, but once we just put it on, we realize, "oh hey, maybe I can wear this".
Get it home in your own light/with you own jeans. Dressing rooms are hard because you aren't styling something the way you would at home. My advice is to get it home, try it on with your fav. jeans and then make a decision.
Keep it simple. Keep the rest of your look to the basics. This helps you not feel overwhelmed in trends and focuses on truly getting a feel for the item.
Those are just some tips I recommend, not only for cold shoulder tops, but really any trend/piece you feel like you can't wear. And guess what? If you still don't like something when you put it on, that's okay! Your body, your decision…it just never hurts to think outside the box a little. 🙂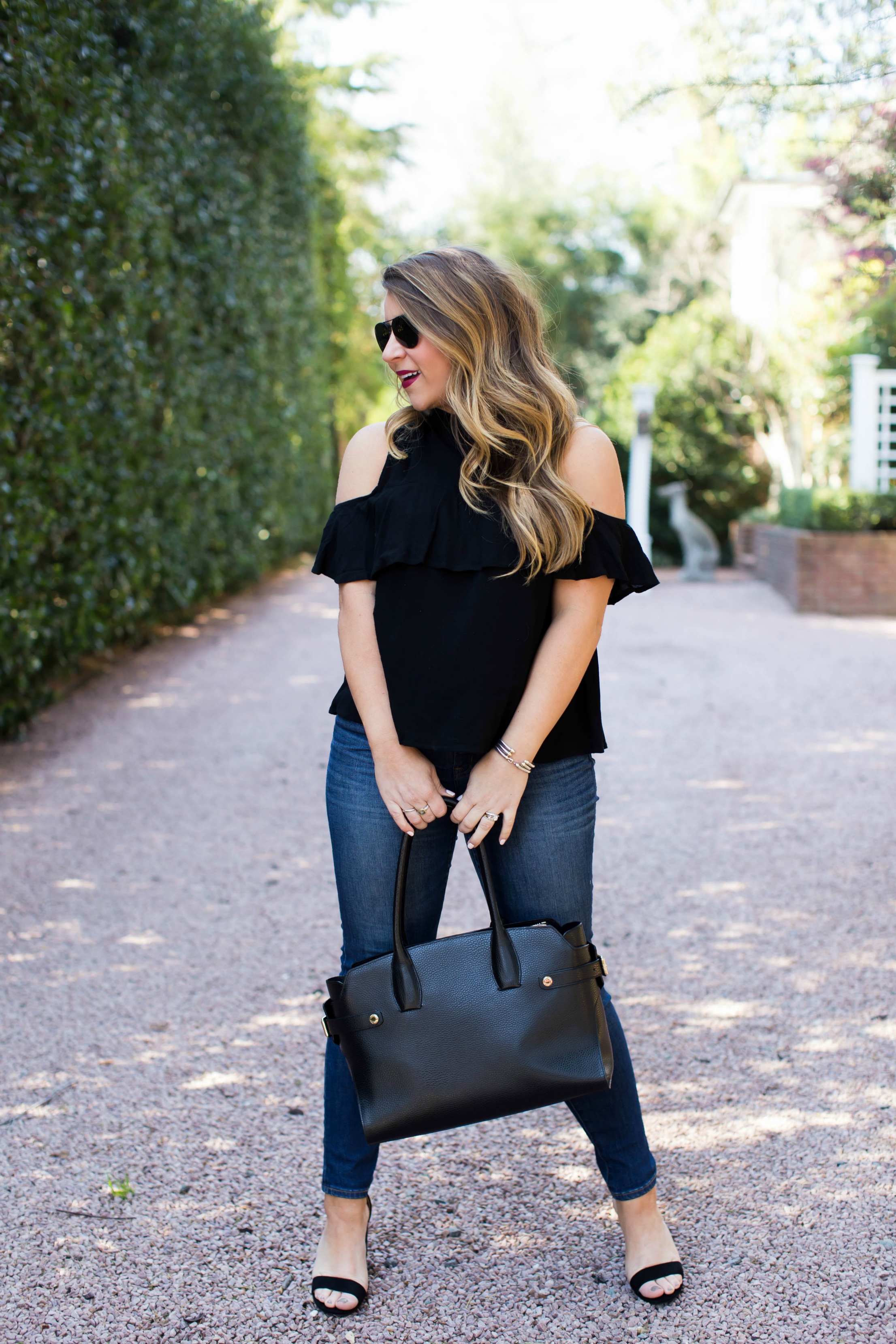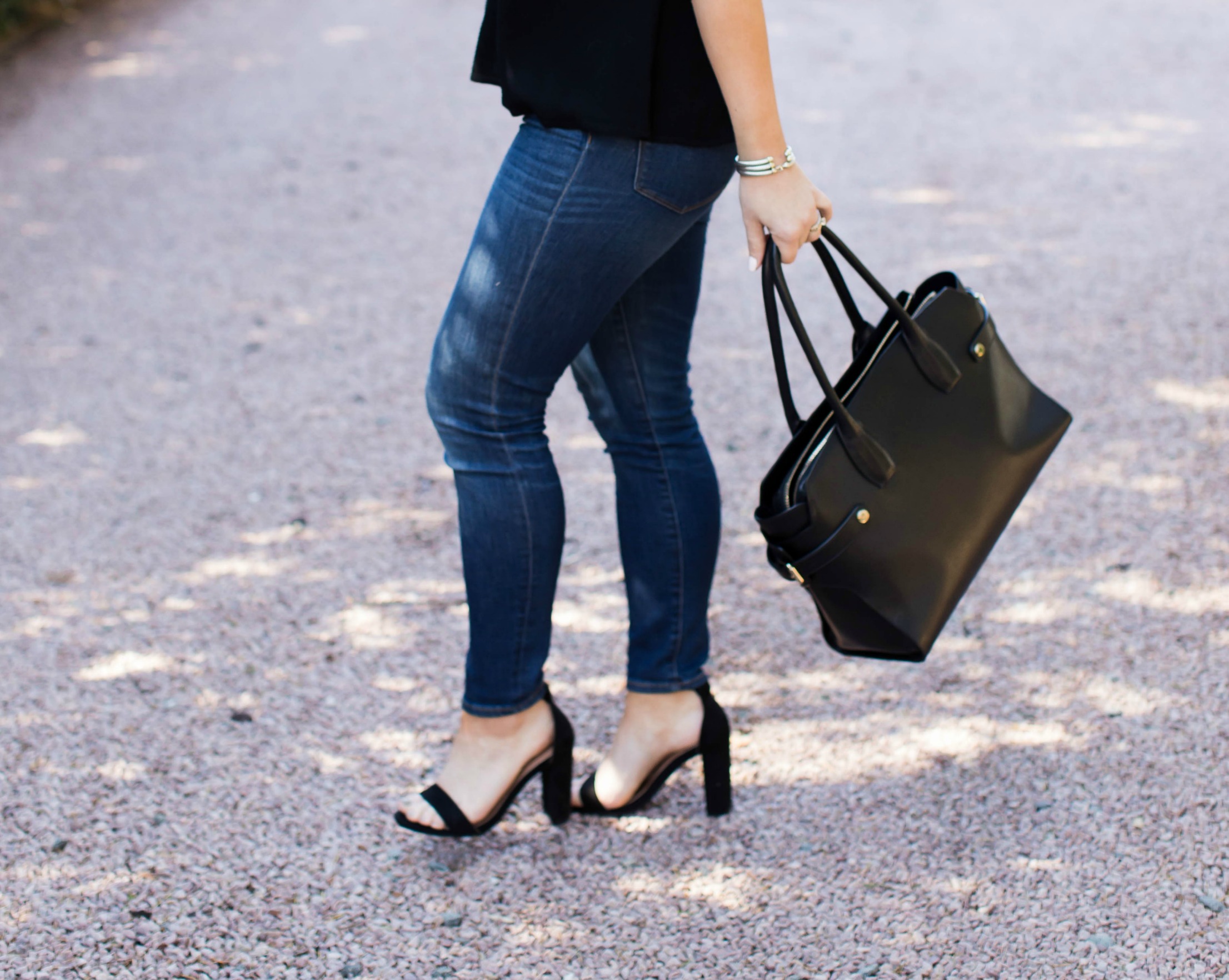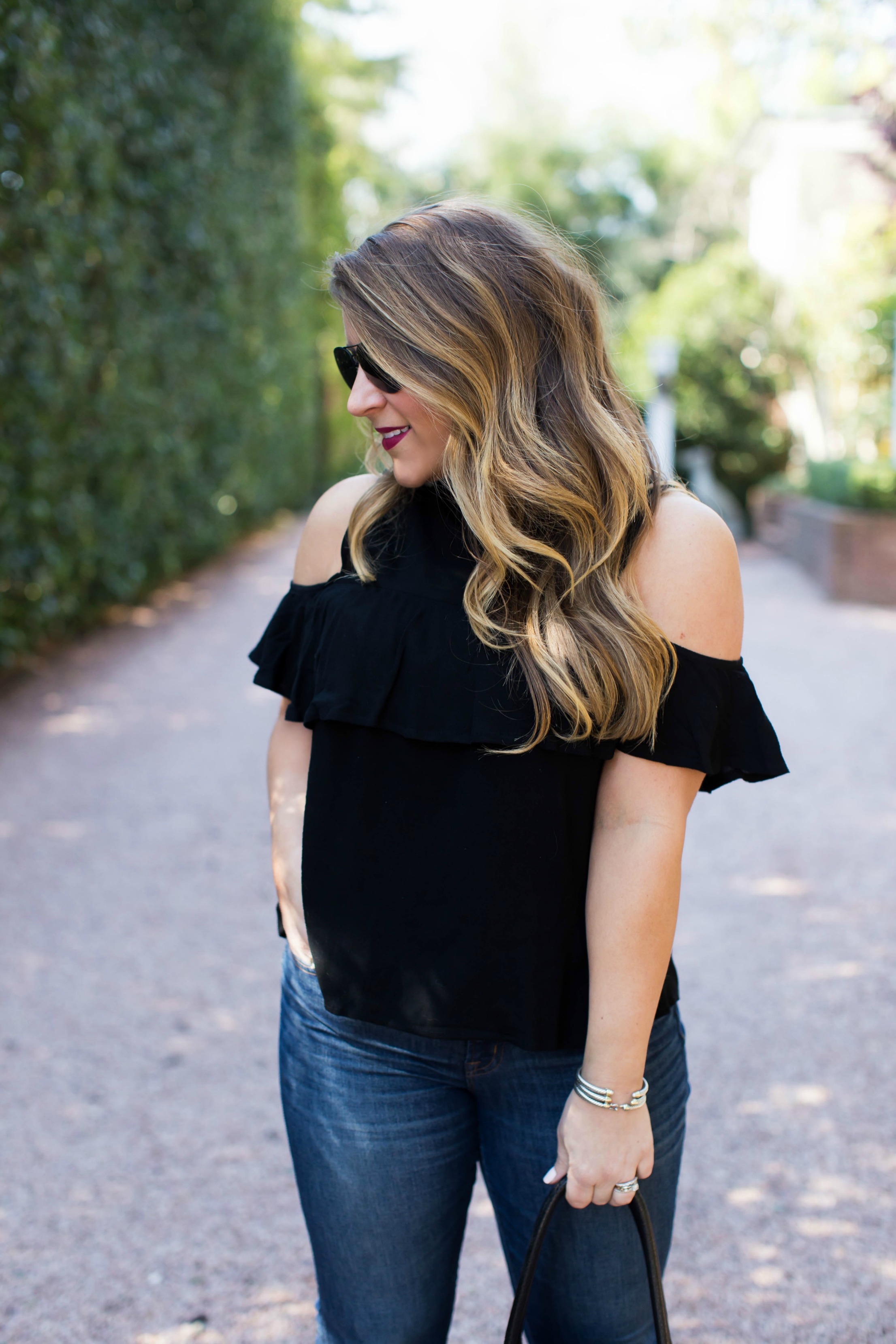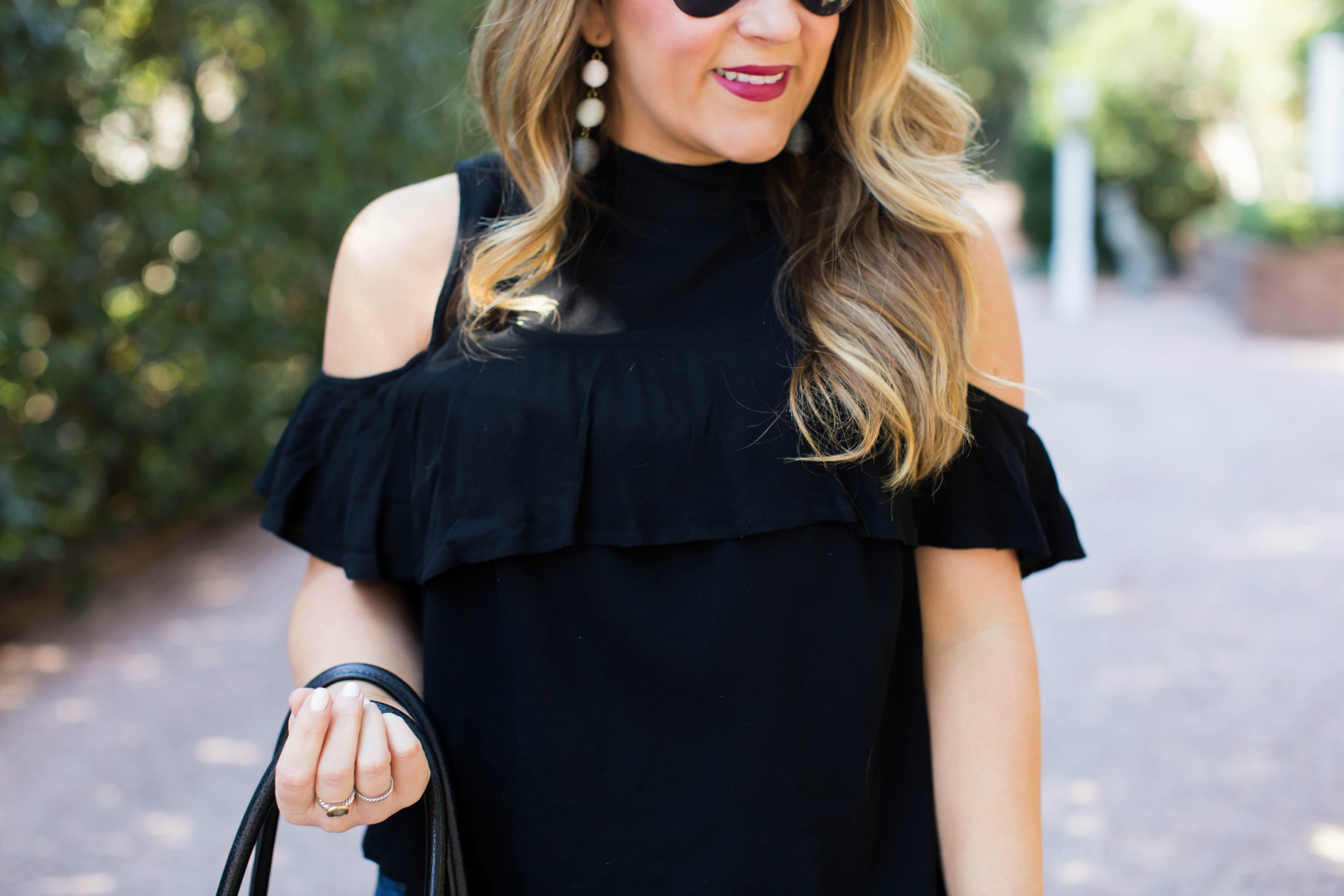 Have a great day friends, thanks for visiting! 🙂
XX