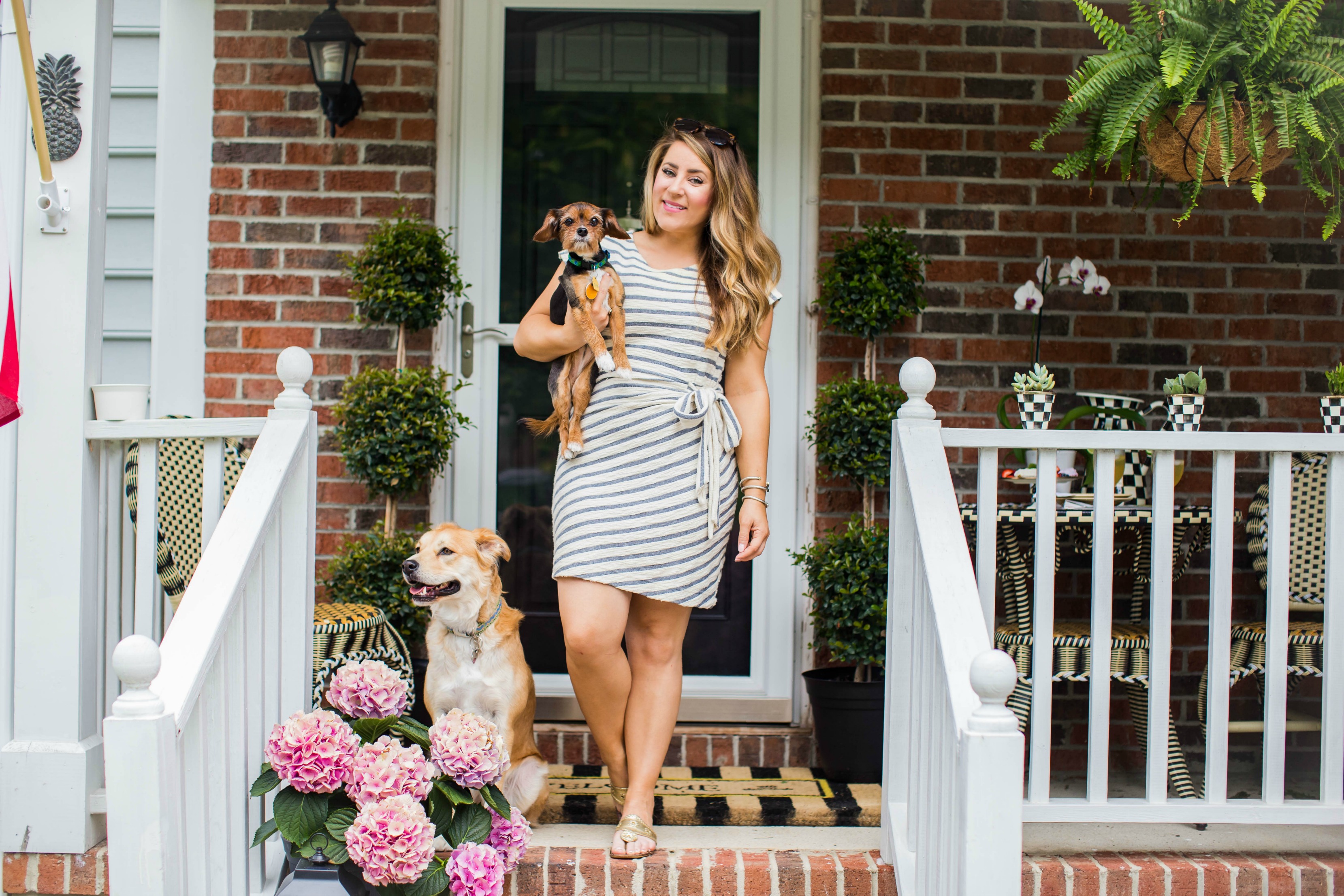 Last year, I shared our back porch makeover (here). The space is small, but not as small as our small front porch that has sat practically empty since we moved in four years ago. I have always dreamed of a home with a big, inviting front porch, but since this house was just temporary while we made it through residency, I knew this wouldn't be the front porch of my dreams. We did recently spruce it up a bit, and while it's not big, covered, wrap around with a porch swing, our small front porch is more adorable than it's been since we lived here. As opposed to the boring, blandness that it was before, the porch now seems inviting and friendly, the first step to a true "Southern" home. 🙂 Here are some steps we used to make our small front porch inviting.
Add furniture. Depending on size, this may be a single rocking chair, or a full patio set. Regardless, having some furniture invites guests to sit down and stay awhile. While this Mackenzie-Childs set doesn't fit on one side, we split it up (and actually like the way it looks) and plan to use it for years to come. Aaron and I have sat out there together many nights since putting this together just watching neighborhood kids play. Plus, I am a huge fan of Mackenzie-Childs and I know these pieces will stand the test of time. **Make sure whatever you buy it's equipped for weather wear!
Add greenery. Plants are welcoming no matter what. We added a large hydrangea, some topiary plants and then small succulents in these Mackenzie-Childs planters (adorable).  Having plants around not only provides color, but just makes our small front porch space feel "finished".
Add a cute doormat. I LOVE our pineapple doormat (read here why I love pineapples so much). I always look at the doormat of someone's home while I'm knocking and if it's cute/classy, etc. it always puts me at ease for how the inside of the home will be in temperament.   It may sound strange, but I promise you, it's true.
Set mood lighting. While this only applies to night, setting some mood lighting always creates a relaxing ambiance, which in turn creates an inviting atmosphere. We have similar lanterns and I love that they are solar powered and even cute during the day.
Keep your walk ways tidy. If your front porch is adorable, but you can't even walk on your pathway, then that defeats the purpose. Make sure it's clean and free of debris so guests can easily get to your front door.
Use indoor decorating techniques. Think about the small items in your home that you love and truly make a statement on your small front porch: pillows, fabrics, maybe it's a hung pineapple, maybe it's a staged table. Utilize these on the outside of your home too. I love shopping places like here, Home Goods, etc. for great outdoor pieces and I truly think of these spaces as another area of my home to decorate.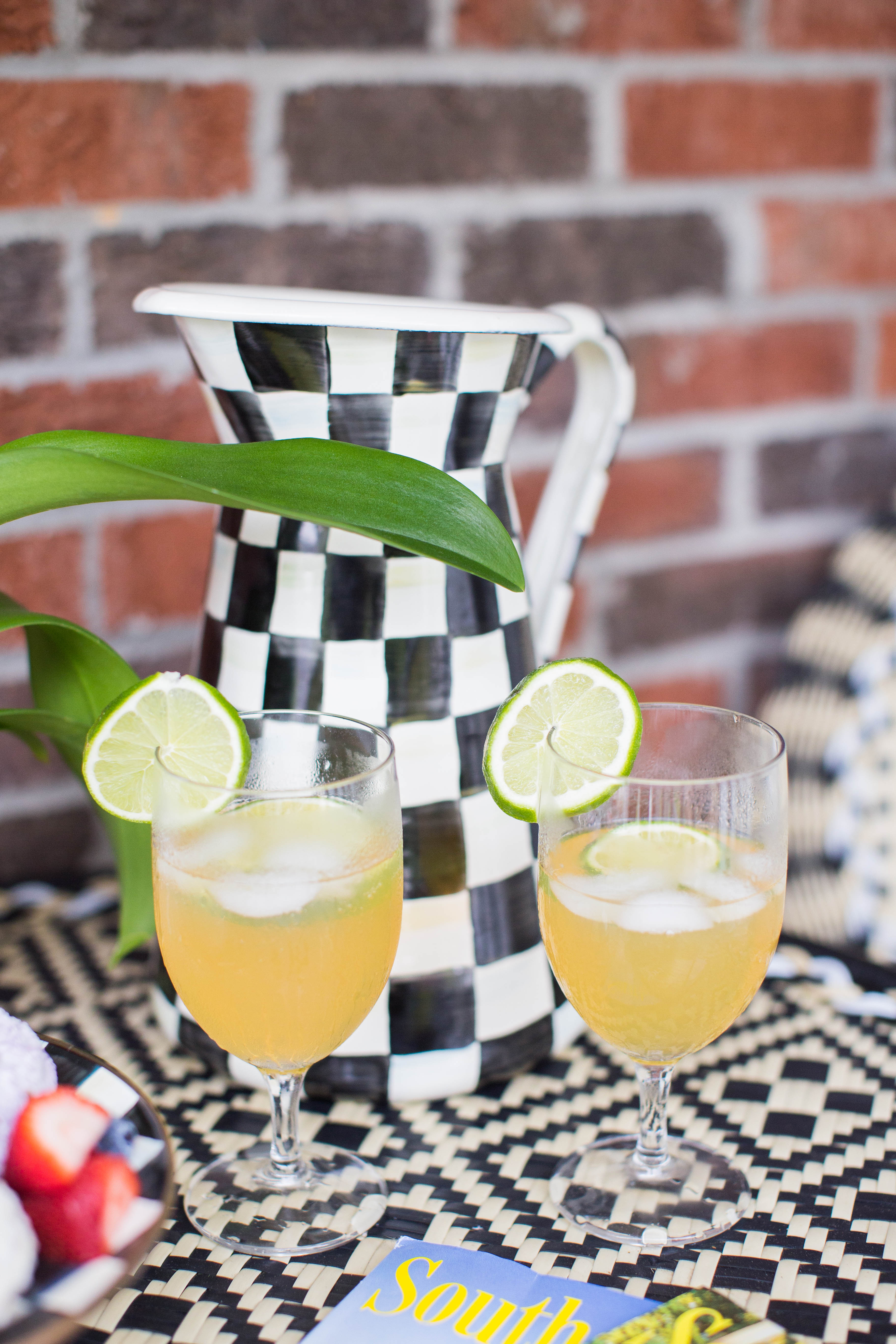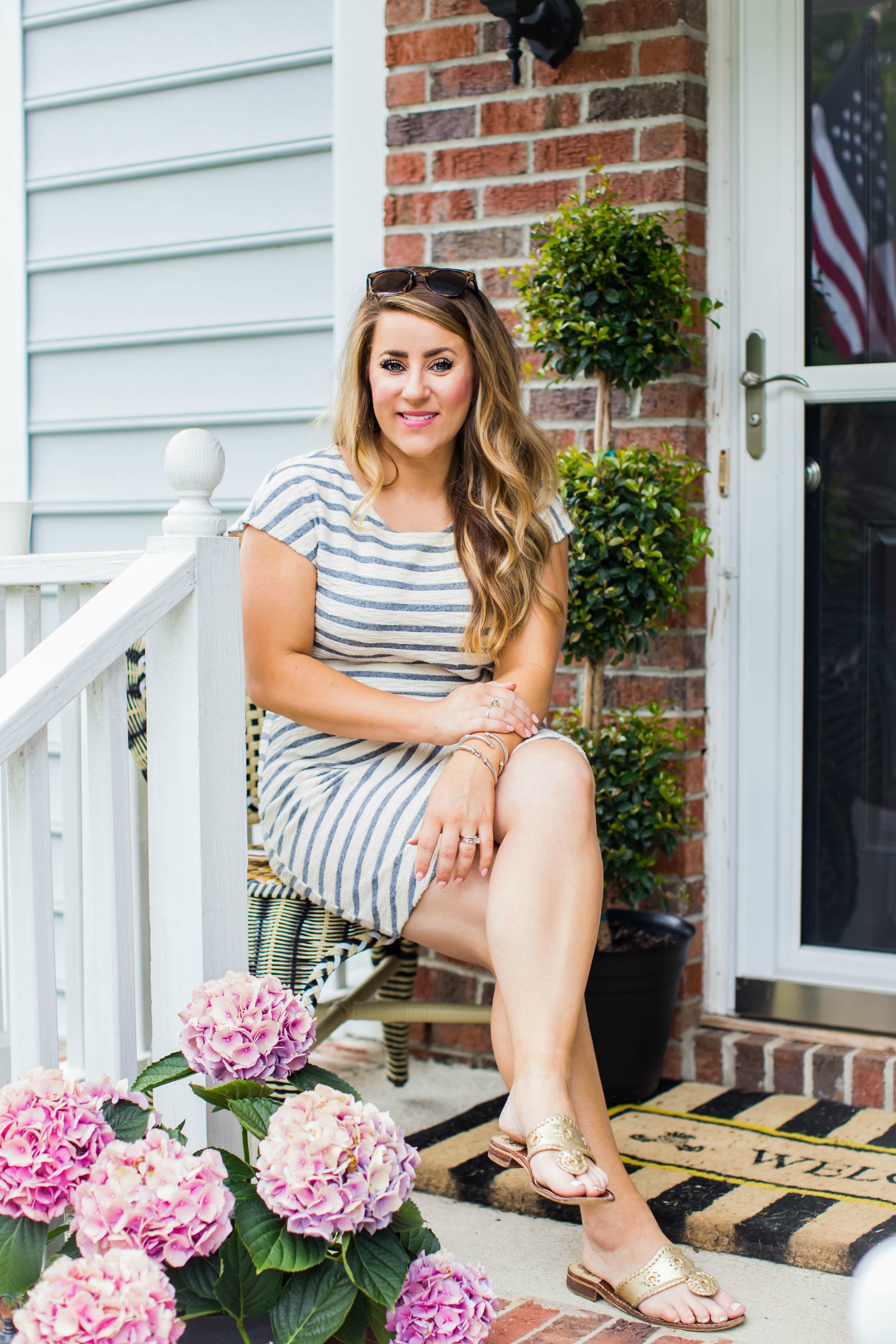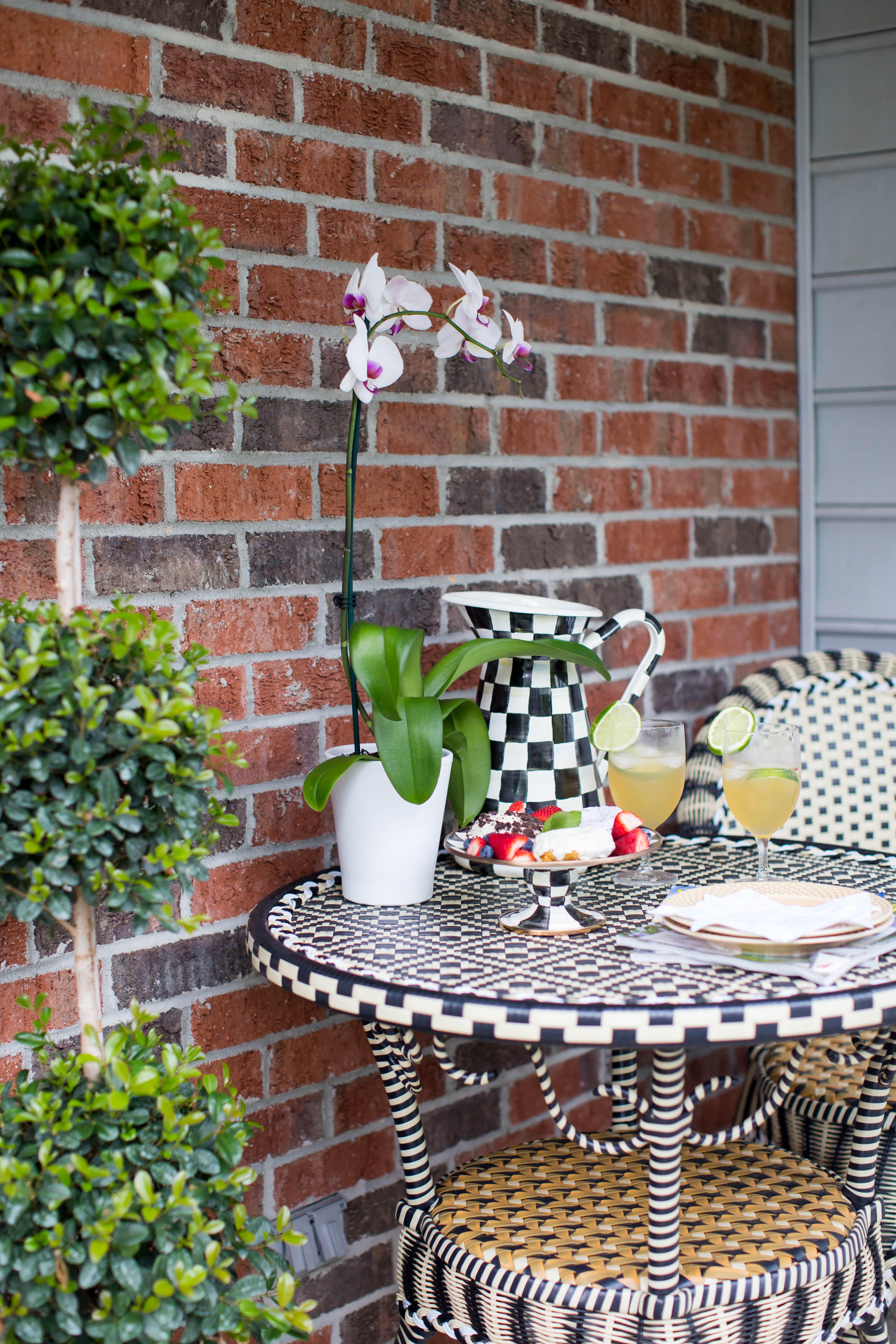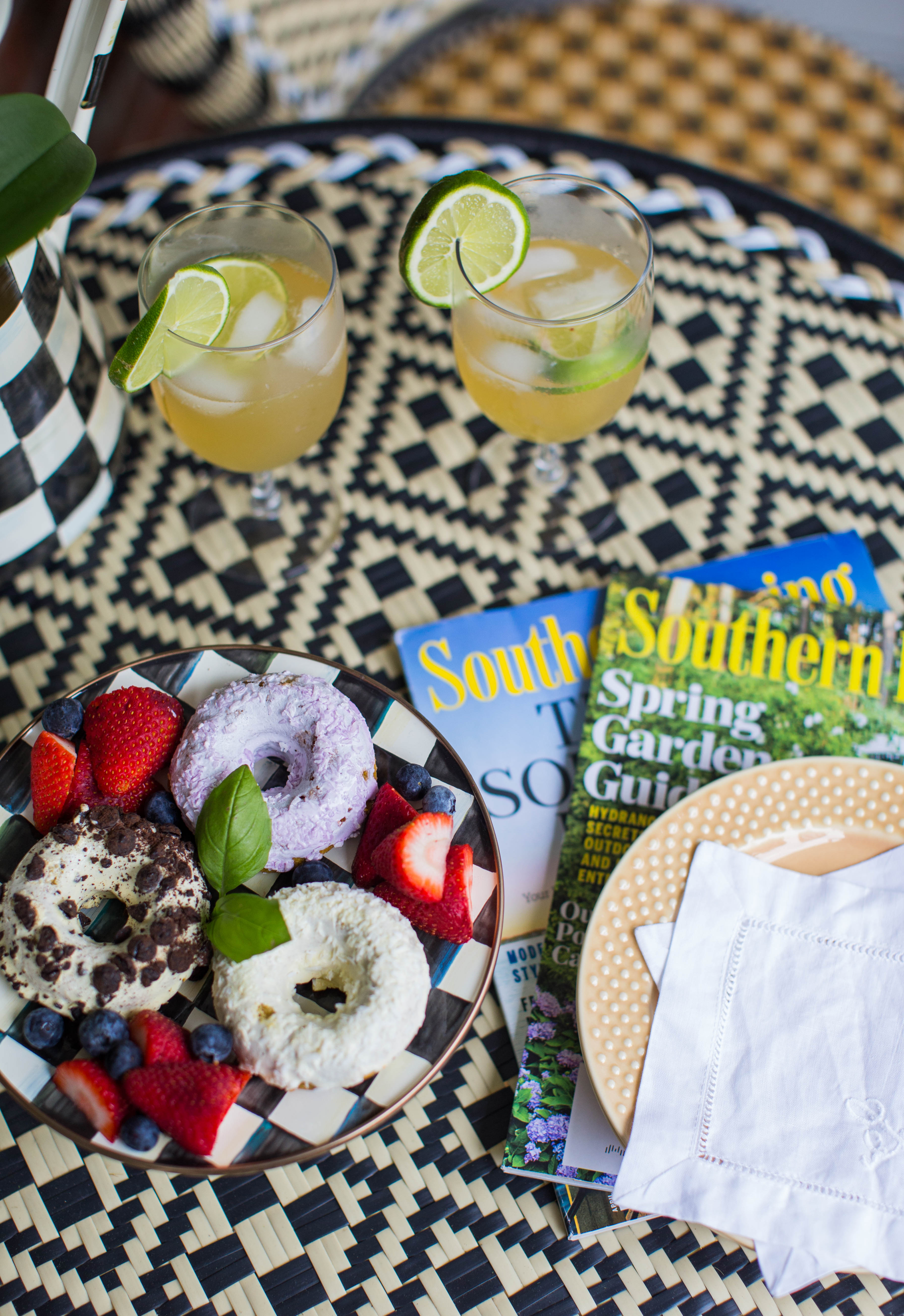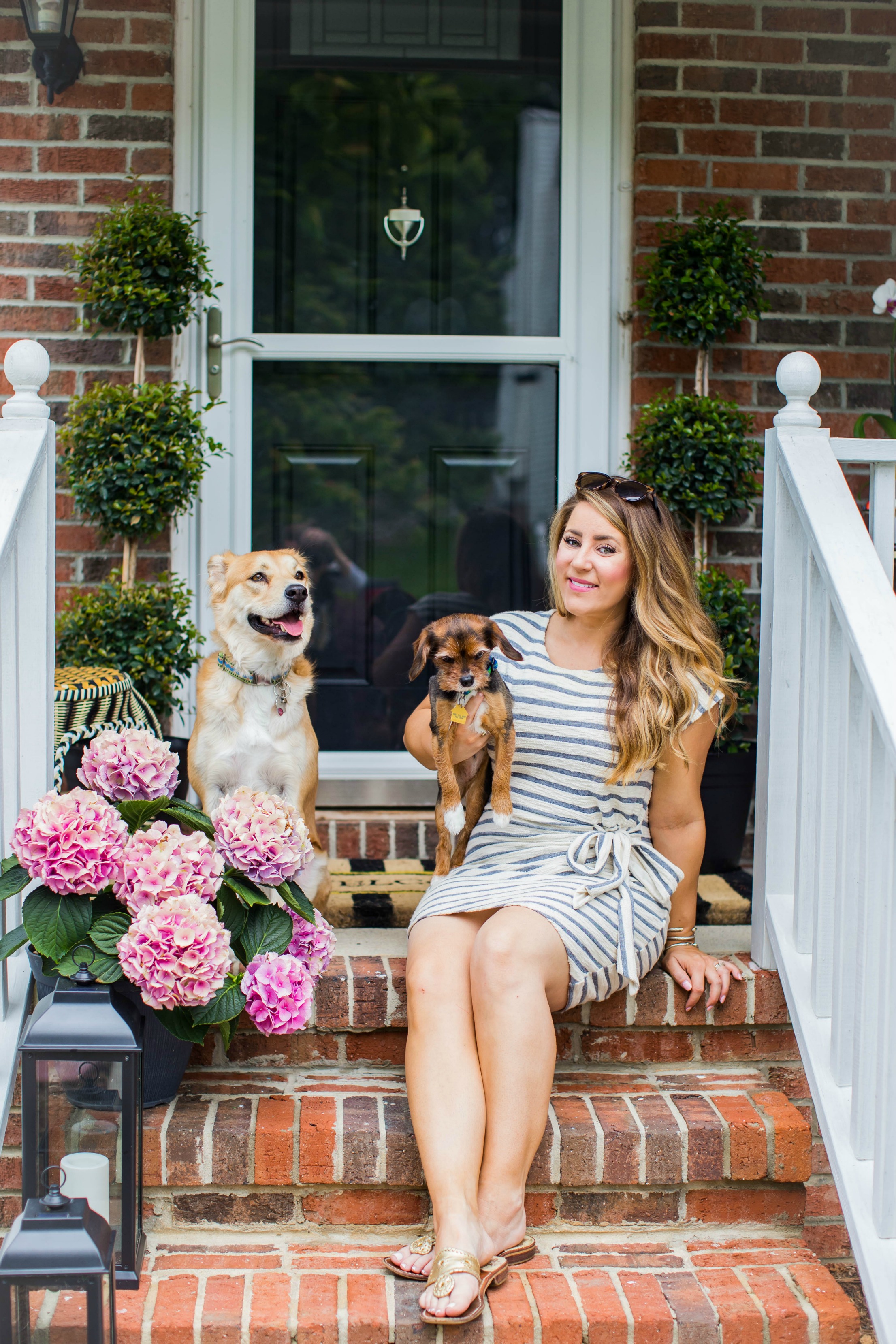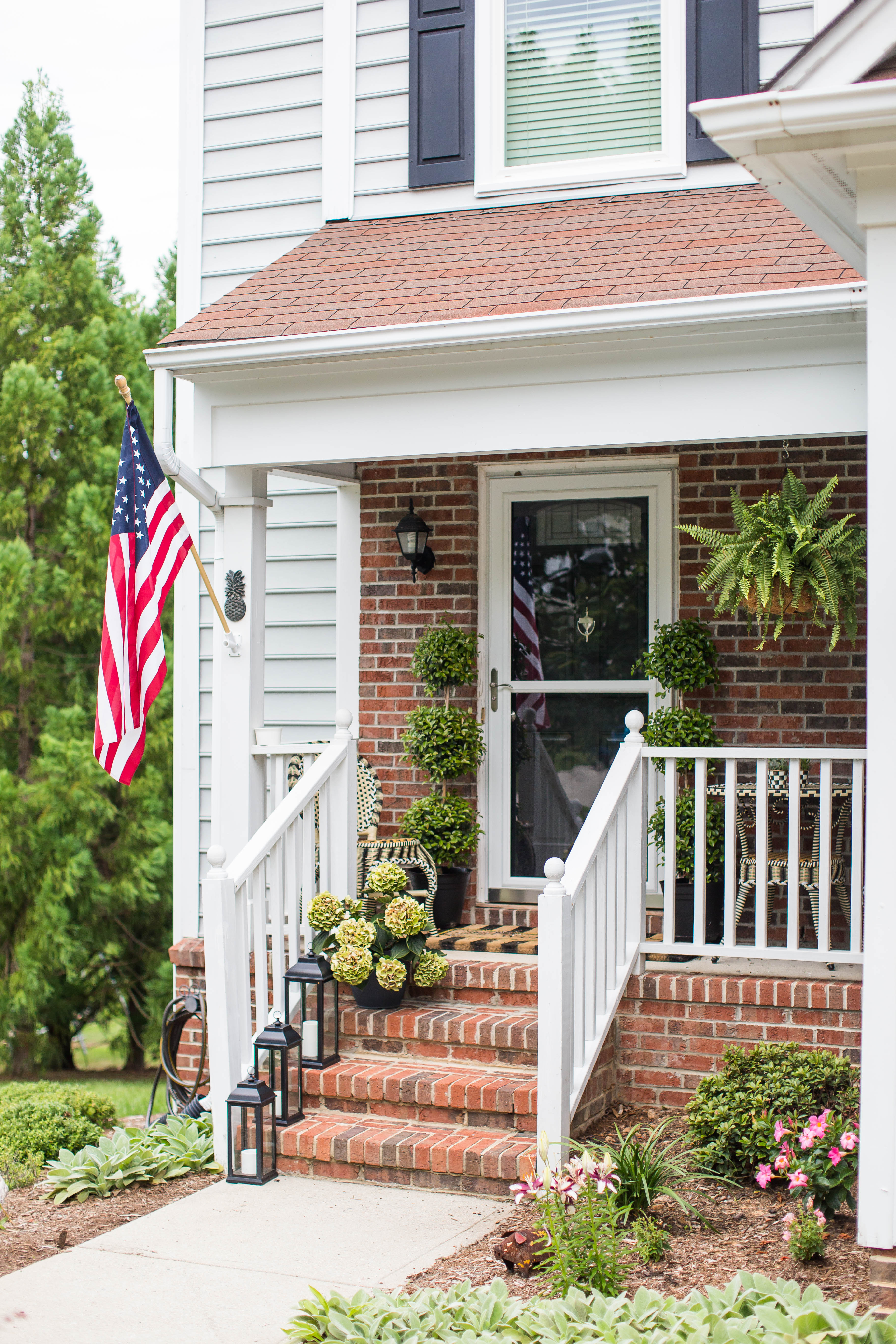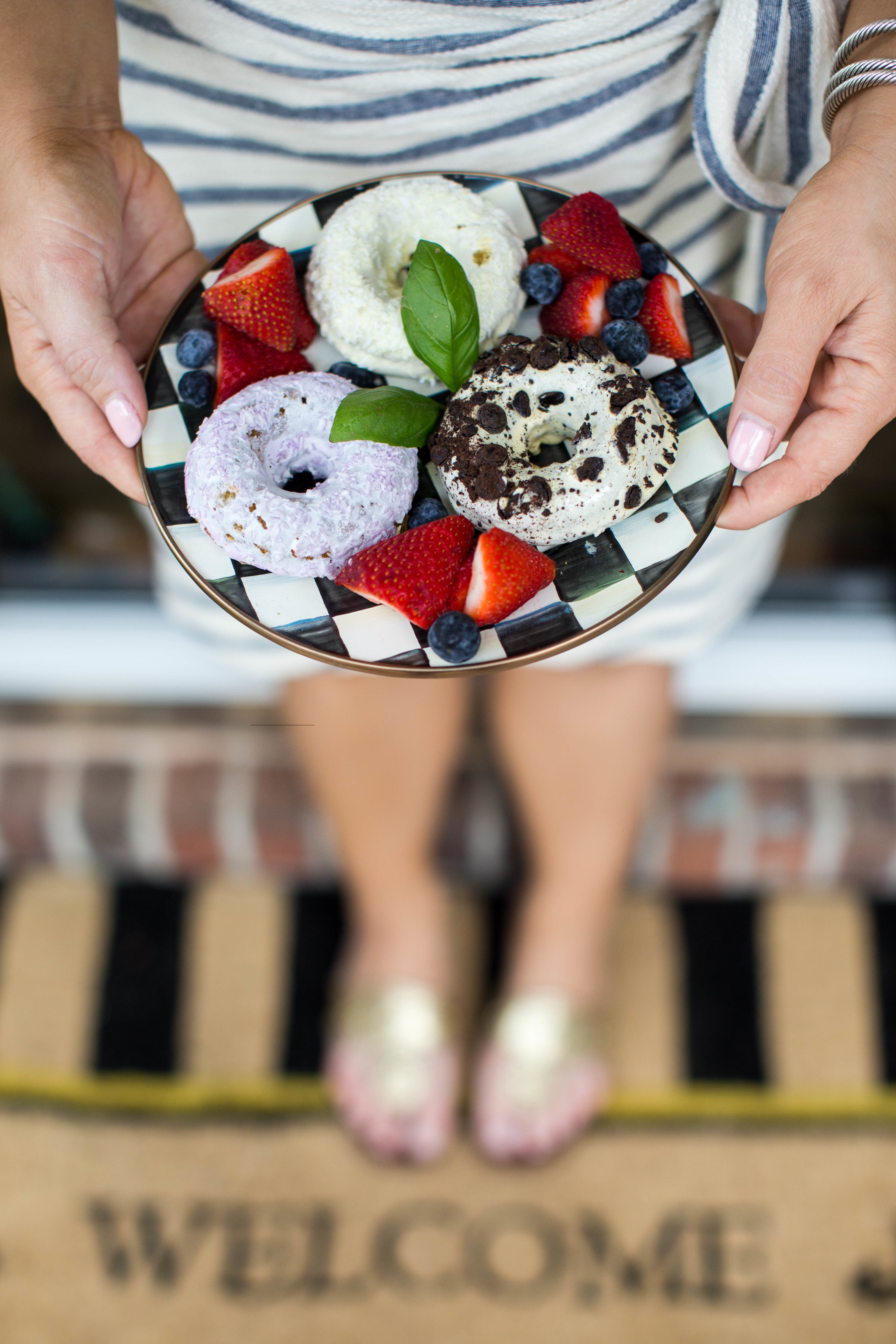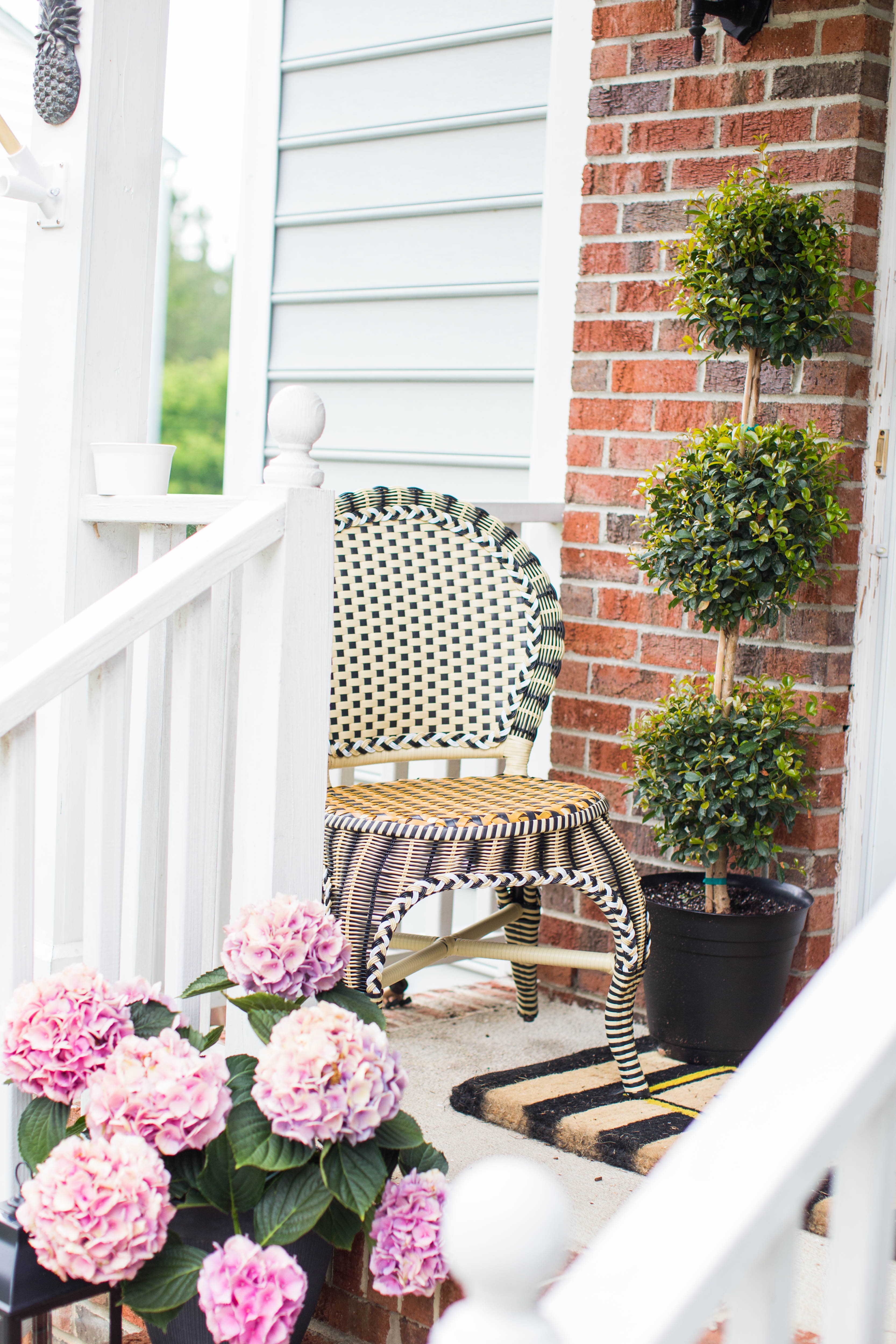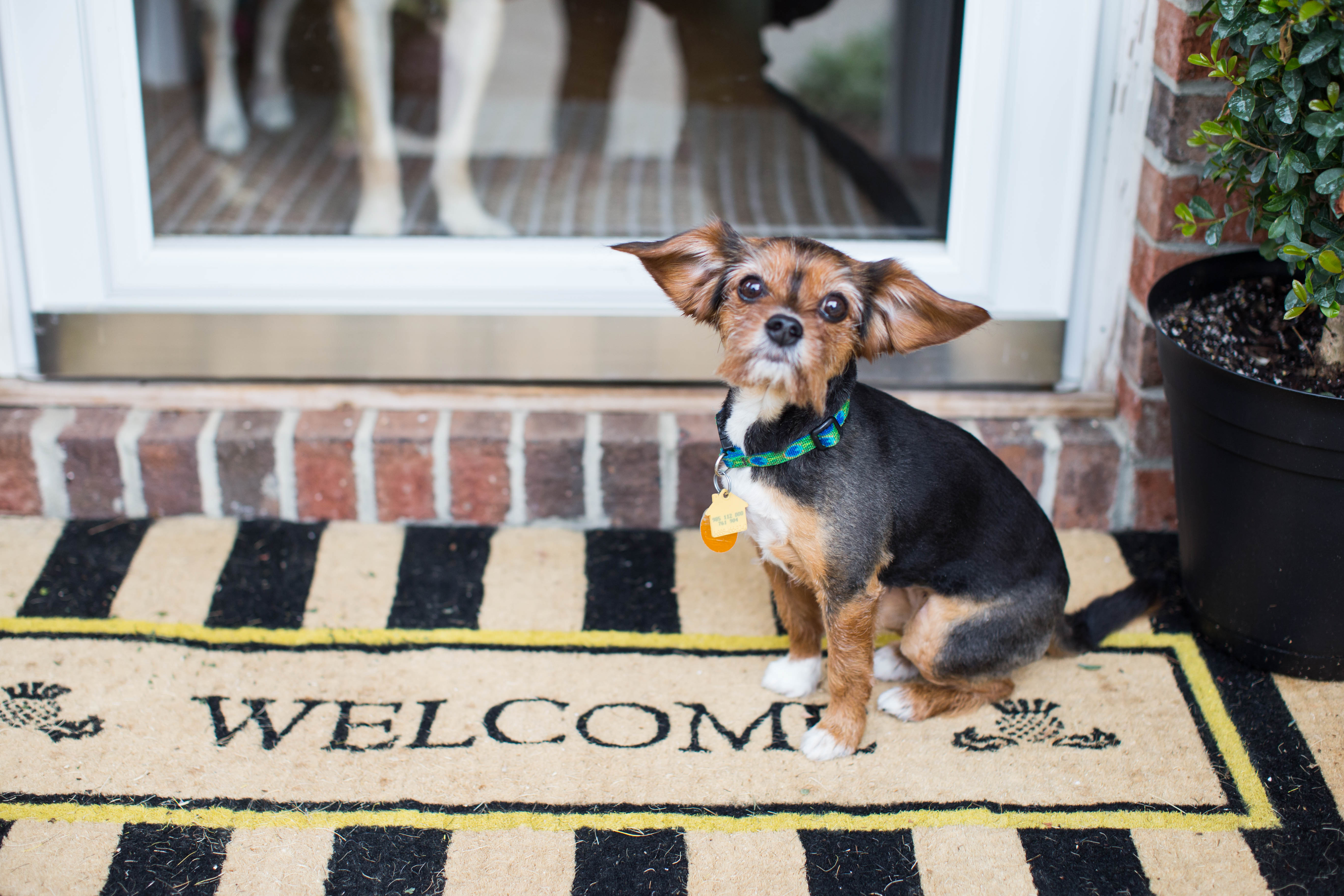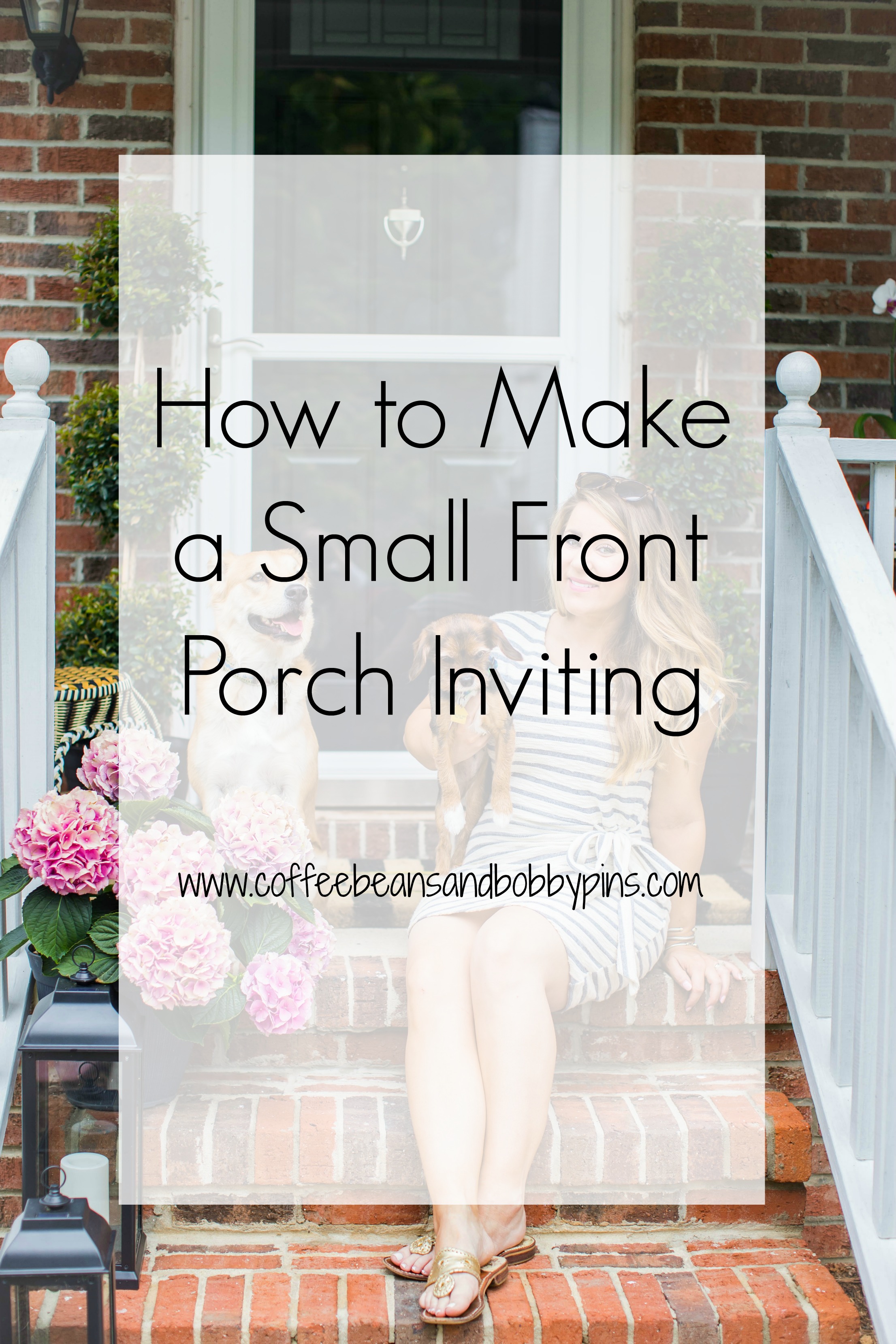 Bells is inviting you in, can't you tell? 🙂
Do you have a big or small front porch too? I'd love to know and if it's big, give me all the gorgeous/large details! For now though, I'm completely smitten with how ours looks with our adorable Mackenzie-Childs pieces. They are such amazing quality and I just love how classic they are!