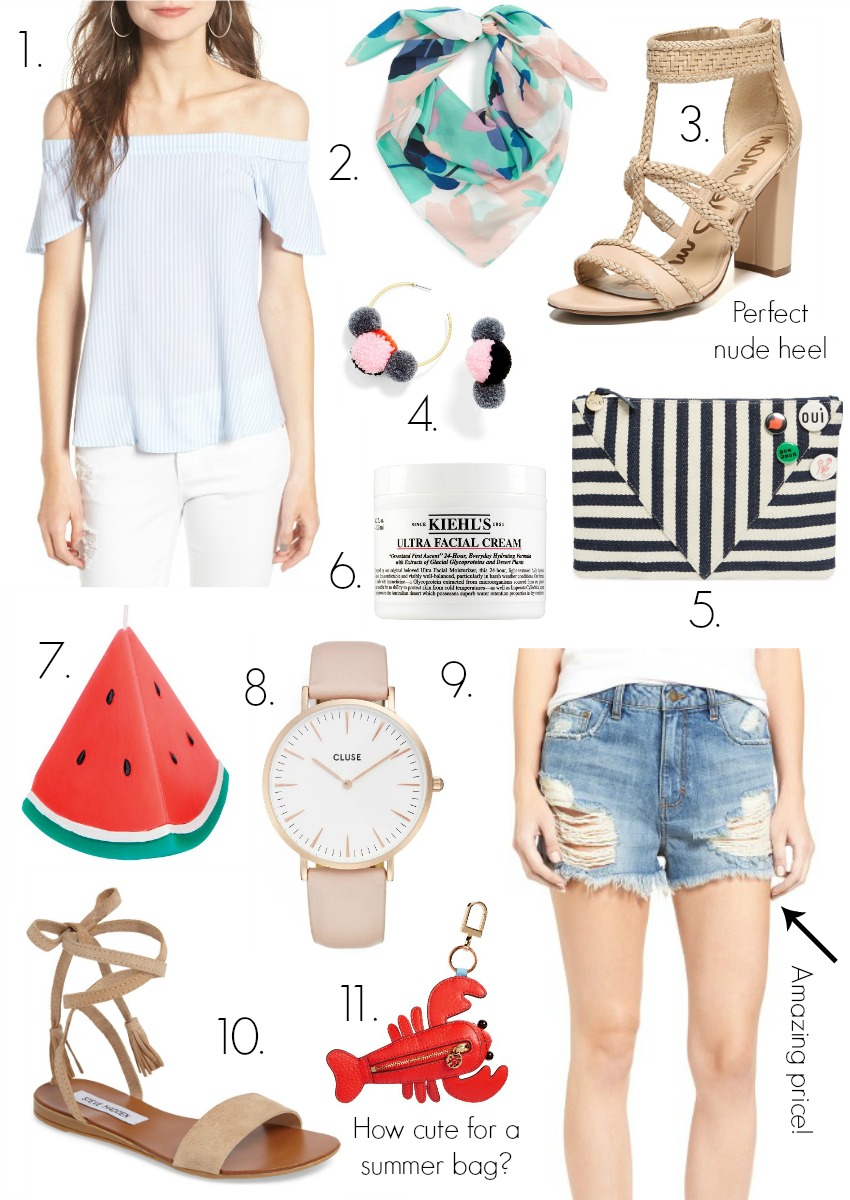 In lieu of Favorites Lately, today I wanted to share some of the items in my cart from the Nordstrom Half Yearly Sale. I always love a good Nordstrom sale because you can snag great items at discount and the half yearly is perfect because a ton of summer items go on sale for…you guessed it, summer! Below are some of the items always on my radar during the sale!
OTS Top – I need another OTS top like I need a hole in my head, but y'all, when they are this affordable and cute? Who can blame me?
Neck Scarf -I'm still debating on if I can pull one of these off, but I am tempted. They look so adorable on some girls and I just need to bite the bullet and give it a try!
Nude Heels & Nude Flats– There is no better shoe to own than a nude one. They create length for your legs and go with anything. I recommend heels and flats.
Earrings & Watch – This is also a great time to grab those pieces of jewelry you've been eyeing. I get it, I hate spending $60 on earrings too, but when they are 40% off and adorable, it makes it a little easier.
Clutch – Did I mention this is a great time to splurge on that handbag you've been wanting?
Face Cream – I love Kiehl's products and most of them are included in this sale. If you've been needing a new product to try, now is the time!
Candle – Just like facial products, I always use this time to stock up on candles because I love them, but hate paying full price for them! This little watermelon one would make an adorable hostess gift or birthday gift this summer for a friend!
Bag Tag – fun little accessories like this are always fun to pick up for gifts or for little happys throughout the year. How cute would this be on your summer bag?
Shorts – The destroyed jean shorts. Your pale legs will thank you once they get some color. 🙂
I'm also loving a few of the items below! I definitely need to trim the "fat" on my cart because I simply CANNOT order all of this! Help! What are you buying?

ANNND since so many amazing sales were released today, here are some other great ones!
Ann Taylor | 40% off full-price styles plus extra 50% off sale items with code SUMMER
LOFT 40% off everything with code VACAY
Vineyard Vines 30% summer style with code SUMMER17
Baublebar up to 70% off!
J.Mclauglin up to 40% off spring styles
Lou & Grey 30% off all sale styles plus free shipping
J.Crew 30% off purchase with code SWEET
Nordstrom Rack 25% off clearance items
Banana Republic 40% off purchase with code BRSUMER
Rebecca Minkoff up to 60% off
Goodnight Macaroon 40% off with code MEMORIAL
XX