I was asked to participate in the Walgreens Brand Suncare #ApplyRepeatProtect campaign, sponsored by Walgreens. Although I have been compensated, all opinions are my own. Thank you for supporting Walgreens and the other brands that make CB&BP possible! MWAH!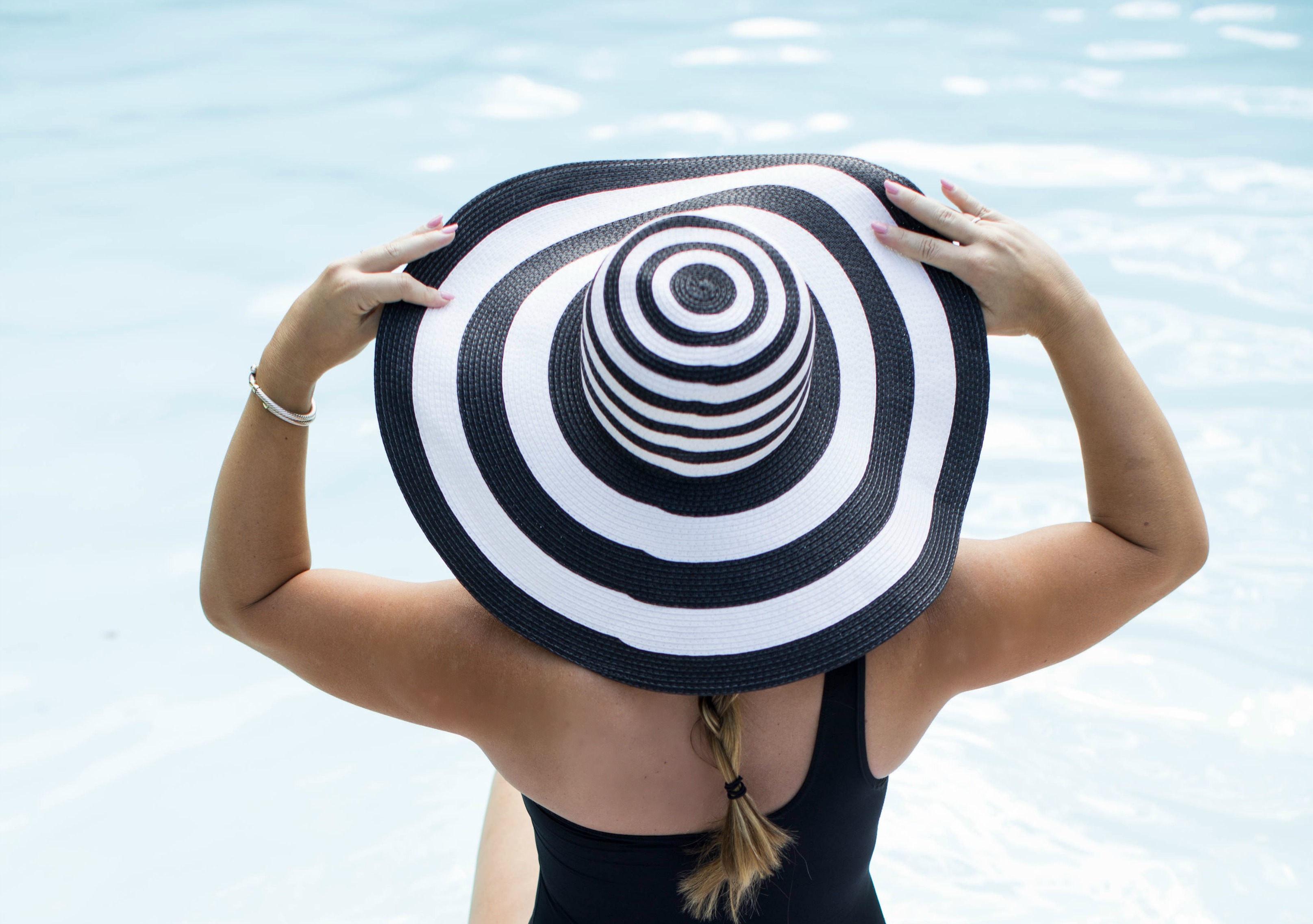 It might almost be August, but the temps are still SO hot and the days are long, which means there are plenty of beach/pool days ahead. North Carolina's temps have been so crazy lately that the only way to tolerate being outside is to be within water distance. Aaron says going to the pool is such a "hassle" but I couldn't disagree more. Grab a cooler, your pool bag essentials and poof you're already prepped. So in case you're like my husband and can't decide what to pack, etc. I thought I'd share my pool bag essentials.
Towels, Obviously. If I know I'm heading to the beach, I even take two because I hate that once they are wet, sand sticks to them. Plus, often times you need one to sit on and one to dry off with. If you're at the beach, baby powder to rid myself of sand is my FAV! Just my tip for the day!
Sunscreen (the high SPF kind!). I'm well aware that we all want to be tanned beauties, but unless you want to look sun-damaged in your 40s, sunless tanner is the way to go. I never leave home to head to the beach or pool without at least 40 SPF and I love it in spray versions because it's not as big a deal to re-apply regularly. And honestly, I pick up Walgreens brand suncare because they have great prices, big bottles and SPF is SPF so I don't need anything fancy, just effective. If you're not wearing SPF daily (under makeup even), I highly recommend you start as well!
A portable speaker because who doesn't want to jam out during a swim sesh?
Brush and Texture Spray. My hair doesn't dry completely straight, but it's not curly either. So after a thorough brushing after some under water swim, I always have a bit of product to spray in if we're hitting somewhere public up after.
A small makeup bag to carry essentials. I always have a few makeup wipes and at least some tinted moisturizer (with SPF #applyrepeatprotect) and a tube of mascara. To me, this is perfection when someone says "hey, let's grab food after," then you can actually look like a human and not a zombie. I also throw car keys and anything else important and needed in here!
Hat. Refer to #2, protect your face!
A big beach bag. There is nothing worse than having to carry most of your belongings after a long day at the pool or beach, so make sure your bag is big enough to lug everything around!!
Water. Whether or not you're enjoying adult beverages , you need H2O. I love smartwater's benefits with the electrolytes. Plus, I love the variety of bottles it comes in, I say, the bigger the better!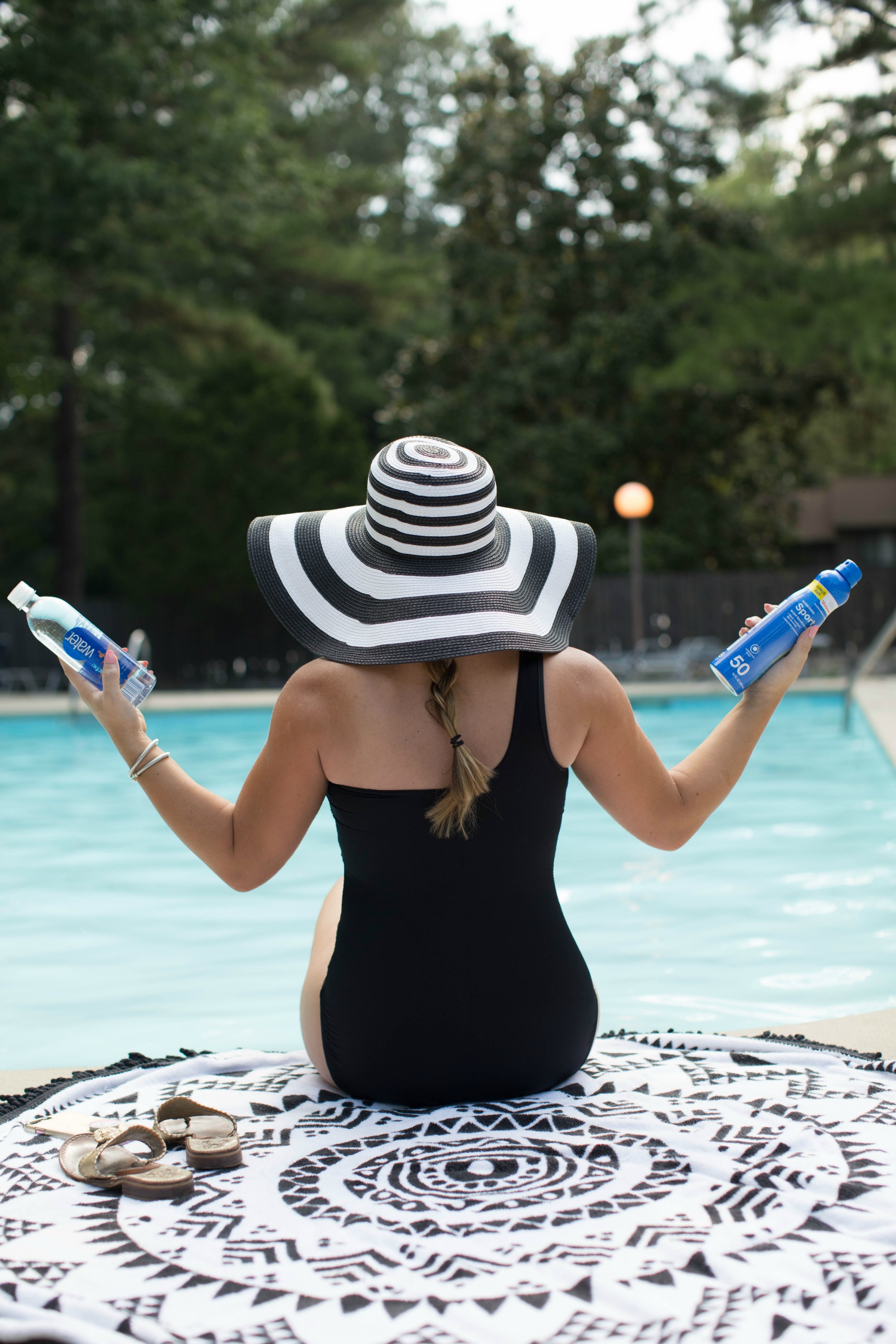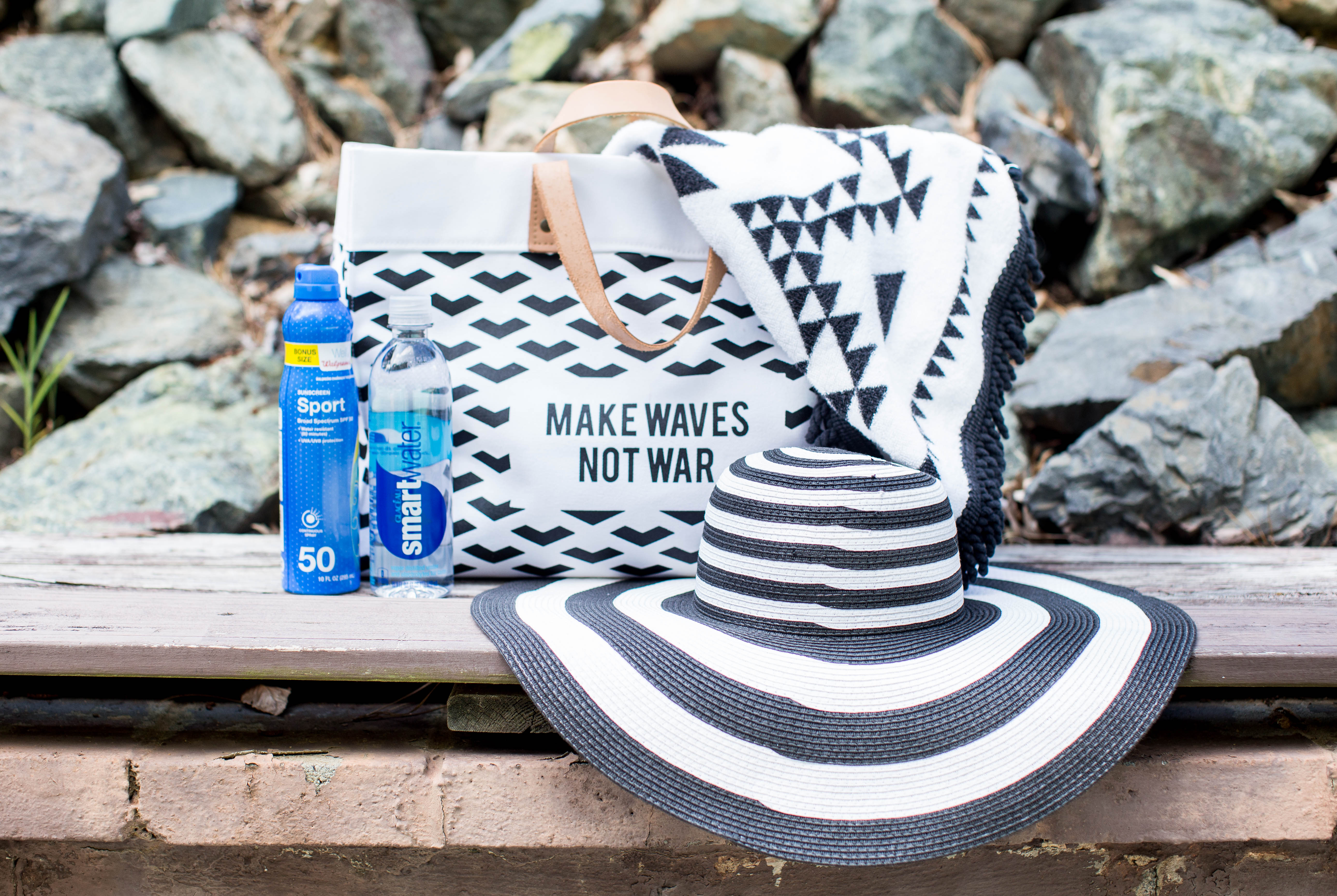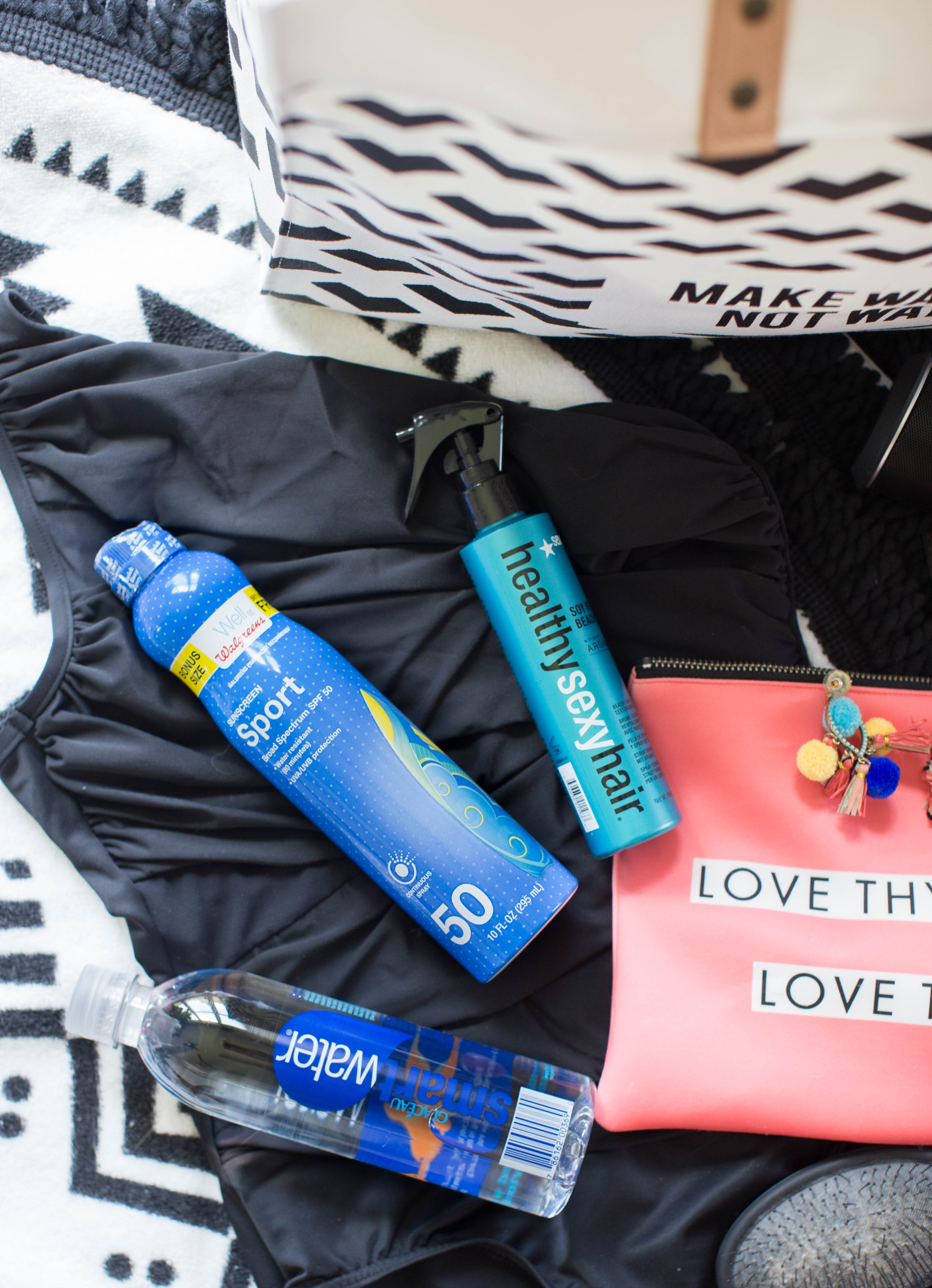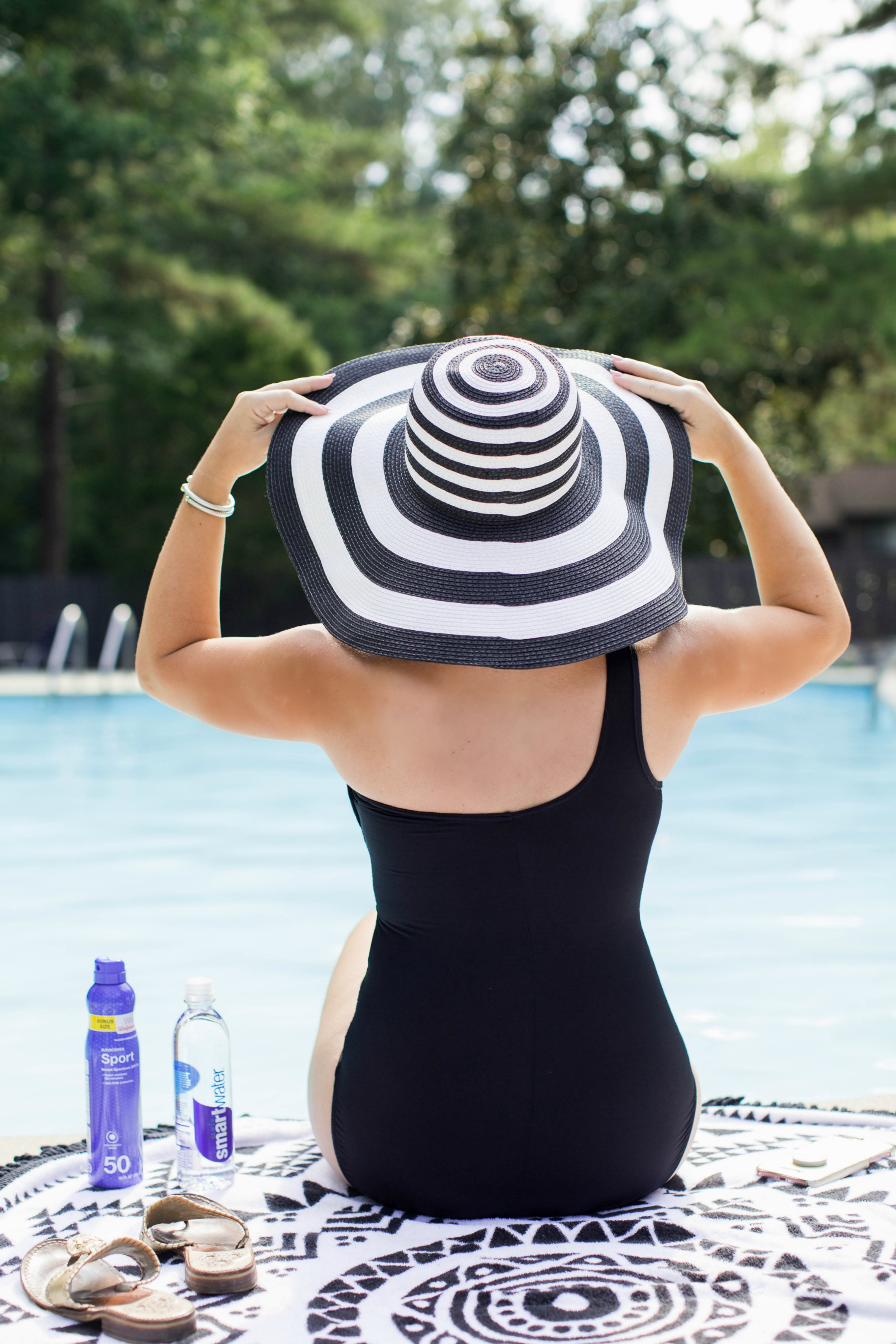 Other than those essentials, you're set. Lather on that
Walgreens SPF
and get your pool on!
What did I miss? What are your pool bag essentials that make it into your pool/beach bag?
This is a sponsored conversation written by me on behalf of Walgreens. The opinions and text are all mine.