Thank you to Ocean Spray® for teaming up with me on today's post. All opinions are my own. Thank you for supporting the brands that support CB&BP!

In case you haven't been to visit lately, Aaron and I shared some pretty exciting news on facebook last week…we're expecting! One thing I've been consistently saying to Aaron since we found out that I was pregnant was that I would be honest with my followers throughout. I see so many women on social media acting like pregnancy is all birds and the flowers and y'all while it's a blessing, it's also a little miserable. 🙂  I for one have not enjoyed it. There is nausea, complete sleepiness, awkward social settings to get through, etc. and it can be the pits I wont even lie. Luckily, while the second trimester has been no walk in the park, it's been 100x better than the first, so today I thought it would be fun to share with you some tips for surviving the first trimester of pregnancy.
Give in to the naps. I love naps, but often I feel guilty taking them, DON'T! Nothing is better than just giving into naps and catchin' up on sleep if you're tired. I felt SO sleepy the first 12-14 weeks and Aaron joked that I was always hibernating. There is no shame in trying to catch a little shut eye while your body is asking itself WTF is going on.
Treat yo' self with a little pampering. Manicures, pedicures or even at home spa products. Your body is going through so many changes, pampering yourself just feels right. I've never been a fan of  baths, but even a nice warm bubble bath and a face mask made me feel like myself.
Read something other than a pregnancy forum, pregnancy book, Dr's. paperwork. There is plenty of time for all of that and while I did buy some books, I also started reading other books for the first time in awhile. I figure, I'll figure out what to expect once it's happening. 🙂 I bought this book and lol'ed (I did read the whole thing, it's a short read), but I also read other things to keep my mind OFF of babies, bumps, etc.
Tell who you want, when you want. When you share your news, it's like a weight has been lifted. I know they say you should wait until 12+ weeks, but we told some people close to us before. Once we did, I felt like a human again. No feeling bad that I was yawning at 9 PM at dinner with friends, or making up lies why I was drinking water instead of wine. If something bad happened, wouldn't you share the news with those you love to help you mourn/cope? These are the people I told, the ones I knew would be there in the good and the bad.
Cut yourself some slack. This goes along with the napping, but don't let yourself get down about not working out, eating perfectly, etc. It will get better with time and you're growing a human which is amazing! You have 36+ weeks to get back to the gym, eat amazing salads (blarg) and research every product on the market. Cut yourself some slack and take it one day at a time momma.
Ask for help. Stop trying to balance it all like you did prior. Your body is changing and it will be for the next 40 weeks (and even after). Ask for help when needed. Aaron has stepped in to assist in things I never asked for before. If you are fortunate to have someone willing, let them.
Buy a new bra, or four. THIS. This may be TMI, but your boobs are going to expand/grow/feel like the biggest things ever. LOL I waited way to long to just cave in and get a new bra and when I did, I felt like a new woman!
Snacks. Plan to have a snack every two or three hours. Definitely helps with nausea.
Mocktails, Mocktails, Mocktails. You guys, I had SUCH a hard time the first trimester with not drinking. Aaron and I are very social drinkers. I love a glass of wine after work some nights, a beer on a cold day, etc. When we first saw the commercial for the new Ocean Spray® Mocktails, Aaron and I looked at each other like we'd won the lottery. I mix mine with a little sparkling water and actually feel like an adult again now when we have people over! I pour mine in a wine glass (the Ocean Spray®  Sangria is my fav) and Aaron has a beer and I don't feel like I'm missing out now. Seriously, they have been a saving grace for me! Even if you're not a casual drinker you should try them, they are delicious! Plus, I have a lot of friends expecting right now, so who doesn't wanna cheers to girl talk?!
Be thankful. I know it's hard. I cry at least once a week, feel like my life has literally flipped upside down and am terrified at all the things to come. But we were at a birthday party mid-first trimester and realized when someone was discussing their infertility issues, how truly lucky we were. If you're pregnant, you're in a situation that some women DREAM to be in, so even though it's hard, your hormonal, tired, etc. at the end of the day just take a look around and realize how truly blessed you are to be fortunate enough to experience all the bad days, sleepiness, etc. I can't vouch for it quite yet, but everyone I talk to says it's the best thing you'll ever do. 🙂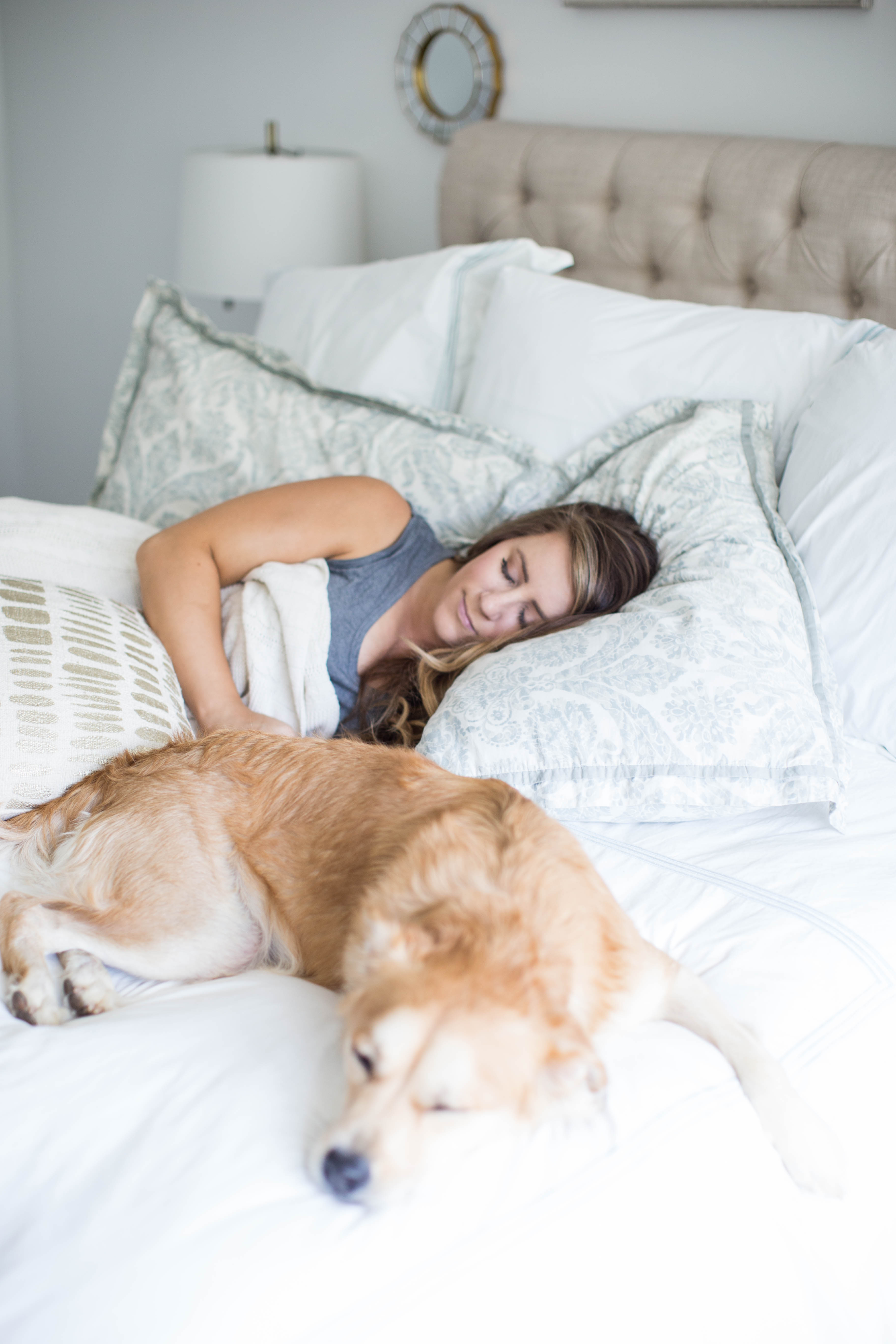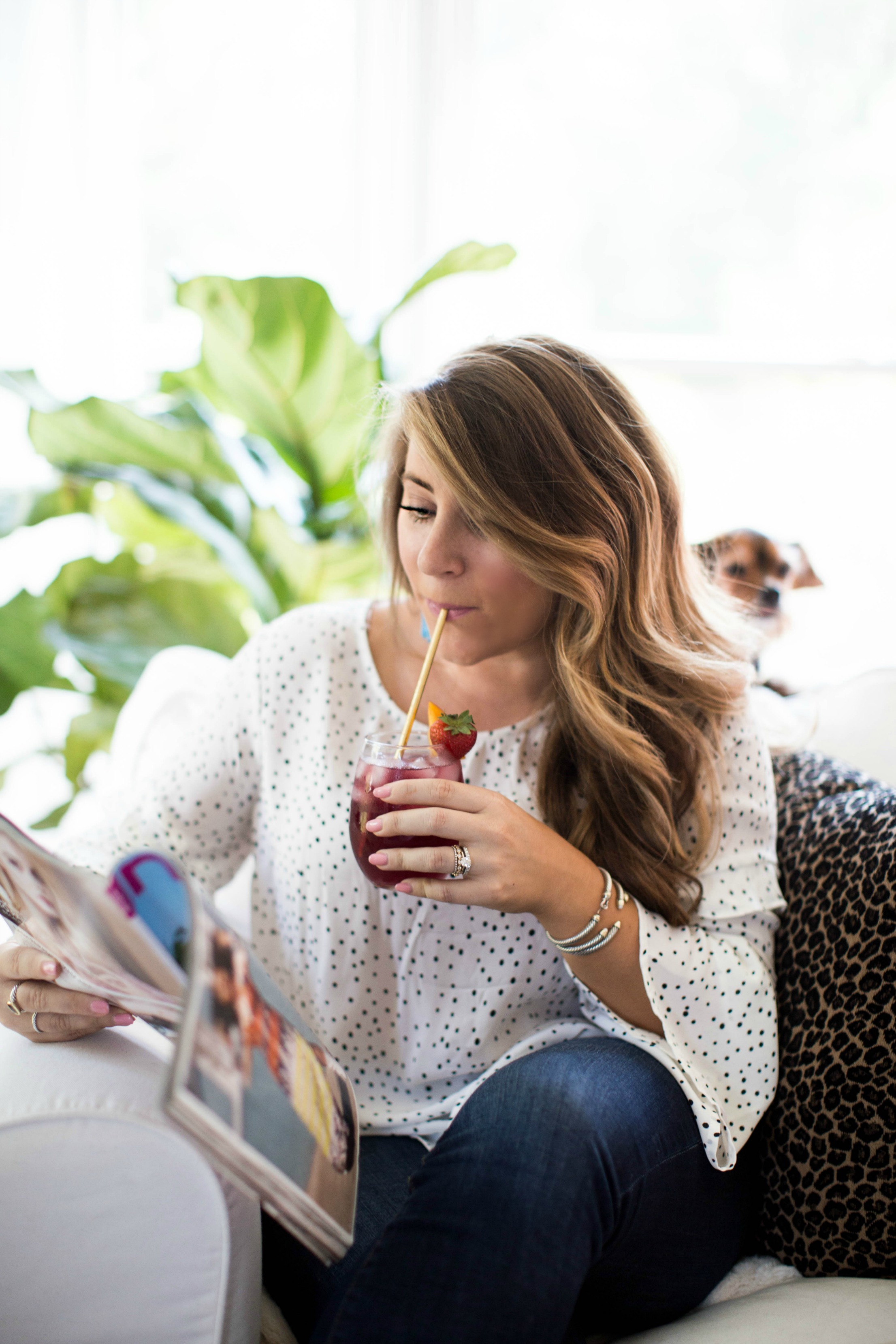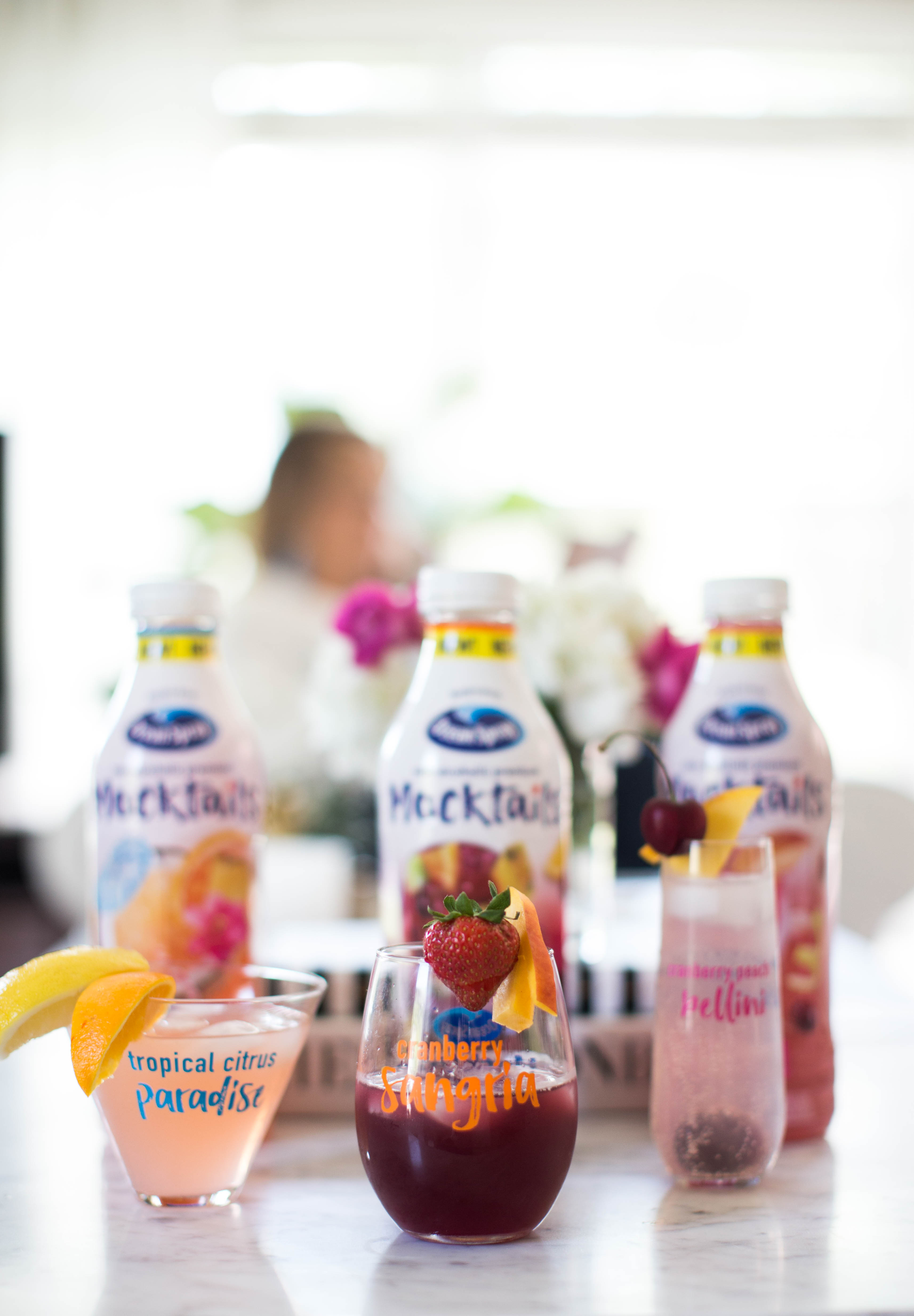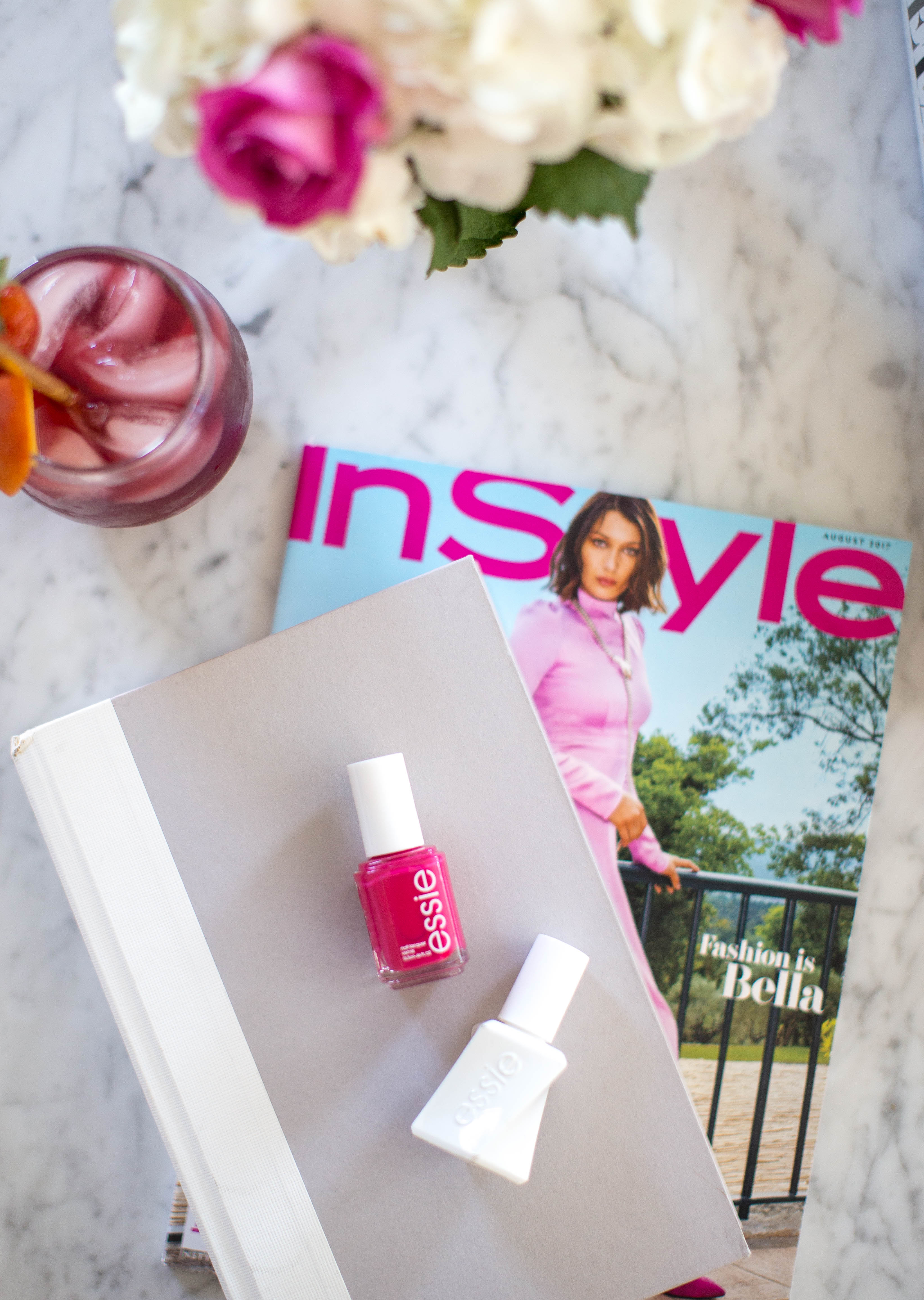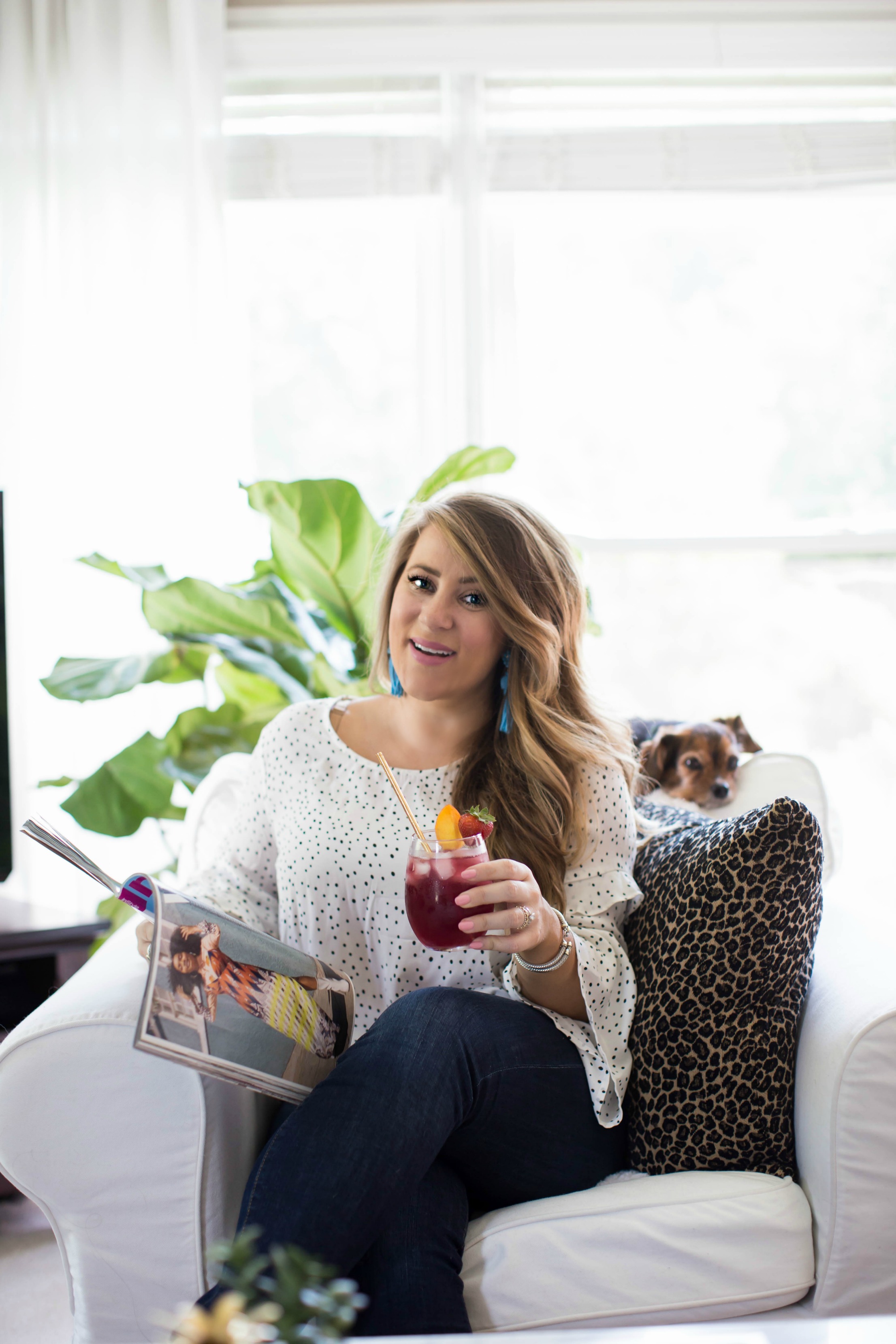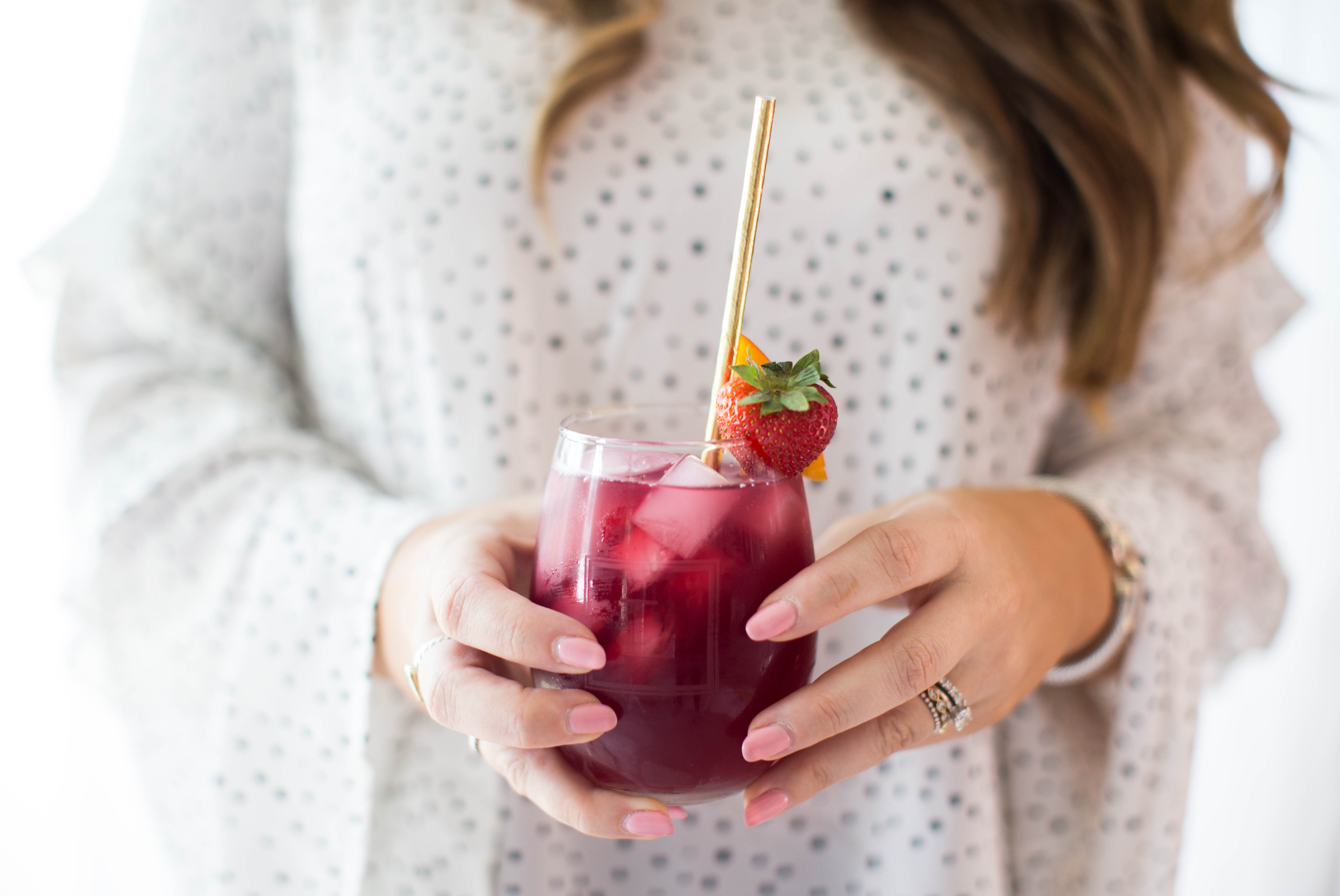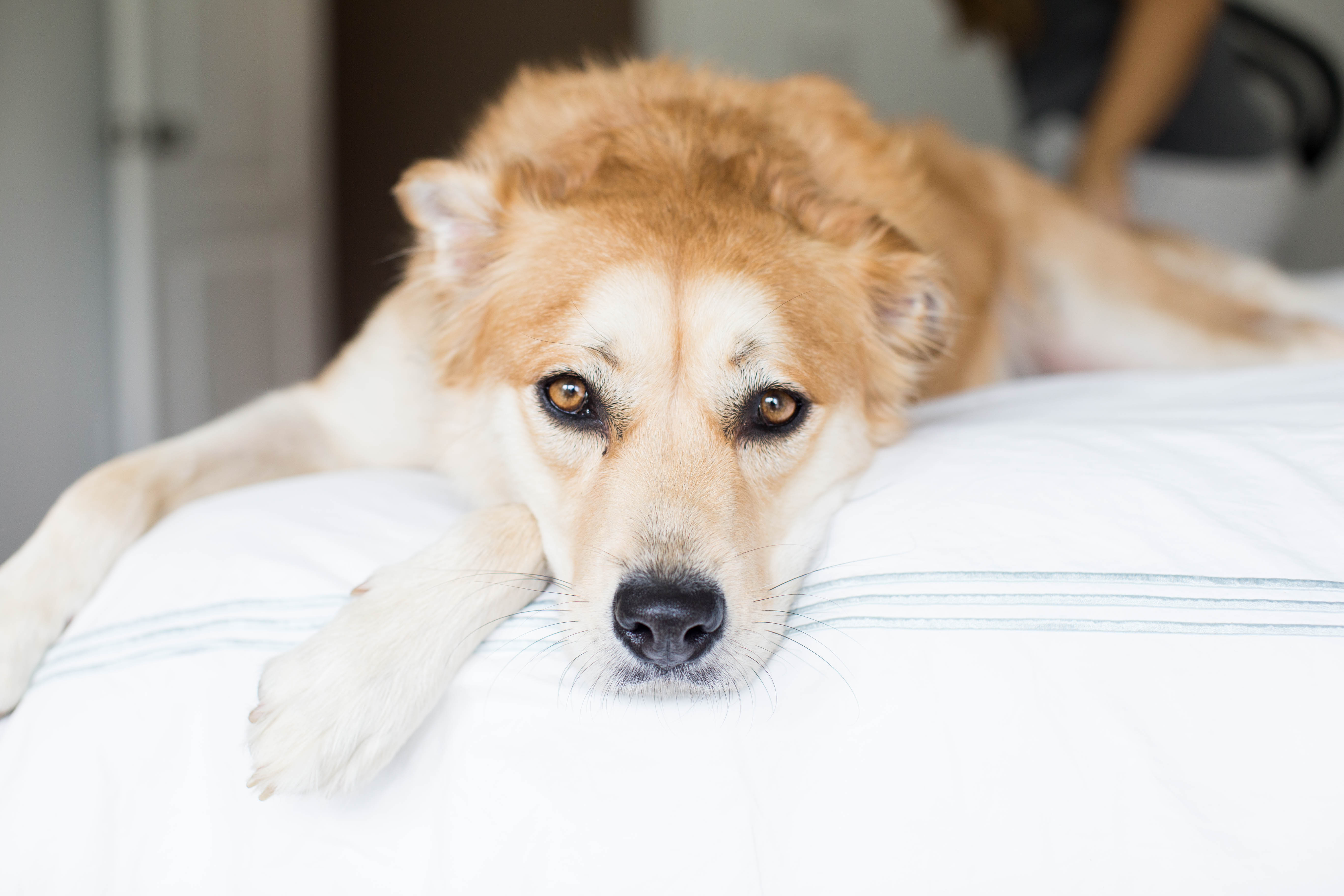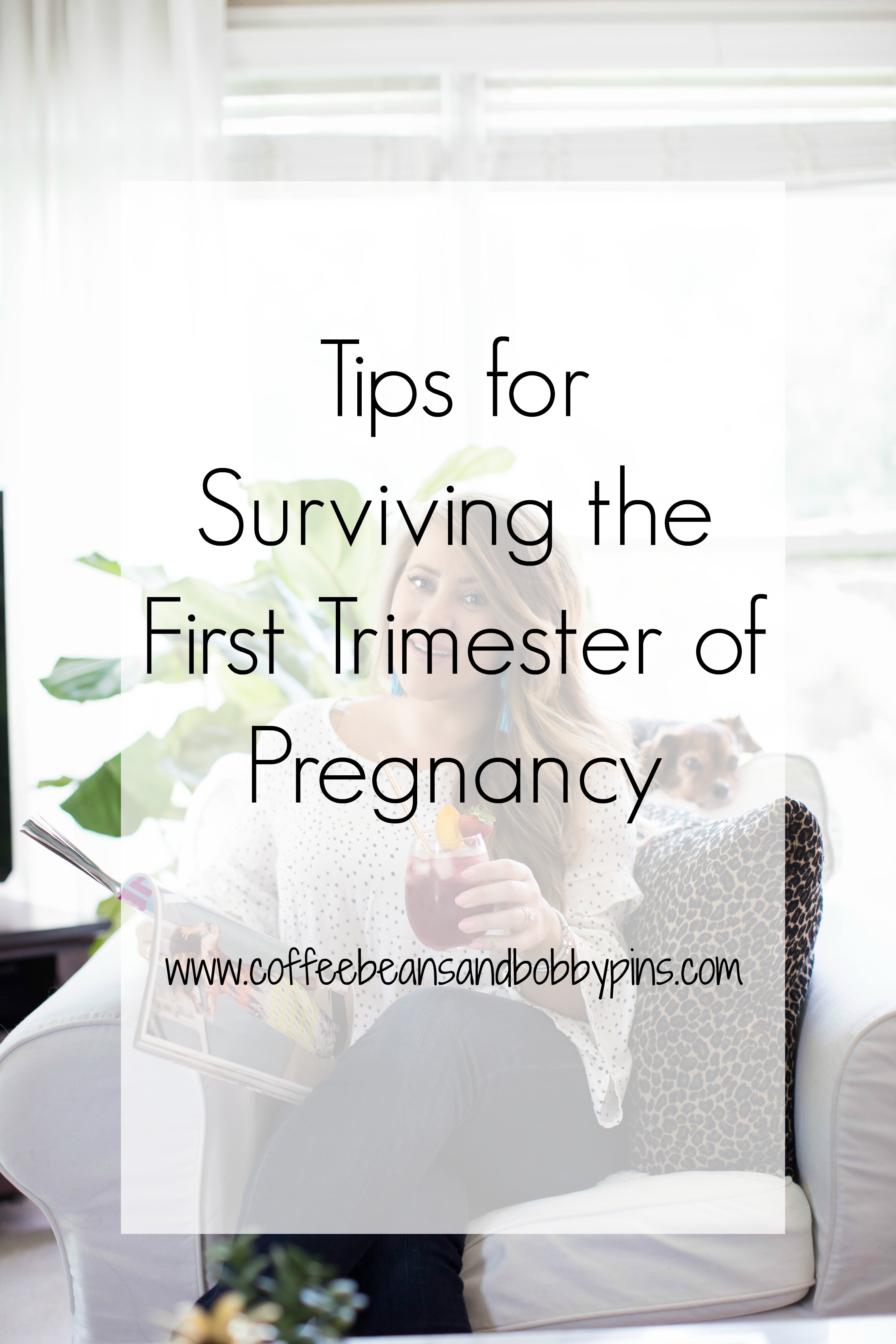 I'd love to know if there are any tips you used for making it through Stage 1! 🙂 I'd also love to know if you've tried the Ocean Spray® Mocktails! I love them because they are 100% juice and only 90 calories (less than a beer if I were drinking! haha). Best part, no hangover! 🙂
Fillingg up my one and only cup of coffee and getting this day started! Happy Monday friends!
This top/jeans are part of the #nsale and are superrrr cheap (I sized up in the top so I can wear it with a belly!).