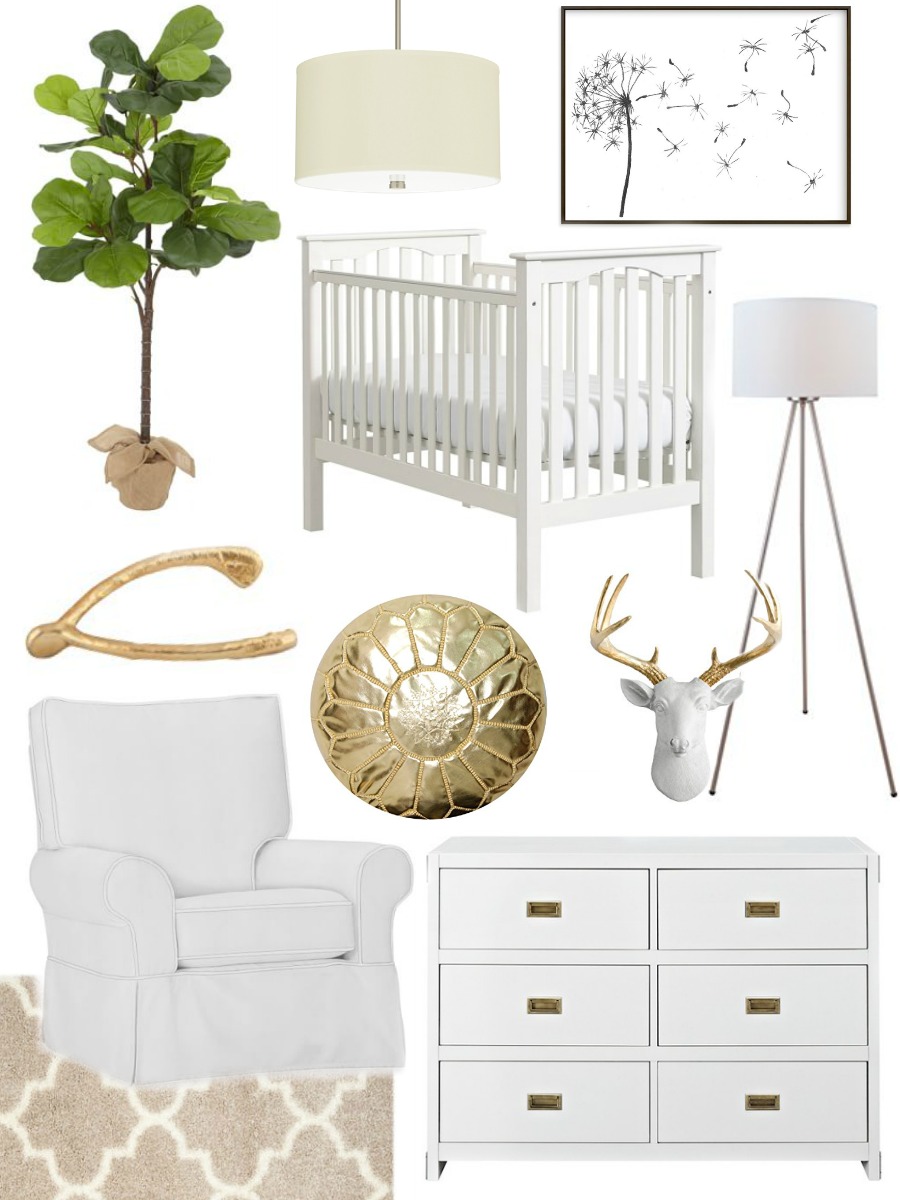 Dresser / Lamp / Pendant / Rocker / Rug / Pouf / Giant wishbone / Dandelion Print / Crib / Fiddle Fig / Antlers
Hey y'all! As most of you know, Aaron and I are expecting! And, if you're new here, now you know. 🙂 I haven't chatted too much about my pregnancy simply because it felt weird to chat a ton about it when I was #1. early on and #2. not showing. I did do a post
here
and
here
, but now that I feel like a small bump has emerged (what seems like overnight), I feel like I can finally start writing and sharing some of the content I've been looking forward to. 🙂
We haven't announced it with anyone on the interwebs, but we're actually waiting to find out the sex of Baby L until delivery. It's a decision we made pretty early on and I'll share more about it later, but that meant sticking to a very gender neutral nursery plan early on. While I like the colors green and yellow, I knew those were out. And I think gray is sooo pretty, but our house is more of a beige color scheme, so these are the nursery design ideas that we're rolling with.
When I'm planning a room's decor, I always start with one piece and "build" around it. Ever since I spotted this campaign style dresser, I knew the nursery decor/design would have to follow suit. Aaron says that gold touches are girly, but I disagree. Our house has touches of gold throughout and I definitely would not call it girly, I mean, it's far from a man cave, but I think it's definitely "grown up." I also think if Baby L ends up being a boy, we'll throw some "boy" things in or vice versa for a girl. Andddd let's be honest, nursery planning is really just a time for the parents to be excited and do what they want, because in three years I'm sure our child will want a room planned after his or her favorite Disney movie 🙂 Growing up I had a frog themed room for some time, then palm trees…so you just never know.
I'm looking forward to sharing these nursery design ideas progress soon, but above is kind of my inspiration board. We've already put together the crib and dresser (both pictured above), so they rest is slowly going to fall in place (but I hope not too slow!).
I'd love to know you decorated your little one's nursery (or how you think you might someday!
XX