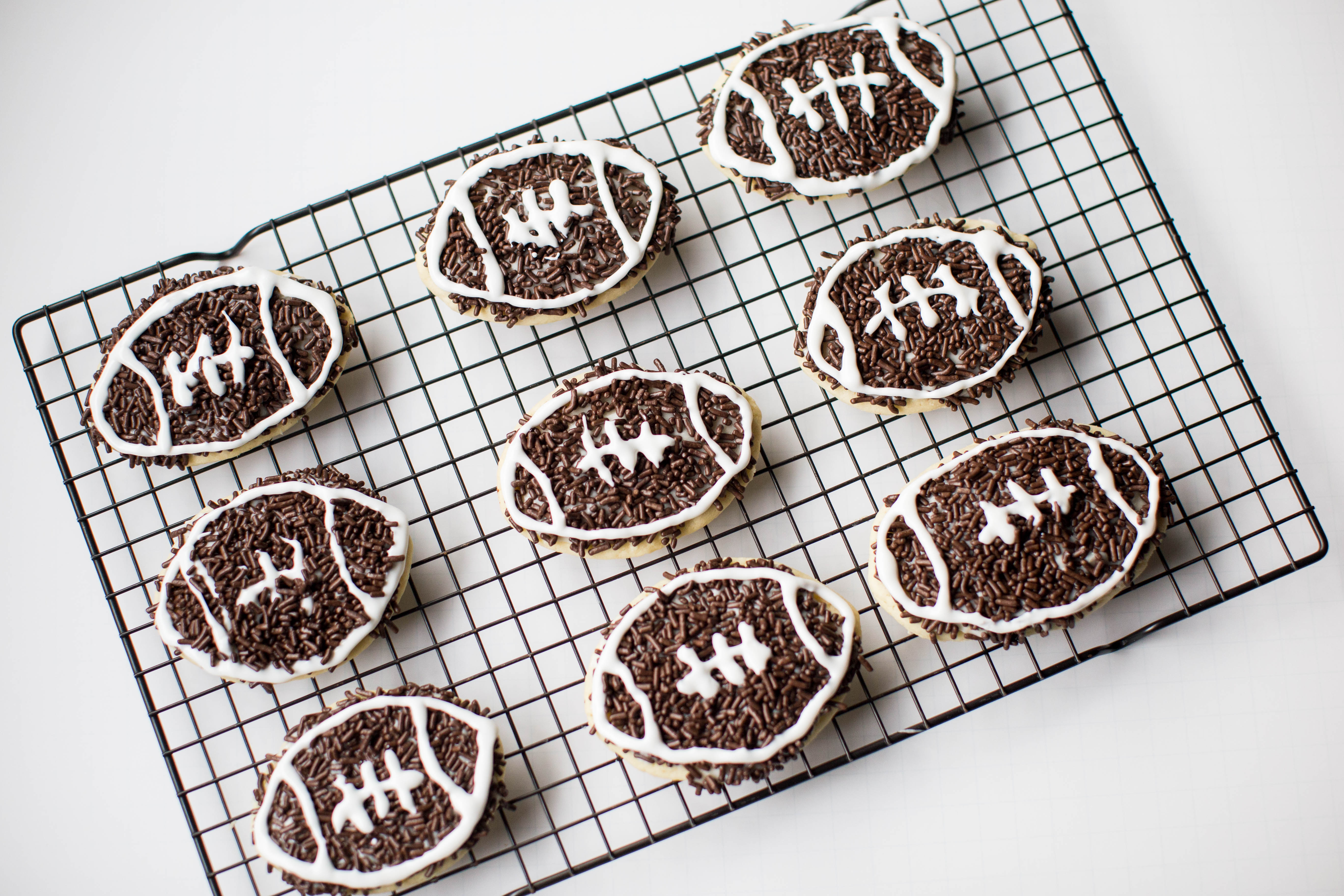 I wouldn't consider myself the biggest football fanatic, but there is something I enjoy about Sundays and sitting around with the game on in the background, fall candles lit and "football food." You know the kind I mean, chili in the crockpot, little appetizers and sweets! So maybe I don't actually love the games as much as I love the "festivities" surrounding them, but whatever! I've been wanting to try "pop" baking for a while, have you done it? It's basically where you replace some ingredients with your favorite pop (or soda to some, in Ohio we say pop in NC people stare at me) and it's supposed to taste just as great if not better! So the other day when I stopped into Dollar General to pick up some Dr Pepper (where we buy our pop thanks to the DG Dr Pepper rewards Program) I decided to try my hand at this whole "pop"/baking phenomenon.
Honestly, the Dr Pepper recipe cookies we made turned out fantastic and I love he recipe below because you can use any of your favorite soft drinks (at least I think so) and they have a slight hint of flavor, but nothing too crazy! Plus, the cookies turn out so amazing and soft! Now looking back, I wish I would have used Dr Pepper Cherry instead, how yum would that be!?
Here is what you need:
2 1/2 cups all purpose flour
1/2 tsp salt
1/2 tsp baking soda
1/2 tsp baking powder
1/2 cup butter, at room temperature
¼ cup cherry bits (I cut up maraschino cherries)
3/4 cup granulated sugar
1/2 cup light brown sugar, packed
1/2 cup Dr Pepper at room temperature (or soda of choice)
1 egg, room temperature
2 tsps vanilla extract
Instructions
Preheat your oven to 350 degrees.
In a large bowl, combine the flour, salt, baking soda, and baking powder.
Cream together the butter, brown sugar, and granulate sugar, until light and fluffy, about two minutes.
Beat in the vanilla extract, then the egg, then the Dr Pepper and cherry bits, until just combined.
Slowly beat in the flour mixture, about a half of a cup at a time, until just combined.
Chill dough for 1 hour, then proceed to roll out (using flour to help) and cut your football shapes!
Bake for 11-12 minutes. Remove from the oven, allow to sit on the pan for about two minutes, then remove.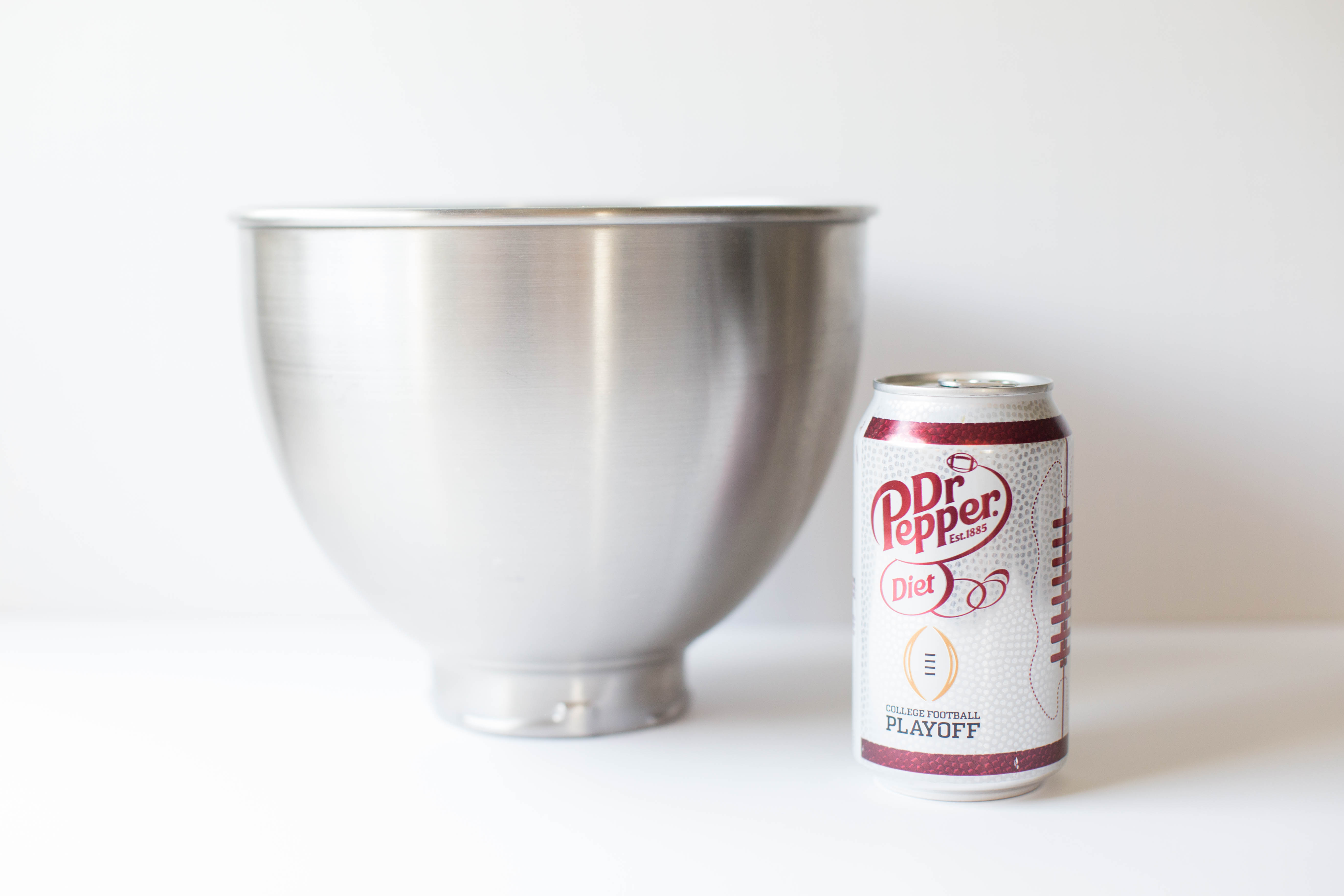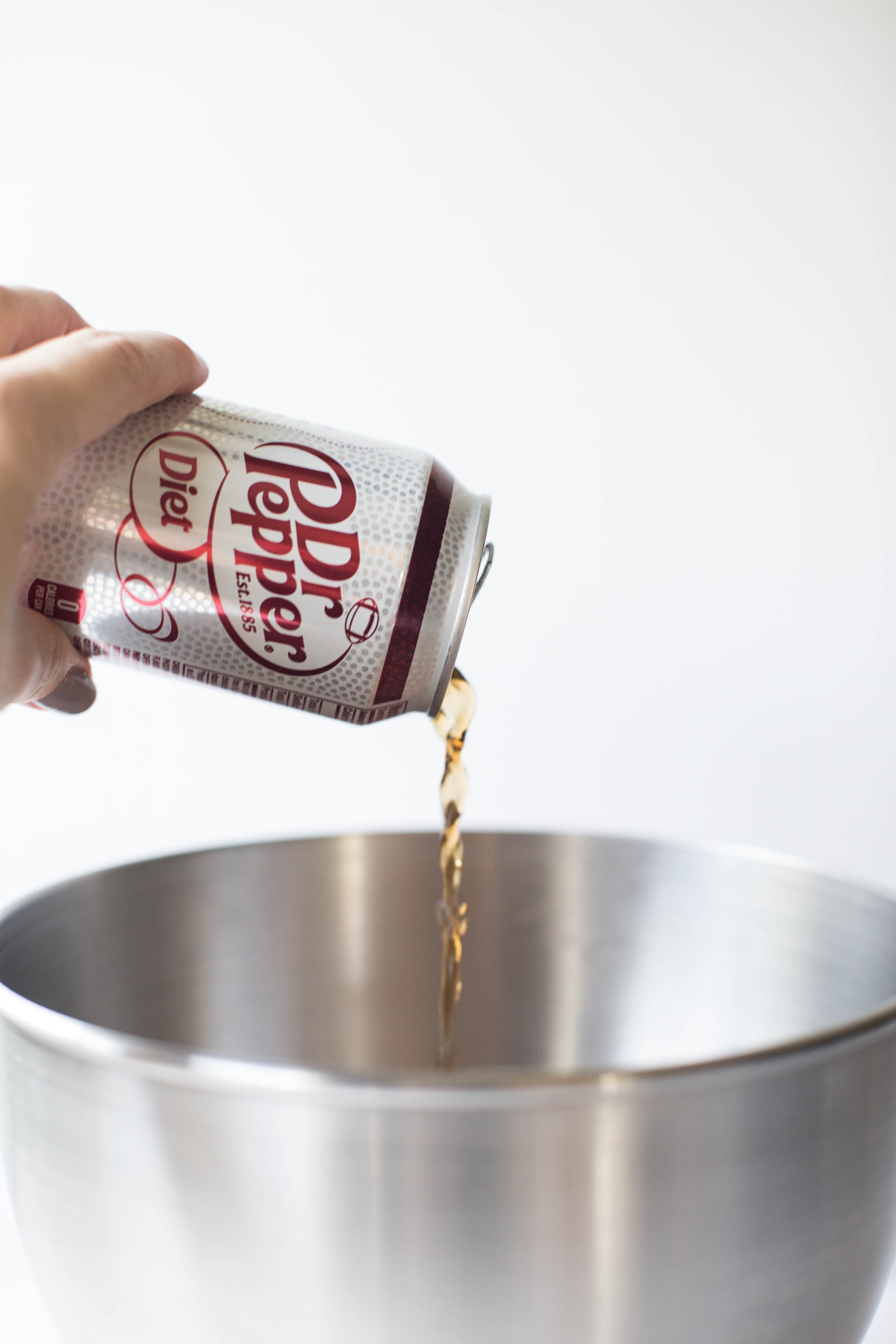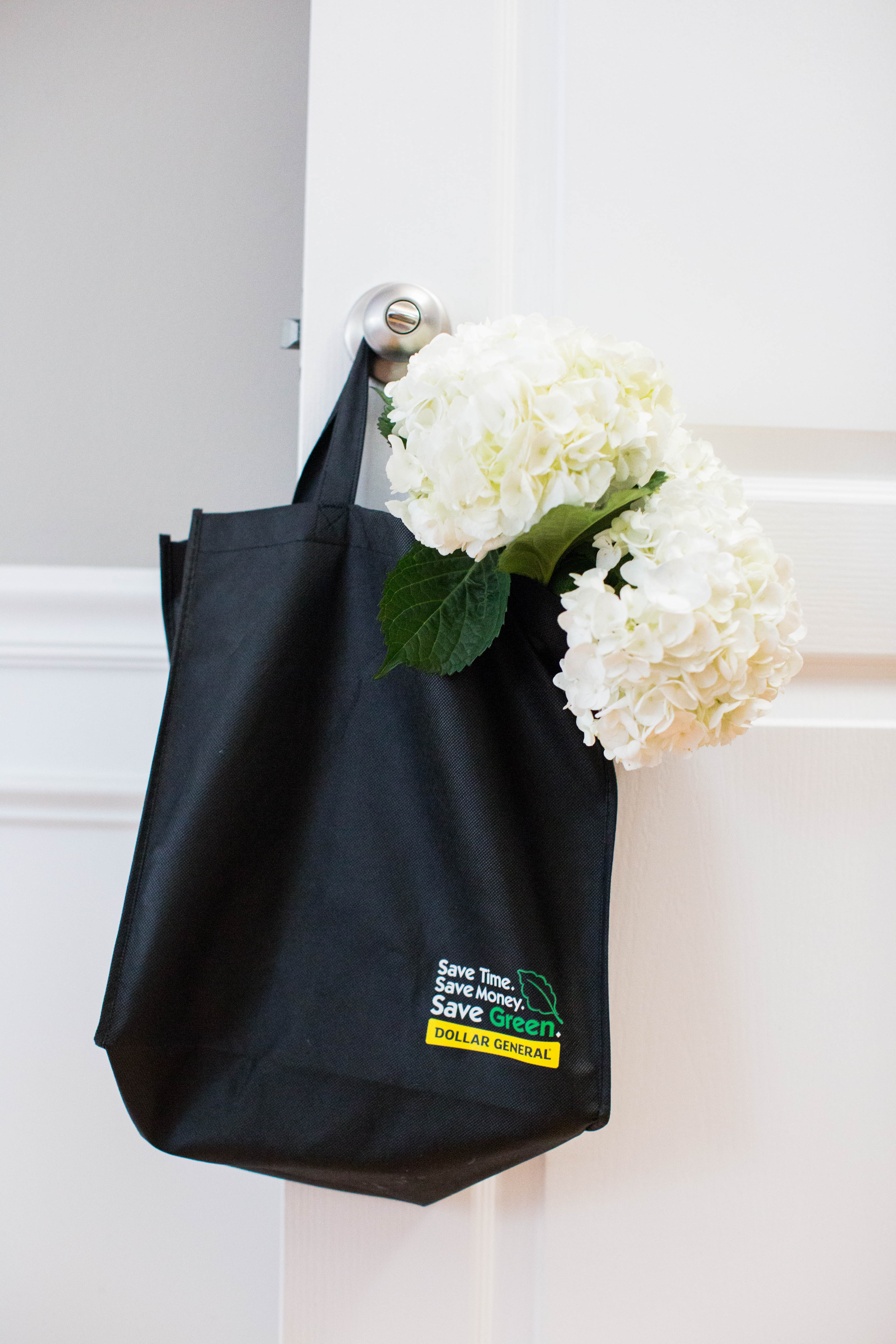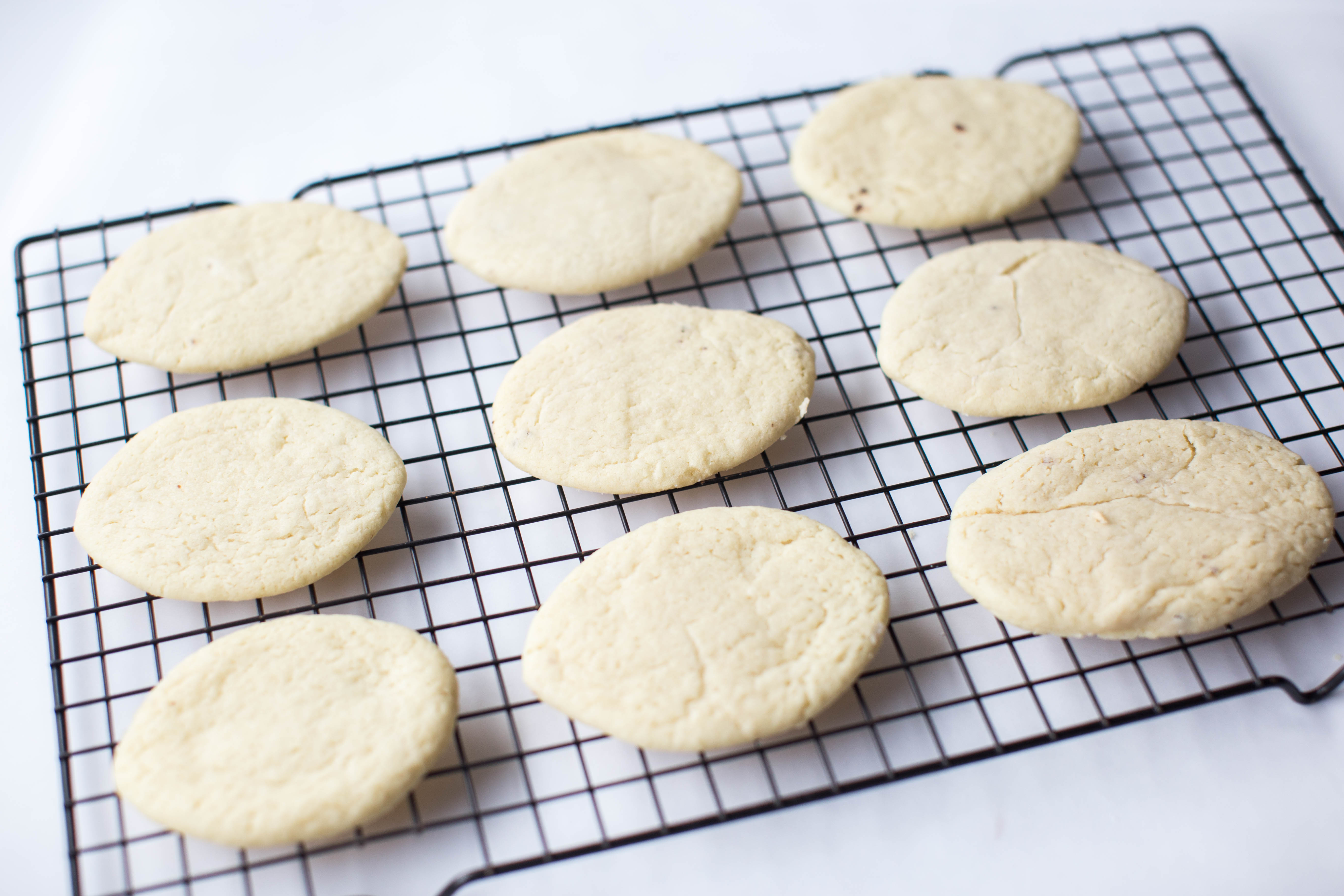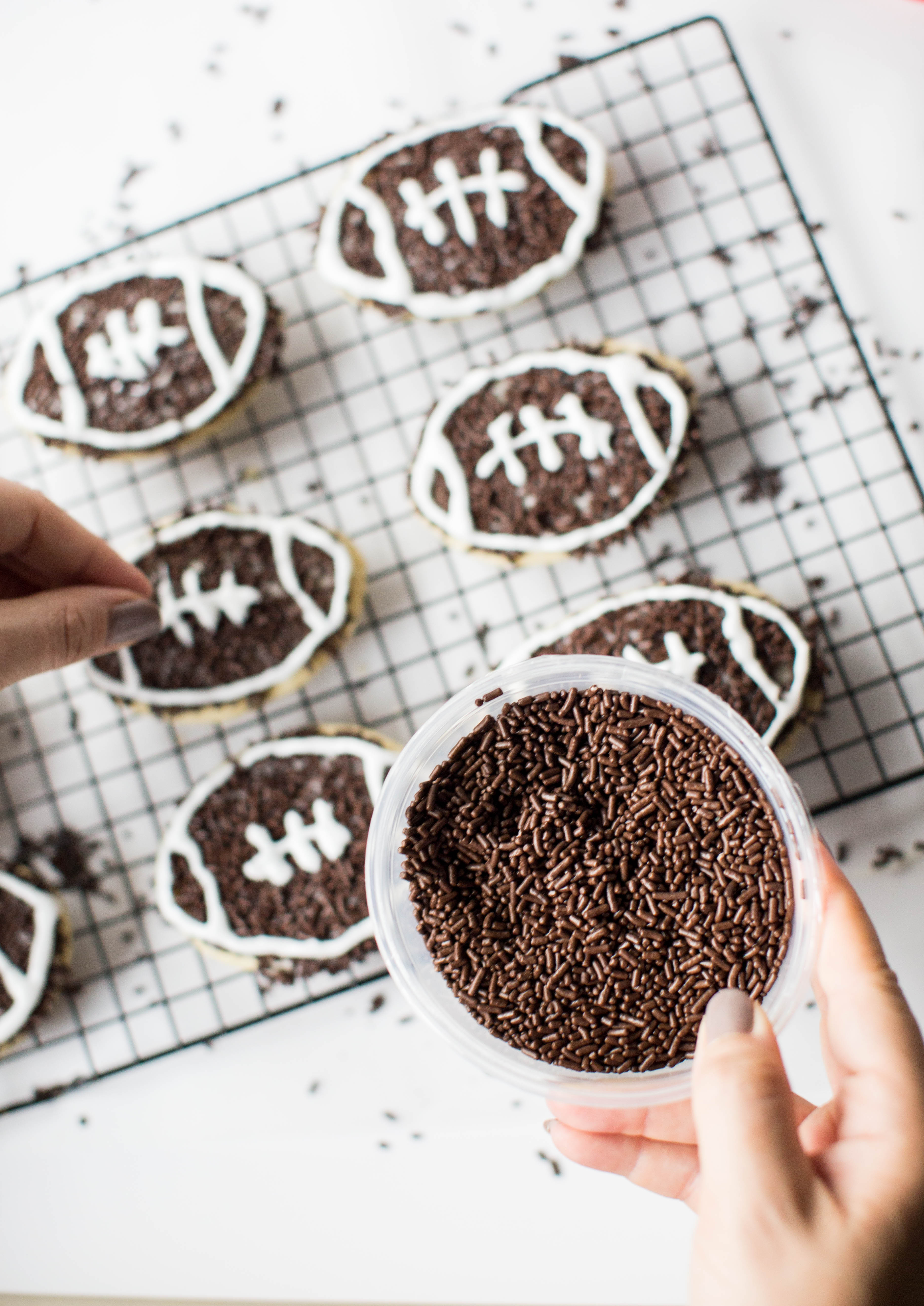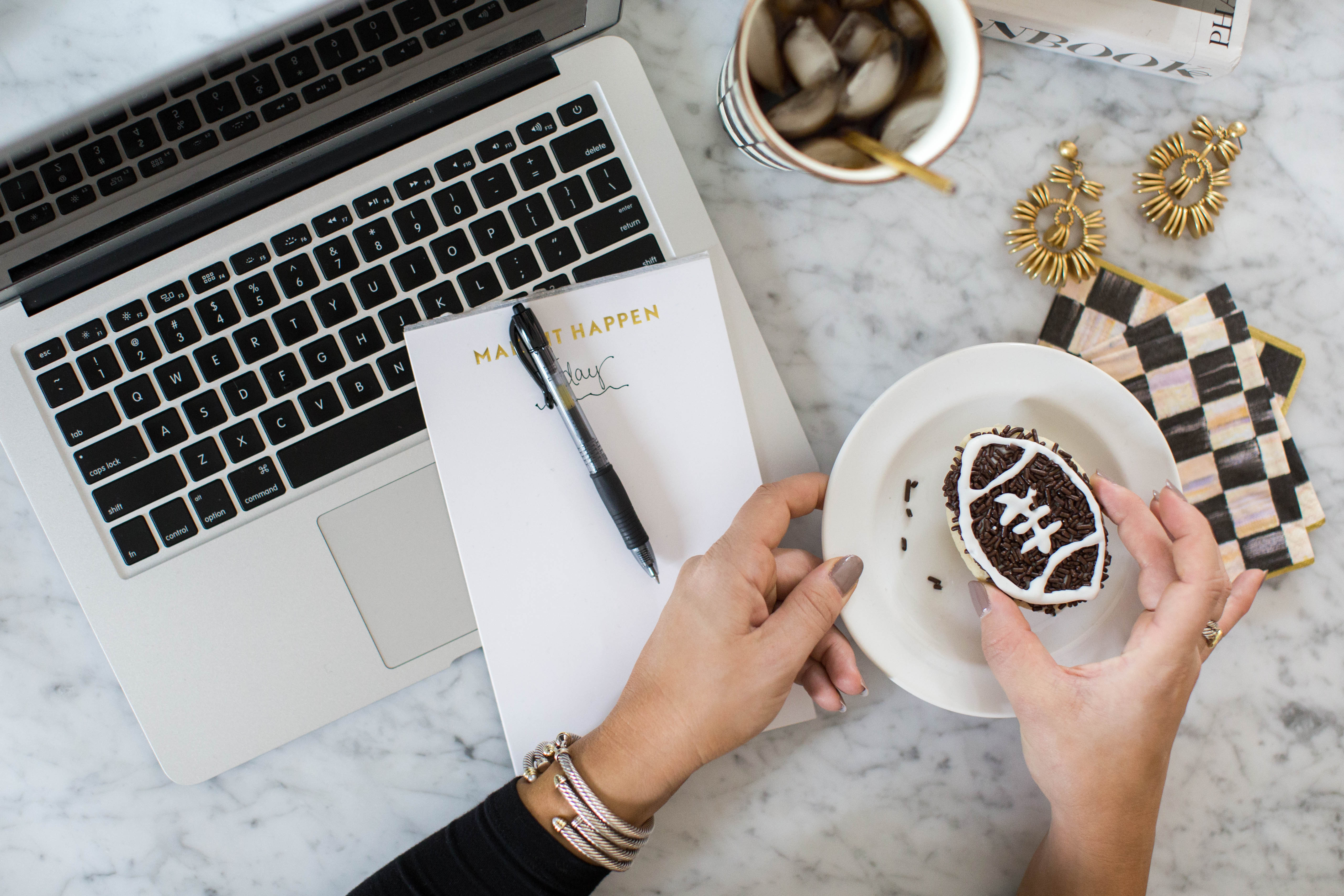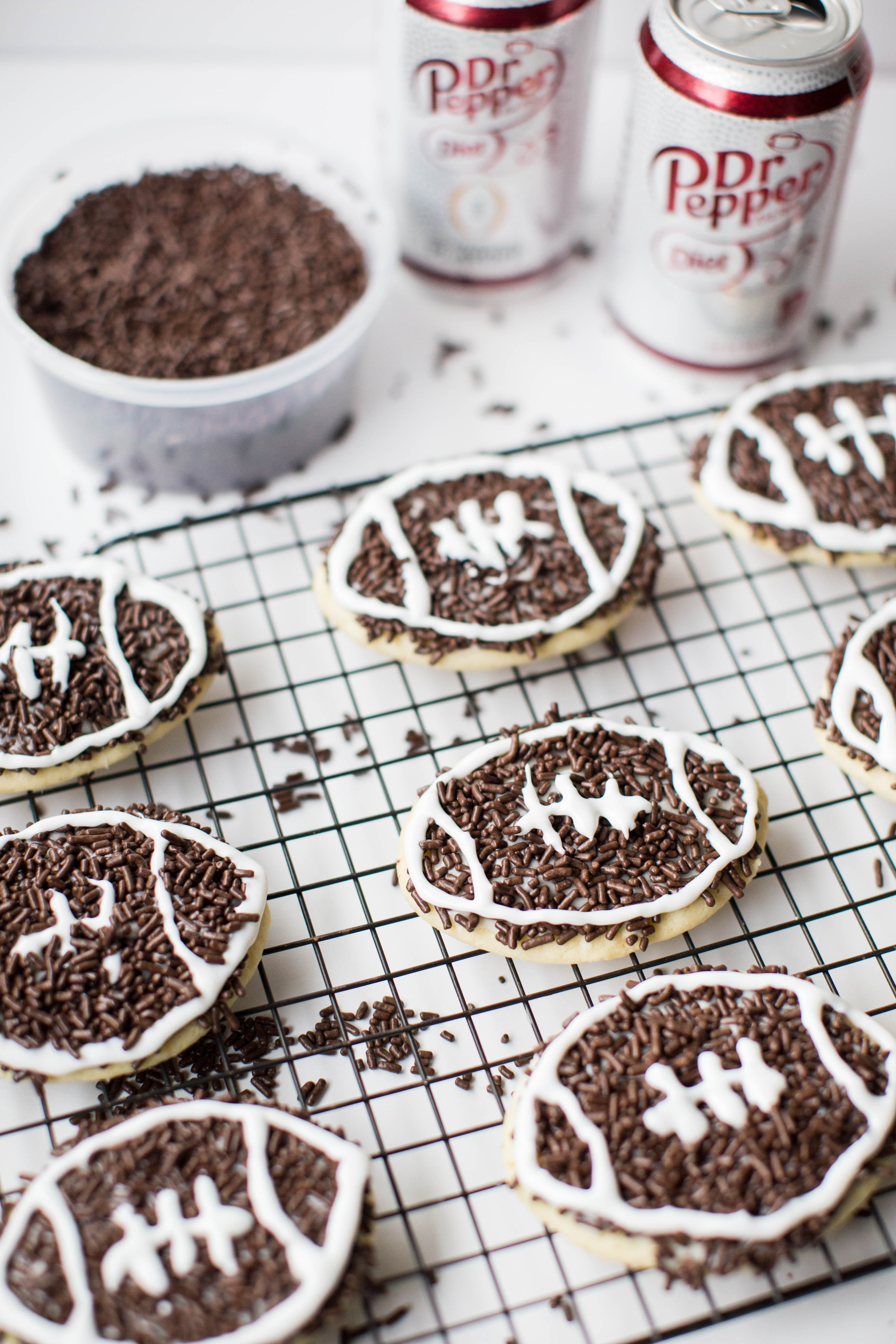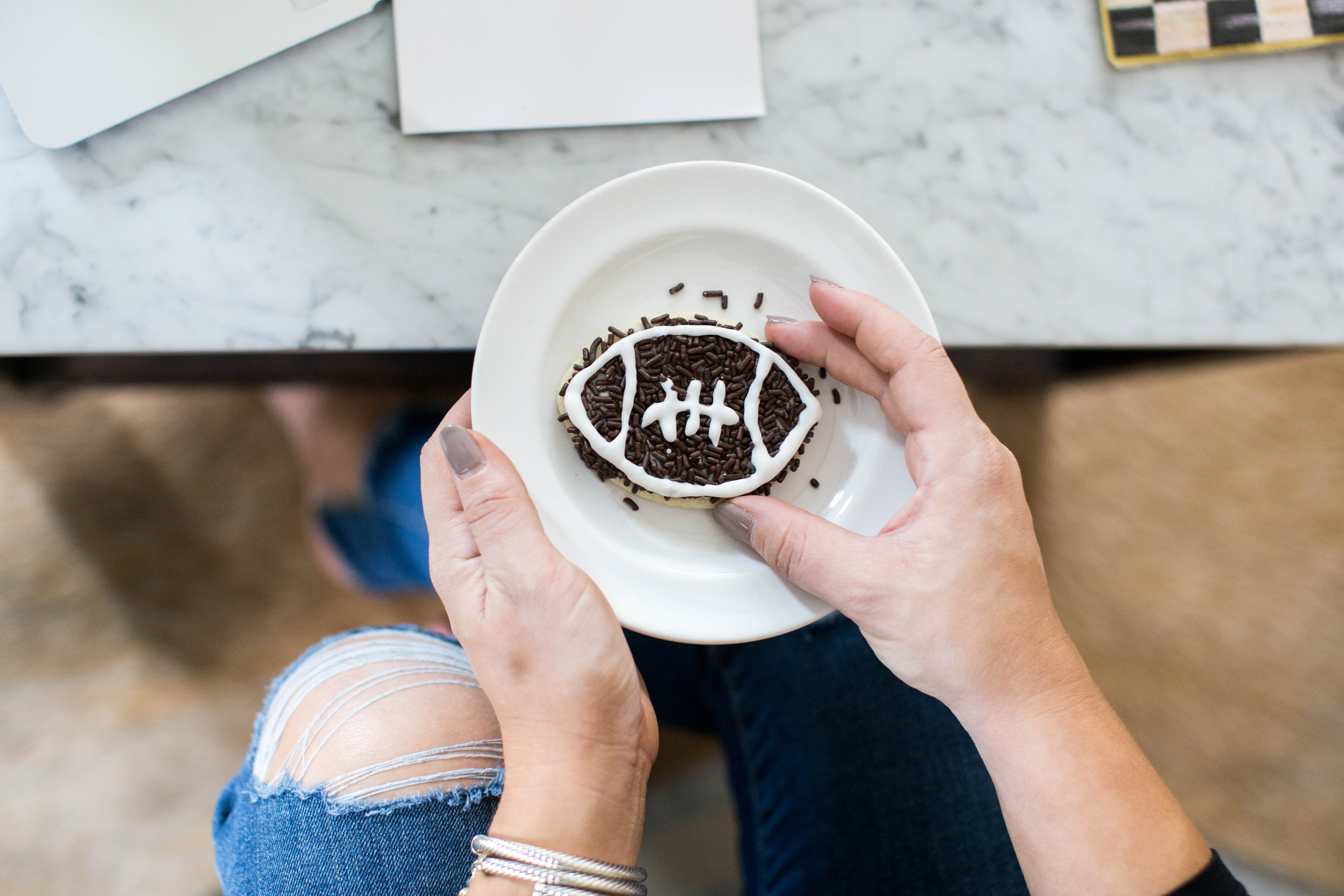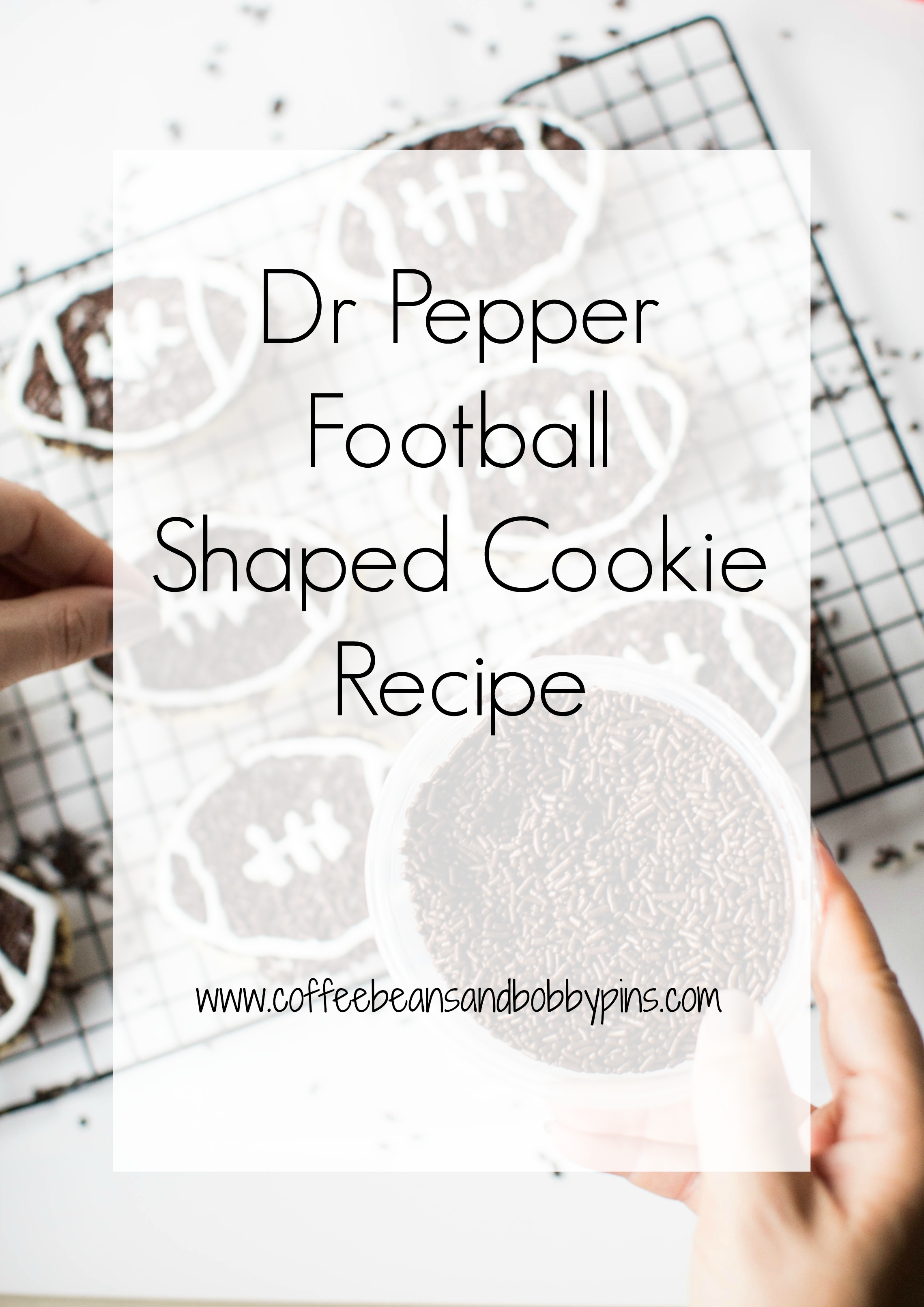 After the cookies were mixed up, I just used a cookie cutter to shape them into footballs (I actually used an acorn that I just used the side of, whatever works for you!). Just remember, the shape doesn't have to be perfect because the decorating is where the details count! I then iced them (I did not follow the recipe for icing, just used whipped vanilla, our favorite) and then dipped in chocolate sprinkles to make the footballs "come alive!"
These were such a hit with Aaron and for Sunday football of course! And I love knowing that my baking helps lead to free goodies scored with our reward points! Aaron has his eye on a few things #men Make sure you sign up here.
Anyway, I'd love to know what A. Your go-to football baking recipe is and B. if you've used pop in anything? Dr Pepper can also be used to make the most amazing BBQ, should I share that recipe too?
Have a great day friends and thanks for reading!
Brought to you by Dr Pepper