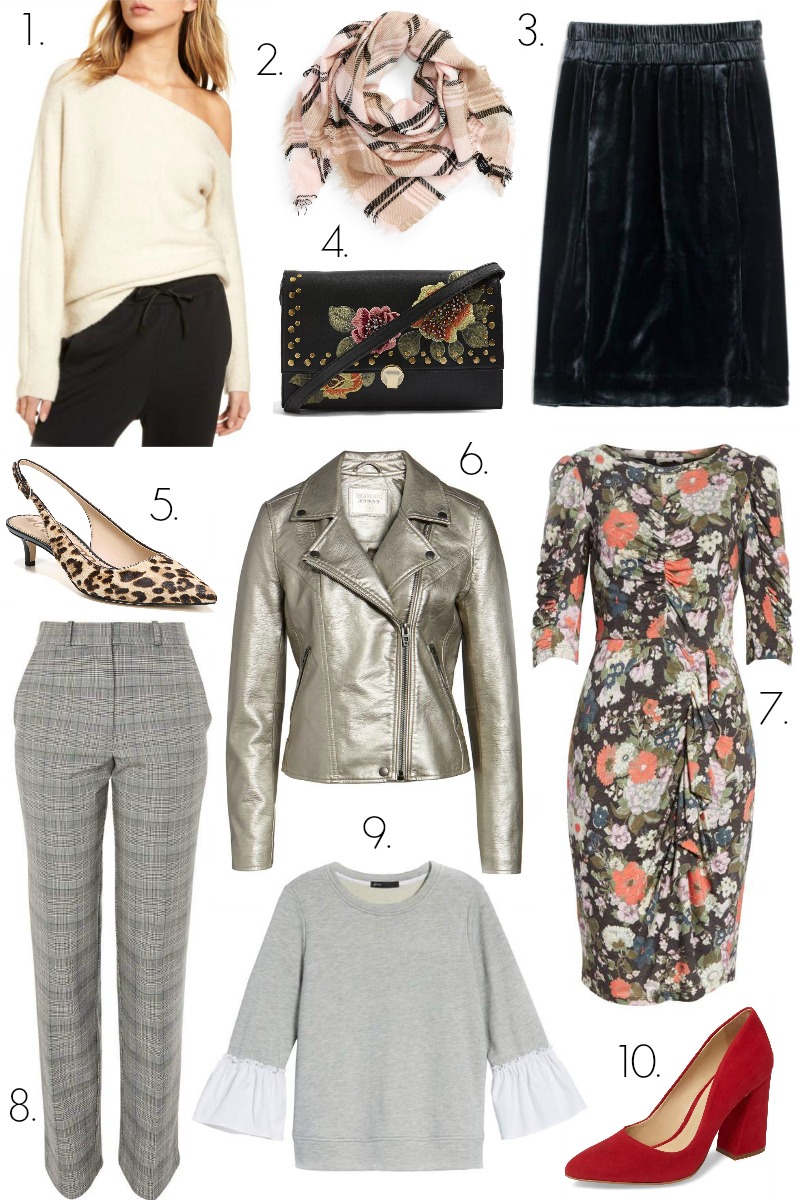 If you're anything like me, you gradually pick up on trends for the season once you see them on everyone else. So in order to beat everyone else to the punch, I thought today I'd take some time to share must have Fall trends for 2017 and what pieces I'm loving from all of them. Chances are, you're further than you think and I bet you have a few fall trends pieces just waiting to be flaunted (think #2, #3, #10).
Asymmetrical Lines: Think off the shoulder tops and uneven hems on dresses, tops and skirts.  You'll bare just enough skin for fall, and still look chic.
Plaids and Checks: Does anything else really scream fall trends like these two items? I don't think it's fall without them and I never foresee them not being "in" this time of year.  You can add something as easy as this to get the desired look!
Velvet: It made a comeback last fall/winter and is sticking around which is fine by me because who doesn't love how it feels. I have something similar to this and get TONS of wear out of it this time of year. Also, can we talk about these beauties?
Embroidery: I don't know what it is, but everything seems to be embroidered and you need something whether a dress, top or bag. I love these mules that I have and have received so many compliments.
Slingbacks: Doesn't it seem like they are popping up everywhere? I love how timeless and classic they feel, add a print like this and it definitely is the highlight to any look.
Glitz and Glam: Gold, silver and sequins aren't just for NYE anymore. Bust them out this fall and be a showstopper. Love this, this and this for right now.
Fall Florals: These aren't your typical spring florals. Think old couch prints, muted tones and deep jewel hues that scream fall and make you feel fabulous. I love that they have a vintage type feel like this number.
Menswear inspired pieces: I for one love this. Think blazers, powersuits, etc., all a touch oversized but chic nevertheless.
Fluted Sleeve anything: Why? Because it's girly, fun and great transition into cooler temps. How gorgeous would this dress be for a fall wedding?
Something red: Apparently red is the color of the season, so if you don't have any, get some. I love this and this SO much and once read that blondes should wear red.
What about you? What are the Fall trends you're falling for? Let me know in the comments below!
You can shop some of my favorite pieces below!

Happy hump day friends, I'd love for you to tell me which trend if your current fave?
XX