This luxury gift guide post is sponsored by Shopping Links and Gemvara, but all opinions are my own.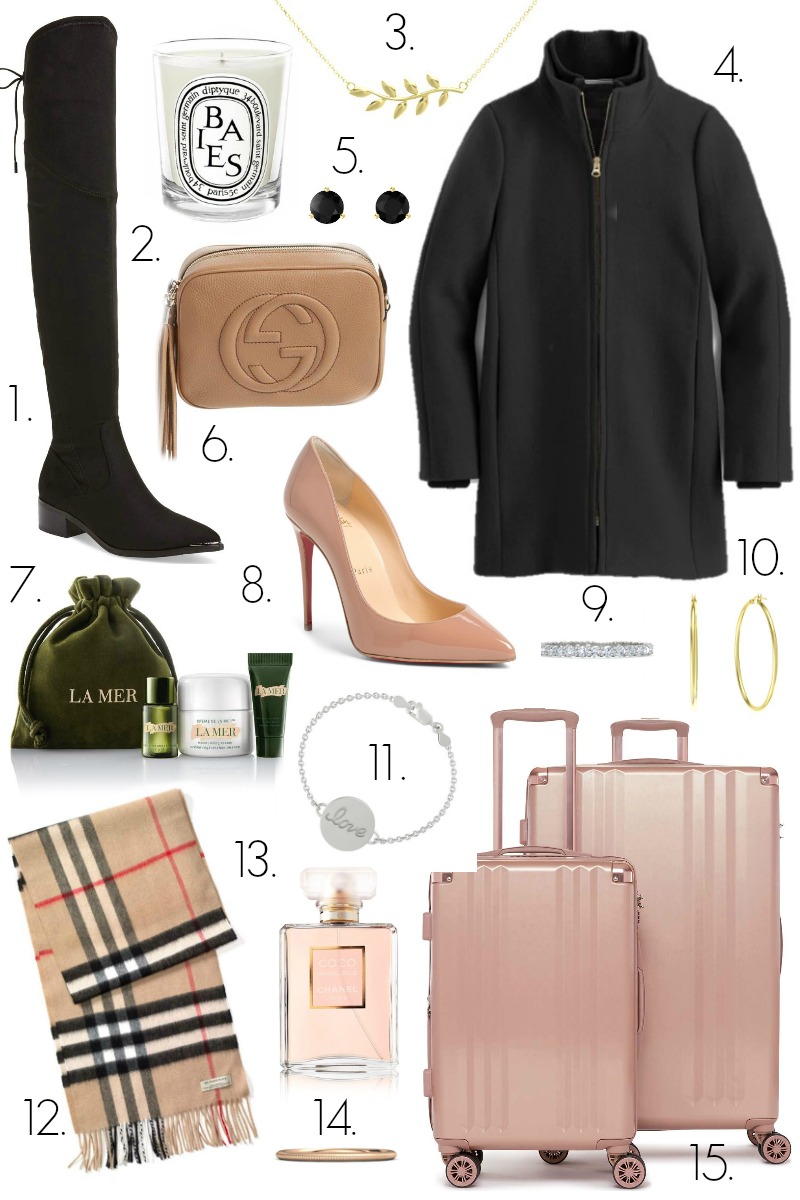 OTK Boots / Diptyque Candle / Olive Branch Necklace / Coat / Studs / Gucci Bag / LaMer Gift Set / Louboutins / Diamond Stacking Band / Gold Hoops / Love Bracelet / Scarf / Perfume / Stacking Band / Luggage
How was everyone's Thanksgiving? I hope wonderful full of food, libations and most importantly family and loved ones! Who did damage holiday shopping? I have ALMOST everyone checked off my list besides Aaron and the families we'll adopt this year (I still need to pick these from the YMCA tree), but other than that, I'm finished! Feels sooooo good! Did you start? Finish? Make progress? I hope so, because if anytime is the time to buy gifts for the season it's this weekend + Monday!
And speaking of gifts, I thought it would be fun today to do a rare Saturday post with some swoon worthy gifts for her in this luxury gift guide. I can speak from personal experience that while some of these are slightly more pricey, that they are 100% worth the money and are sure to bring joy to any lady in your life. I mean, how gorgeous are these? Remind me of this movie and this scene. Recently, I discovered Gemvara and holy smokes, I want all of it. Since we got married give years ago (time flies), I've been adding small stacking bands to my wedding set for important milestones/dates/celebrations, etc. Gemvara has so many gorgeous bands that I would love to add to my stack and I bet she'd appreciate one too (guys, I'm speaking to you). Also, should I mention you can get 20% off right now (what jewelry company does that?!). I also think this is super pretty and I've been seeing olive branches everywhere and loving them.
I also think nice perfume, great coats, etc. are always appreciated. I own most of the items above and if it's not the exacts, I can say I have something very similar and I've had them for YEARS which means over time, the price doesn't matter. I'd rather spend my money on great quality items I'll have for years vs. 1,000 things I'll wear once.
Sooooo, make sure you check out Gemvara and the items in this luxury gift guide and if there is someone special you're buying for this year, treat them!
Have a great remainder of the weekend y'all! Happy shopping!