This unique gift ideas post is brought to you by Babbleboxx, but all opinions are my own. Thank you for supporting the brands that make CB&BP possible. Happy Holidays!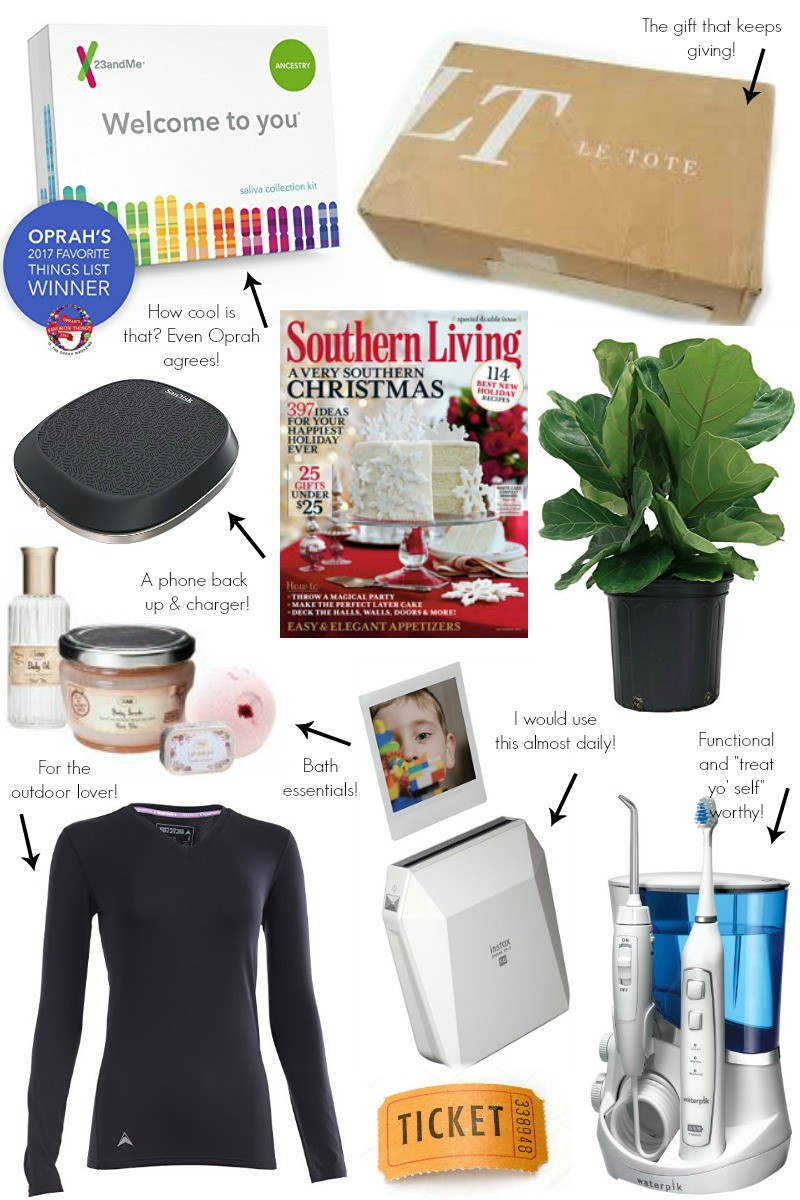 Waterpik Complete Care 5.0 Water Flosser and Sonic Toothbrush: As someone who has a father-in-law that's a dentist, I can understand how important tools like this are for dental care, the thing most people don't know is also how appreciated they are! A few years ago, we got my parents nice electric toothbrushes and they loved them. It's definitely a luxury most people wont spend their money on, so it's a great gift! Plus, if you're like me and hate flossing, it's such an amazing solution rolled into one (my husband flosses every night, who does that craziness?!).
Tickets to a show: Know something that person in your life has been dying to see, or even a great band he or she may love? Buy an experience over a thing, get them tickets! Aaron did this one year for Christmas and we ended up seeing the Cinderella ballet. I'm sure he hated every minute, but I really enjoyed it and it's always a gift I remember.
Arctic Cool: Instant Cooling Shirt: If you have friends that spend time outdoors, these are perfection! Their moisture wicking fabric technology help keep the body cool (up to 30 degrees cooler actually!). I actually love wearing them for winter outdoor sports like skiing because it's a great layering piece and as you move/sweat, you stay dry!
Subscription Box: I think gifts like this are SO fun because they keep giving! I love the Le Tote box for the ladies, and I've heard great things about men's boxes as well! There are also wine/beer subscriptions, beauty, etc. Practically everything you can think of! What I particularly love about Le Tote over some others is that you can exchange as much as you want monthly, and wear the clothes and then return them! Plus, they use name brand items unlike some other boxes I've seen, which I appreciate!
A plant (or my personal favorite, a fiddle fig): Succulents, small house plants, etc. I love them all, but again, I typically don't spend money on these things for myself. I love the idea of giving a plant in a cute pot and a written note with instructions. So easy, but thoughtful — plus, I love a little greenery in homes!
23andMe: DNA Ancestry Kit: I personally think this is such a cool idea. Aaron and I have been chatting about DNA testing our dogs for awhile, but then I figured out you could DNA test yourself! It's so easy to do and the kit makes mailing, etc. a cinch. In 6-8 weeks after mailing your DNA sample back, you have results which can be fun to read with family and friends! They are also running some holiday promotions you can check out here.
Magazine Subscription: If you have a magazine junkie in your life who loves to read them, but hates to spend the money on them, a great gift is a subscription to their favorite! Just like #4, it's the gift that gives throughout the year!
Sabon: Cheers to Rose Tea Kit: People love giving bath and body products, so if you're going to, make sure it's an amazing brand! I love the Sabon products and they smell amazing, plus are great size for on-the-go!
Sandisk: iXpand Base: It may not look like much, but y'all, this is a total game changer! Not only does it charge your phone, but it BACKS it up! Do you know how many times I've feared losing all of my iphone photos? This is the perfect gift for the techie in your life- it automatically backs up every.single.time.you.charge.
FUJIFILM instax® SHARE SP-3 SQ printer: All those photos you backed up from #9? Well, now you have somewhere to print them. How fun is this?! Totally random, but perfect for the person in your life who is constantly taking pictures and then they disappear into a black hole (that's everyone now a days you're probably thinking…and you're right!). This unique little printed allows you to print through it's app, you can even print photos from Instagram based on a hashtag!
What about you? What are some unique gift ideas you have for the hard person to buy for this year? Let me know in the comments below!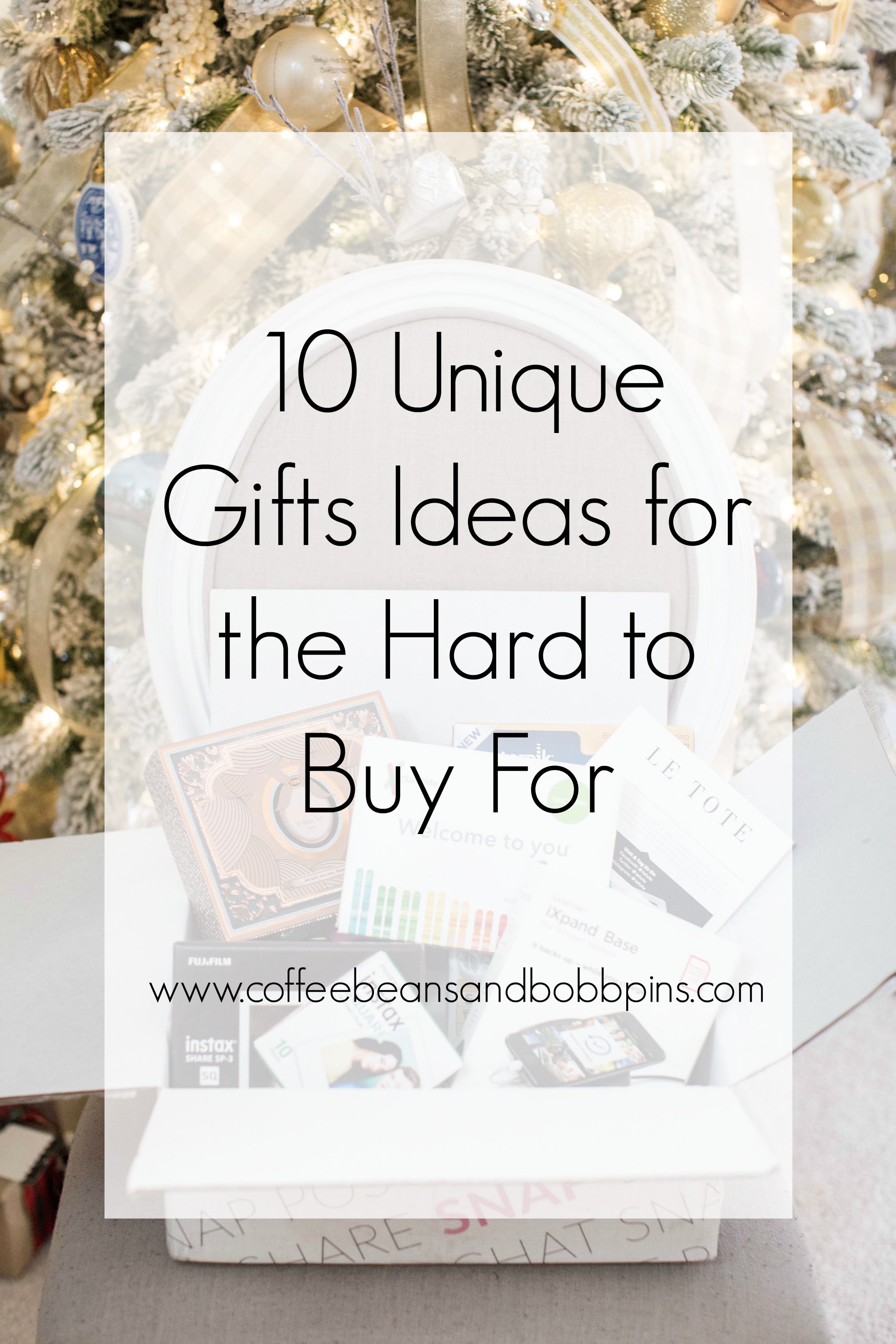 Now, if you weren't done shopping because of that hard to buy for person on your list, you should be! It's crazy to think only about two more shopping weeks left until Christmas!
And to help you buy some of these unique gifts, I've teamed up with some fabulous ladies to offer you the chance to win some cash for your shopping pleasure! Enter the rafflecopter below!
Thanks for reading! XX