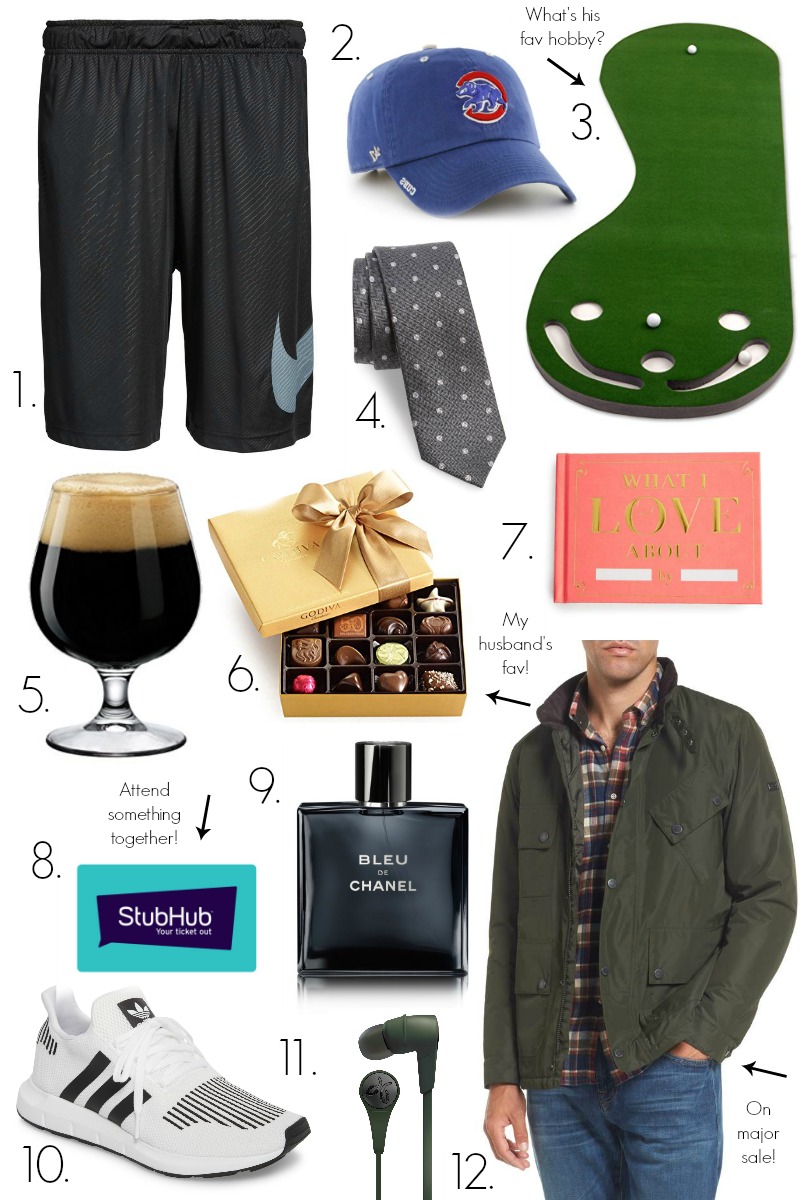 Guys are SO hard to shop for, and if your husband/sig other is anything like mine, they also think Valentine's Day is a Hallmark holiday. Okay, maybe it is, but I'll take an excuse to wear a nice dress, book a dinner and get fresh flowers any day! If you need Valentines Day Gifts for him for the guy in your life, below are some affordable options that I know Aaron would appreciate and hopefully your guy will too!
12 VALENTINES DAY GIFTS FOR HIM HE'LL LOVE
Cologne: It might be a little cliche since perfume and cologne are so often gifted on Valentine's Day, but it's also something my husband would never buy himself. Plus, I love a great cologne on him! We love this one, SO good!
Winter/Spring Jacket: Why is it guys have one coat and as females we have 10+ (or is that just me?!). I know Aaron could use a great transition jacket and this one is not only waterproof, but on major sale! I love the olive color.
Shoes: Great new sneakers or any shoes for that matter. Aaron never buys himself anything, so gifts like this are always needed, but still super appreciated.
Accessories they wont buy themselves: Ties, bowties, wallets, etc. Inexpensive and great gifts. Now, if you're looking for a more special item such as this, I got Aaron one of these for our anniversary one year and he still talks about how much he loves it! These could also come in handy with a tie or bowtie.
Novelty Items: Sometimes, you just need a "cheesy" gift for the one you love. I got one of these for Aaron a few years back and while he doesn't read it everyday, sometimes it's so fun to pull it out and flip through it!
Candy: Literally the only thing my husband wants each Valentine's day, or any holiday.
Tickets to a show or game: I didn't even know Stubhub had gift cards. But I always say experiences over things, so if a great band or sporting event it coming up, splurge on the tickets and go together!
New accessory for their favorite team: See above! If you grabbed the tickets, grab a new items. OR, if they just love a certain team, grab them some swag!
An accessory for their favorite hobby: Golfing? Vinyl? Guitars? Running? Grab them an accessory their arsenal is lacking like this amazing putting green that I kind of want this for my own entertainment! Workout gear is always much appreciated by my husband as well (Aaron loves these).
Barware: If your husband/sig other is into alcohol, a great new glass type, bottle of his favorite spirit, etc. is a great gift that he can enjoy long term! Aaron's really been into stout beer lately, so I am thinking these would be great!
Monthly Clubs: I got Aaron a rare beer of the month club for our Anniversary this past December and it was much appreciated. The beauty is, almost everything has a club right now, so just use your best friend (Google), it's what I always do!