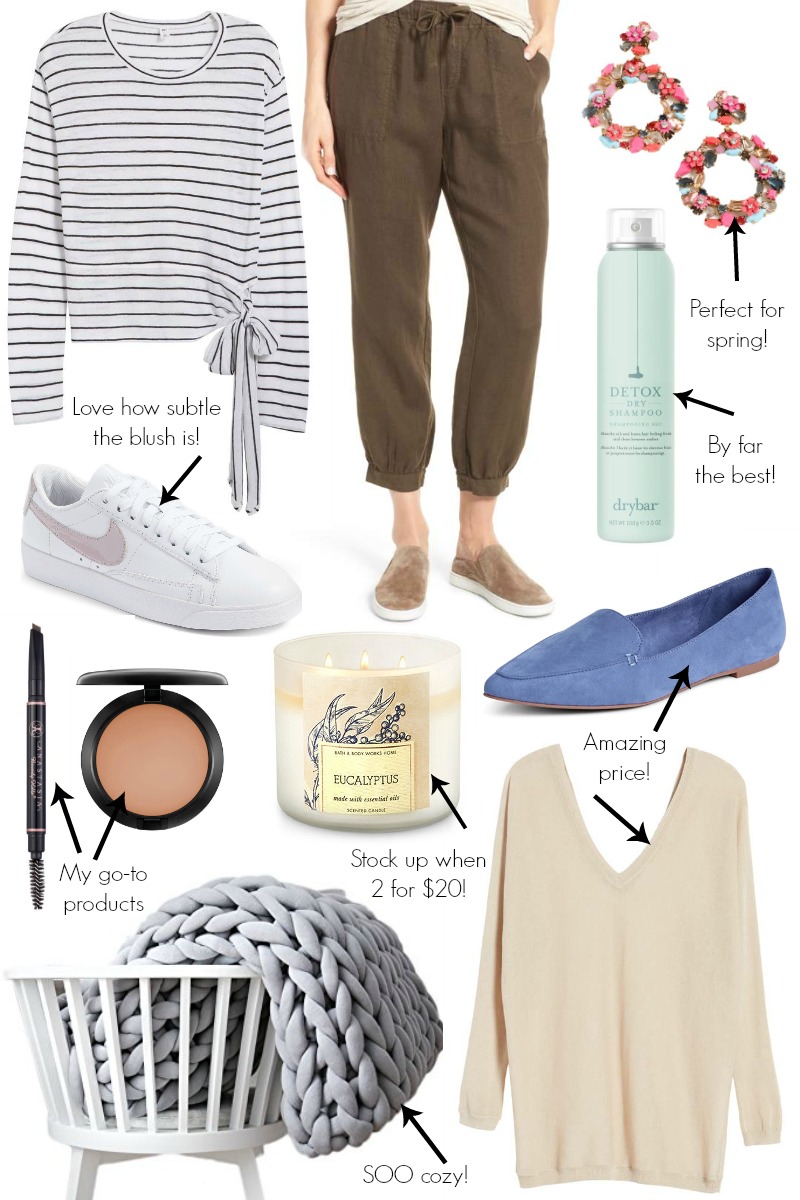 I was sitting at the dining room table this past weekend planning out my content calendar for this week when I thought it might be fun to share what I've bought recently. As a blogger/lover of shopping, I get a lot of new "stuff" and some of it's great and some of it…well, not so much. So, I wanted to share with y'all a few things I've recently picked up and if you like this sort of thing, I'll continue to share every few weeks!
This Shirt: Its perfect for spring, but I will warn you it's short and slightly see through. Right now, it's not working on my postpartum body, but it would be great for someone who is rocking a toned tummy! I could also probably size up and it would be fine (I got a M, but am returning).
Army Green Joggers: Last year thanks to the thigh rub (I have this, I admit it!), I had to throw my other pair out, so I was on the hunt for another pair. These are reasonably priced and I like them, but they do stretch! I had to dry them when I washed them to shrink them back up (I ordered a M).
These beauties: Got them 25% off and they are beautiful in person! I'll take a statement earring over a necklace any day, I wear these to help the weight.
Spring Sneaker: I wore my sneakers last year to death, so I loved the blush detailing on these!
Ive tried every dry shampoo under the sun, this is the best and smells amazing.
This and this are two go-tos I buy time and time again.
This is my fav. candle of all time, but because I'm not a millionaire, this one is a great substitute.
These are in route to me, so I'll keep you posted, but I love the color!
Great price and perfect for winter to spring transition, this was a definite yes!
I've been wanting one of these for FOREVER. It's beautiful, but does SHED! I think it will stop though. They are pricey though, but so pretty. Would I buy again? Yes, but maybe even bigger (I got 55×67 inches).
I also recently got these that I shared yesterday on Instastory. LOVE.
Anyway, hopefully you like this sort of thing, I'm always interested in what people are buying and what they think!
Have a great day, Im thankful for y'all! SO much!